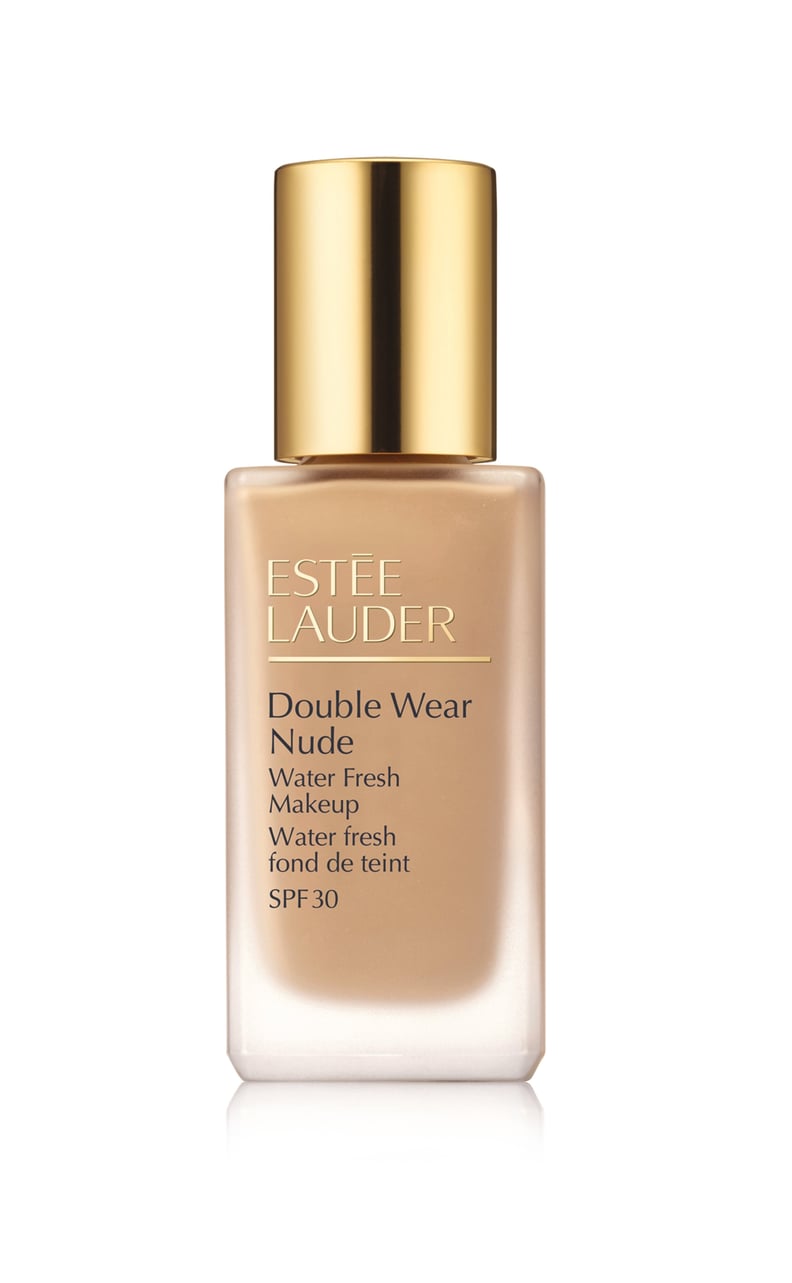 I was never able to identify the one beauty product I couldn't live without until I used Estée Lauder Double Wear. I was introduced to the foundation in college and I've been hooked ever since for a few good reasons.
For starters, Double Wear provides practically full coverage that perfectly conceals my hyperpigmentation with just one coat of product. If I need additional coverage, there's no need to whip out multiple concealers — the buildable formula allows me touch up my concern areas without applying numerous layers to my face. And unlike other full-cover foundations that tend to look and feel heavy, Double Wear mimics the appearance of actual skin so my makeup never looks caked on.
So, naturally, when I found out my favorite foundation of all time would be coming in a new formula, I knew I needed to get my hands on it ASAP. The Double Wear Nude Water Fresh Makeup foundation is the weightless, UVF-fighting younger sister to classic DW. It's perfect for the girl who wants to achieve a "no-makeup" makeup look while protecting her skin (which is basically all of us, amirite?).
Like the traditional formula, you can achieve an even complexion that will last you up to 24 hours. It's extremely breathable and feels like silk when applied to the skin. Its weightless texture is perfect for Summer days when you want light coverage without your face melting off in the heat. And, speaking of Summer, Water Fresh is formulated with SPF 30 and antioxidants to help protect your skin from the sun, so if you forget to apply sunscreen in the morning, you can feel confident that your makeup has you covered.
To use, I just shake the bottle, apply a few dots around my face, and buff out with my favorite foundation brush. I've been using it in the sweltering NYC heat and never have to worry about my makeup disappearing by lunchtime or sweat-induced breakouts. The sleek one-ounce bottle also makes this convenient to travel with, and I won't be leaving for my upcoming vacay without it.
Double Wear Nude comes in 12 shades ranging from fair to deep so women of various complexions can get in on the magic. You can snap up the new formula now at esteelauder.com and Sephora for $42, so if you aren't already on the Double Wear train, get on it now.