Eva Longoria Talks "Tweakments," Skin Care, and More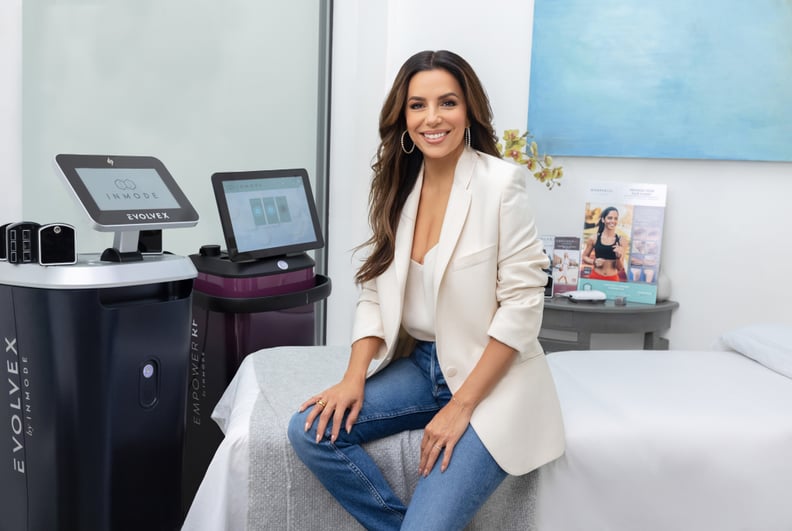 InMode
InMode
Hollywood is known for its reputation of keeping things hush-hush when it comes to injectables, plastic surgery, and other beauty treatments. While celebrities have all the right to keep cosmetic procedures to themselves, it's always refreshing when a movie star or artist opens up about the work they've had done. Case in point: actor, producer, and director Eva Longoria claims to be an open book with her nearly 10 million Instagram followers. The star is getting ready for her directorial debut of "Flamin' Hot," and with that comes a series of noninvasive treatments she turns to — and chooses to share on her own terms.
"It's about feeling good about yourself, and only you know what that entails," she tells POPSUGAR. "I don't think anybody should be shamed into keeping anything a secret, and nobody should be forced to divulge what they're doing. You don't have to say, 'I'm doing this, this, and this.' And then on the other side, if you are, there shouldn't be this shaming about it like, 'Ugh, you do that?' To each [their] own."
As she prepares for a series of red carpet events, Longoria shares she relies on InMode's face and body treatments. "I use Evolve X because it [uses] radio frequency and it just always leaves my body tighter — you gotta see the results," she says. (The noninvasive treatment device uses radio-frequency technology to target fat and sculpt muscles.) "For me specifically, it was about waking up the collagen stimulation in my stomach, so getting that extra kick that it needed. With Evolve X, which contracts your muscles, it felt like I did a thousand crunches. You can do that same treatment on your face. It really remodels your skin."
She was introduced to the treatment a year after the birth of her son, Santiago. "I started working out; I was back on my regimen, exercising, eating well, sleeping well, and you know, my stomach wasn't as tight and my skin wasn't as tight as I wanted it to be," she says. That's when Longoria learned about it from someone in her mommy group. "I just thought, 'Wow, this is such a great life hack,' and I felt like it was a secret I'd never known. I was so happy it came from a mom as opposed to a celebrity, like it's not only rich people who do this. Everybody knew about this laser that could stimulate your collagen and tighten your skin. I was like, how did I not know about that?"
Like many other celebrities, Morpheus8 is another trusted procedure she swears by before big events. "It's like the mother of all treatments because it's radio frequency and microneedling and it really targets a deeper layer to remodel collagen," she says. "I really feel more radiant when I do that treatment. There's no downtime, it's not invasive. It's a really quick procedure. You're in and out with a lot of time to spare."
To further maintain her youthful appearance, Longoria also relies on skin care — especially hyaluronic acid. "I live and die by hyaluronic acid with my Revitalift products from L'Oréal," she says. (Longoria is an ambassador for the brand.) "There's an amazing Revitalift Serum ($33) for your eyes, and it has this amazing applicator, this little rollerball, and it just feels so delicious."
Like most moms and busy people out there, Longoria is also a fan of multitasking products such as the L'Oréal UV Defender UV Serum ($29), which protects from the sun while treating fine lines. "I like things that do more than one thing," she says.