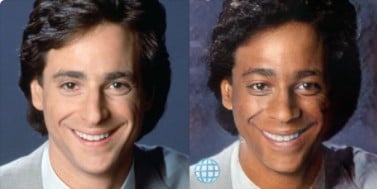 Unfortunately, FaceApp hasn't learned from its "hotness filter" gaffe back in April, which infuriated users since it whitewashed their skin and called the look "hotter." Mere months later, the app is back in the spotlight for an equally dicey move: releasing "ethnicity filters."
The new launch caused major eye-rolls upon its release earlier this week, as it allowed users to alter their selfies with filters called "black," "Indian," and "Asian." Perhaps one Tweet summed it up best: "FaceApp's 'ethnicity filters' are a pretty terrible idea. Like, maybe one of the worst ideas."
FaceApp pulled the filters in response, and only issued a short statement from CEO Yaroslav Goncharov confirming this decision. No apology was made, but Goncharov did call the release "controversial." Still, many angry users say the filters are much worse than that. Some are calling this straight-up racism, while others are accusing the company of promoting blackface.
Here's to hoping we don't have to report another story like this about FaceApp in the future.