This CBD-Infused After Sun Lotion Is SO Good, I Cried When It Was Gone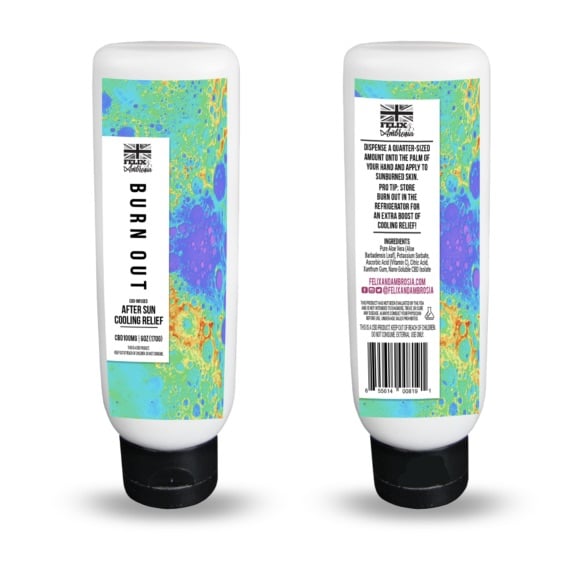 Every editorial product is independently selected by our editors. If you buy something through our links, we may earn commission.
If I were to write an honest Tinder bio for myself, one of my top interests would include, "Weeping like a lonely banshee." At weddings, after emotional McDonald's commercials, when I see babies on the street wearing little baby pants — the tears start streaming. And apparently, I also cry about spilled beauty products. When I accidentally dropped the Felix & Ambrosia Sunny Daze CBD Sun Cream ($40) all over my sink, I watched it run down my drain in horror.
You may have heard about that viral CBD-infused glitter sunscreen, which combines three things we really love over here at POPSUGAR — skin care, cannabis topicals, and ways to make your body glisten. Well, this after-sun lotion comes from the same brand, but I never thought I'd need it, seeing as how I am an SPF 50-wearing beauty writer who never burns.

My first rule of curing a sunburn would be to not get one, but if you do, I'd recommend smearing this all over your fine self.
Cue the narrator voice: "But Alaina would get sunburned." Alas, after a lovely day spent frolicking on a Long Island beach, I came home as red as an overripe tomato. I took out the relief lotion, which has more of a liquid texture than thicker moisturizers. It's fragrance-free, and glides on like a grease. I don't love writing that products provide "instant" relief (it's a bold claim), but within seconds, I felt my inflamed skin chill out a bit. With just one application in the morning and another before bed, I stopped feeling the heeby-jeebies of irritation. I even took a page from Madonna's playbook and popped the bottle in the fridge. Applying the gel while it was icy-cold further soothed my skin. No glitter appeared, but that was OK with me. I'm shiny enough.
Everything was great until the fateful night I (drunkenly) knocked the entire bottle open. Luckily, this snafu occurred when my burn was very close to being healed. I'm sure that was in no small part to this lotion, which kept me from scratching my skin right off. My first rule of curing a sunburn would be to not get one, but if you do, I'd recommend smearing this all over. Just make sure you put the cap back on afterward.
Any cannabis products referenced above are not intended to diagnose, treat, cure, or prevent any disease. The writer is not a medical doctor, and their experience is based on personal use, the results of which may not be typical or intended. The legality of cannabis products varies by state, and readers are encouraged to check their local laws before purchasing and using cannabis products. Nothing in this article should be construed as advice regarding the legal status of cannabis products. Any views expressed in this article by a third-party sponsor are those of such sponsor, and do not necessarily represent the views of POPSUGAR.