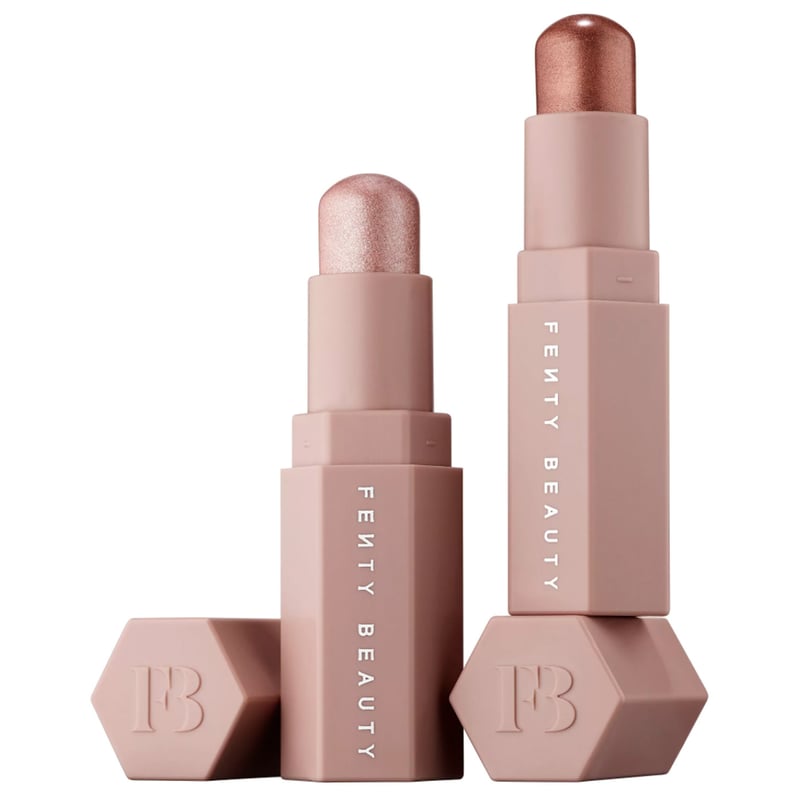 Every editorial product is independently selected by our editors. If you buy something through our links, we may earn commission.
Sorry supersizers, but bigger isn't always better. Take, for instance, two words: beauty minis. Add another word — Fenty — before those two, and it's a dang dream come true. We already love and hoard the Fenty Gloss Bomb minis that dropped earlier this year, so we're really cheering now that those travel-size goodies are getting a baby sister: the Lil Match Stix Duo Mini Shimmer Skinstick Set ($22) (try saying that five times fast).
Per Allure, this set dropped without much fanfare, simply appearing on Sephora's website, without the prerequisite viral hoopla that's come to follow any Fenty release. As you probably know by now, this set comes hot on the heels of the release of Body Lava, Fenty's hyped all-over luminizer.
We love the multipurpose Match Stix for its ability to highlight, contour, sculpt, and find the lost earrings at the bottom of your purse. At a recent event in Milan, Rihanna's makeup artist even swept it over her lips for a golden goddess effect.
Since this chubby is so versatile, it makes sense that you'd want this stick to be portable. Make that dream a reality by purchasing this brand spankin' new set online at Sephora now.