1 Editor's Honest Review of This Buzzy Facial Brush (Hint: She's Obsessed)
As far as I'm concerned, there are two types of women in the beauty world: the low-maintenance ones and the ones with a 15-step routine. I'm the latter. But while I give myself a full hour to get out the door every morning and find matching both sides of my winged liner to perfection a relaxing activity, a complicated skincare system is just something that's never stuck — especially when we're talking facial brushes.
Try as I may to get behind their lofty claims of deep-cleansing and unparalleled exfoliating, these skincare tools always seem to find a spot in my stash of less-than-stellar beauty products. After seeing a sleek, black FOREO Luna Play in this Fall's Limited Edition POPSUGAR Must Have box, I was worried that this little guy might meet the same fate. But boy was I wrong.
To best explain why this pint-size silicone skincare brush is the object of my current obsession, keep scrolling for the full lowdown.
What Is It
Different from the FOREO Luna, its buzz-worthy big brother that's improved the complexions of women around the world, the travel-sized FOREO Luna Play is tiny — as in, smaller than the palm of my hand — but equally as mighty. It's made entirely from gentle silicone, and features thicker bristles at the top to target oily T-zones and thinner ones at the bottom to mend dry skin. This makes it ideal to hit specific problem areas for those with combination skin.
How to Use It

As with most facial brushes in its category, the FOREO Luna Play begins working its magic at the push of a single button. Don't let the ultrasimple operating system fool you though, because as soon as it stars pulsing, it's removing dead skin cells and lifting oil, dirt, and makeup residue (99.5 percent of it, to be exact) simultaneously. All you're responsible for is lathering up your face with your favorite cleanser, moving the device in circular motions for one minute, and rinsing with water when complete.
Why I Love It
Though adding this extra step to my already-lengthy beauty routine has been a tough sell in the past, my mind has been permanently changed. Even after the first use, I noticed a visibly smoother, softer texture, and continued uses have cleared up the stubborn whiteheads on my Summer skin. I may just be imagining this, but the hygienic silicone bristles make me feel as though I'm getting an even better, deeper clean that devices with replaceable brush heads just never could match.
And when it comes to portability, the Luna checks off every box. Being the diameter of a cotton pad means it's easy to throw in my travel makeup bag without taking up any valuable real estate. Total win. So while I never thought I'd be a facial cleansing brush convert, there's no going back — and I'll be taking this helpful tool everywhere I go. Trust me, once you try it, you'll be on board too.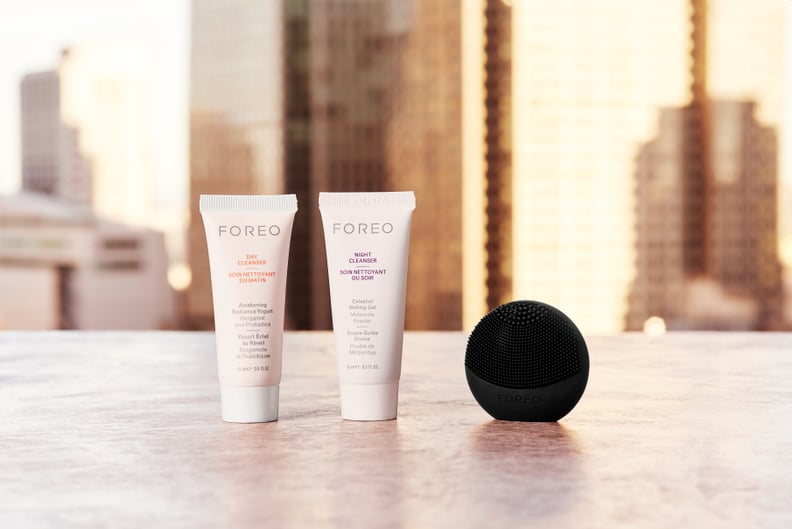 To snag this miracle face brush for yourself, plus Foreo's day and night cleansing duo and a whopping five other luxe fashion and beauty essentials, buy the Limited Edition Fall Must Have box on sale now.