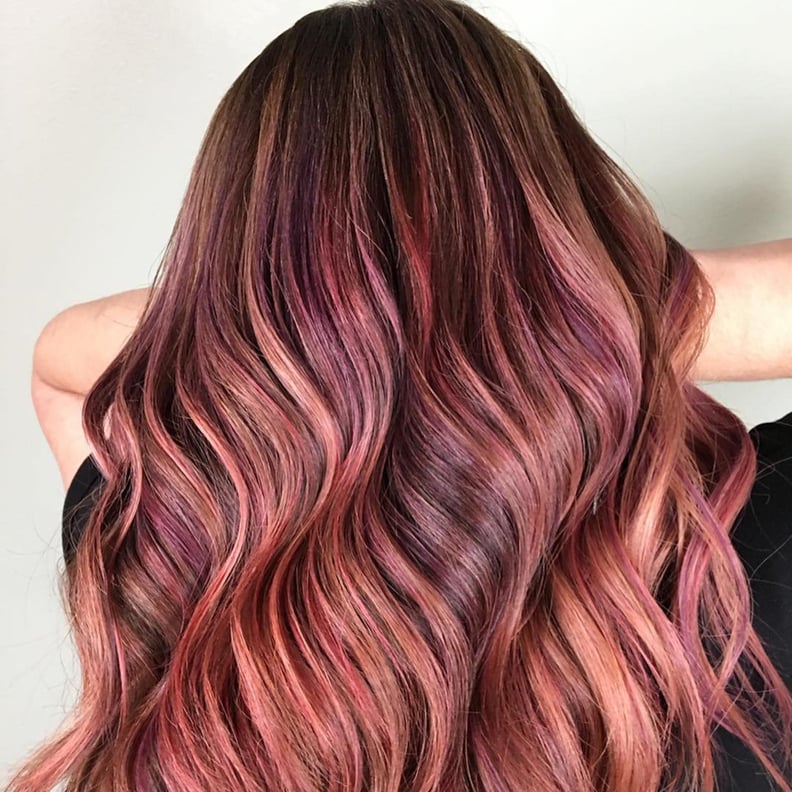 Step aside, oceanic brunette hair — there's a new rainbow hair color trend in town, and it's about to leave you thirsting for an appointment with your stylist. Marie Claire just introduced us to the gloriousness that is "fruit juice" hair, and we're pretty darn obsessed. This polychromatic hair trend is the brainchild of hairstylist Alisha McAlister, who specializes in custom and creative colors. When one of Alisha's recent clients gave her the freedom to try "something different" on her strands, the hair wizard ended up producing a gorgeous mix of peach, strawberry, and grape hues.
Alisha explained in the caption of an Instagram photo exactly how she accomplished this juicy mix of colors. "Pops of Ignite Violet and Red and then I honestly toned the whole thing with Manic Panic Pro Pastel-izer, 3 grams of Divine Wine, and 6 grams of Smokescreen," she wrote. Genius!
Read on to see Alisha's various iterations of the vibrant Spring-ready hair color trend. And if this blend of hues is a bit too dark for your liking, may we suggest buttered rose gold hair instead?