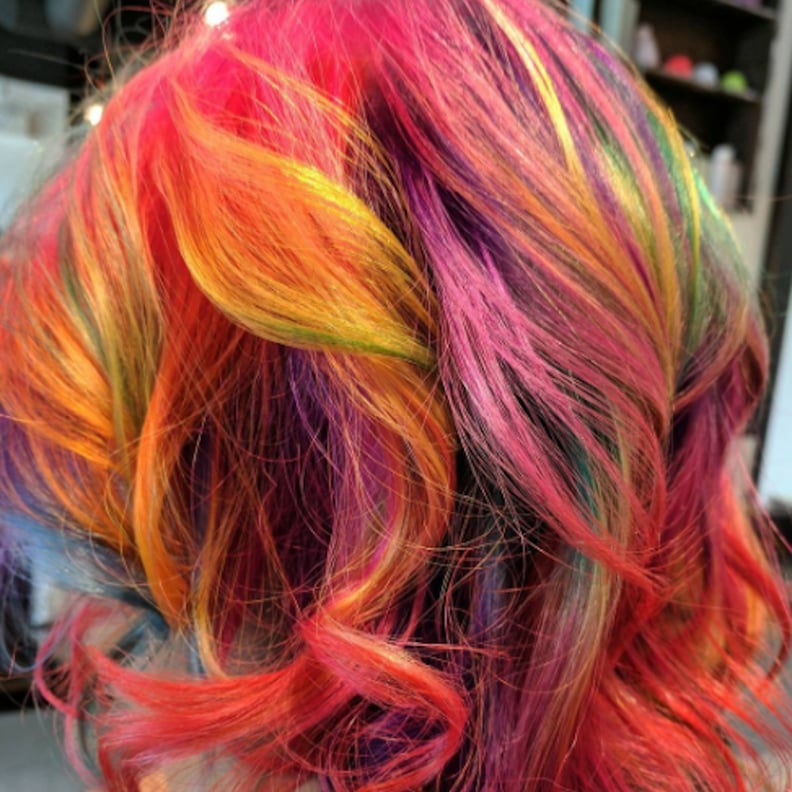 We've been loving the array of colorful hair trends that have been dominating the beauty world in the last few years, and one hairstylist might have invented the most creative one yet: Fruity Pebbles hair.
Amanda Glikes, a Vancouver-based stylist, created this colorful hair blend based off the hues in Fruity Pebbles, the iconic Flintstones-inspired cereal. She posted the look to Reddit and Instagram, to the delight of beauty-lovers.
To achieve this look, Amanda used Joico Intensity dyes for the vivid colors. She dyed the roots hot pink and added streaks of yellow, orange, and green. She left the underside of the hair brown, which makes it look like the model's mane has been enveloped in colorful cereal milk. Amanda says that the key to this look is making sure the colors blend together by dyeing very small sections and using your fingers to melt each hue into the next one.
Although this trend is just in its infancy, other beauty junkies have also been inspired by their childhood-favorite cereals and have posted the looks to Instagram. The colorful hair look is so bright and cheery, we're sure it will blow up fast.
Read on to see more of Amanda's look and other Fruity Pebbles-inspired hair-color looks.