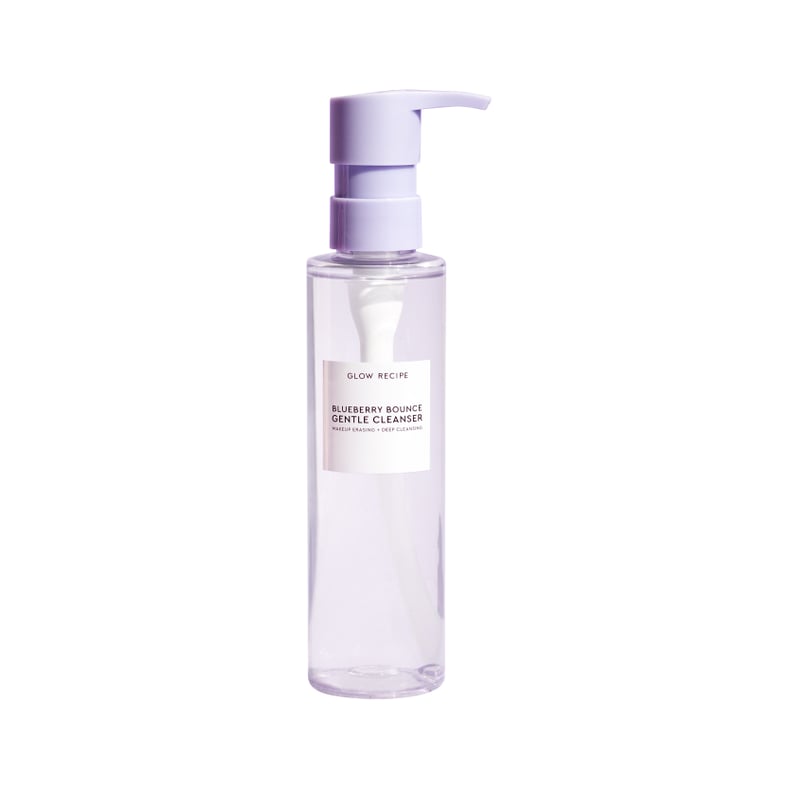 As POPSUGAR editors, we independently select and write about stuff we love and think you'll like too. If you buy a product we have recommended, we may receive affiliate commission, which in turn supports our work.
My combination skin can be unforgiving, especially during the colder months. Give it a cleanser meant for oily types, and my dry patches will immediately start to flake or crack. Give it a moisturizer with just a tad bit too much oil, and you'll see that shine from miles away. When the temperature starts to dip, I try giving my finicky skin the TLC that it needs, but I hadn't found a cleanser that did it all — that is, until someone recommended Glow Recipe's Blueberry Bounce Gentle Cleanser ($34).
On its website, Glow Recipe files this cleanser under products for dry skin, so I decided to give it a go. Pushing down on the lavender pump dispensed a thick, clear gel that had a lot of slip. As I rubbed it onto my skin and splashed it with water, I saw my foundation, eyebrow pomade, and matte lipstick melt off and go down the drain. The gel has a very light, not-at-all-cloying blueberry scent and gentle cleansing action, foaming only slightly as I introduced more water. After patting my face dry with my towel, I immediately started feeling around for dry patches with my fingers. To my surprise, there weren't any. Instead, my skin felt even in texture and (just as the label says) bouncy with moisture. It also looked brighter, as if I had just gone at my cheeks with an exfoliating konjac sponge.
"It's the sodium hyaluronate in the formula that moisturizes the skin," cosmetic chemist Ginger King said. An added bonus to using this cleanser is the lineup of skin-brightening ingredients blended into a gel formula. "This is a mild cleanser with exfoliating glycolic and lactic acid. It's mixed with licorice, peony, and blueberry — an antioxidant — for a brighter complexion," she added.
Will my skin continue to give me trouble? That's inevitable. But will stocking up on this cleanser lessen the blow of Winter's arrival? You bet.