Celebrity stylist and entrepreneur Sarah Potempa loves a good hair challenge — first she did 100 days of hairstyles, then she created eight stunning bridal looks for us, and we can't stop obsessing over her current 365 days of braids on Instagram. So we gave her a fresh test: we asked her to create a week's worth of Halloween costumes all centered on updos. She accepted our challenge and even provided the steps so you can DIY the looks at home.
"With a little creativity, any costume can be focused around hair!" she said of using your mane to create a cool character. "Take the main focus of your inspiration and incorporate it to fit your hairstyle. Using something as simple as wire can mold hair into any shape you want. Hair-focused Halloween looks can make any simple costume into something bold and original."
See just how elevated a well-placed braid or accessory can take your style in the dreamy, creepy, and kitschy looks ahead!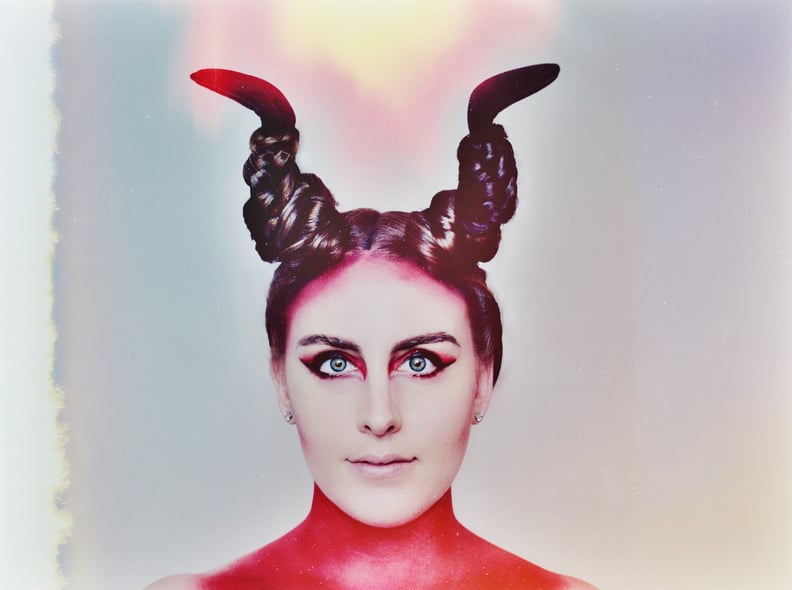 Devil Braid
"The inspiration for the Devil Braid was definitely in the horns," Sarah said. "I wanted to show that unique Halloween looks can be achieved with braids, a Wrap Up, and a little creativity."
Step 1: Part your hair directly down the middle.
Step 2: Section two high ponytails directly above the arches of your eyebrows.
Step 3: Braid ponytails and fasten with a clear elastic.
Step 4: Using the Wrap Up, bend to create the shape of the horns.
Step 5: Place and wrap braided ponytails to create devil horns; secure braids with hair pins.
Step 6: Color the hair part with black shadow in order to give a darker, more unison look.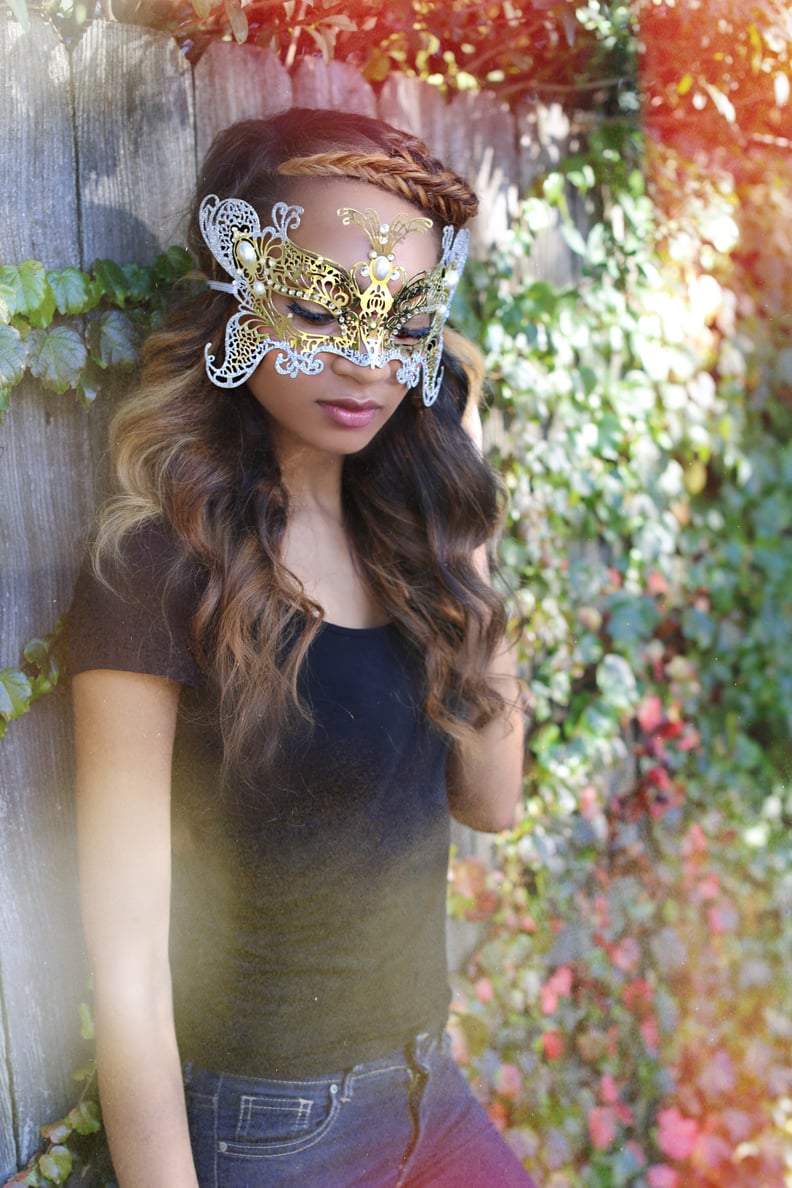 Basic Butterfly Braid
"A beautiful mask can be the perfect inspiration to creating Halloween hair!" Sarah enthused. "I thought soft beach waves and a crown fishtail braid seamlessly complemented the butterfly mask."
Step 1: Use the Beachwaver S1 to create soft waves.
Step 2: Braid a crown fishtail.
Step 3: Secure with a pin.
Step 4: Add a fun mask.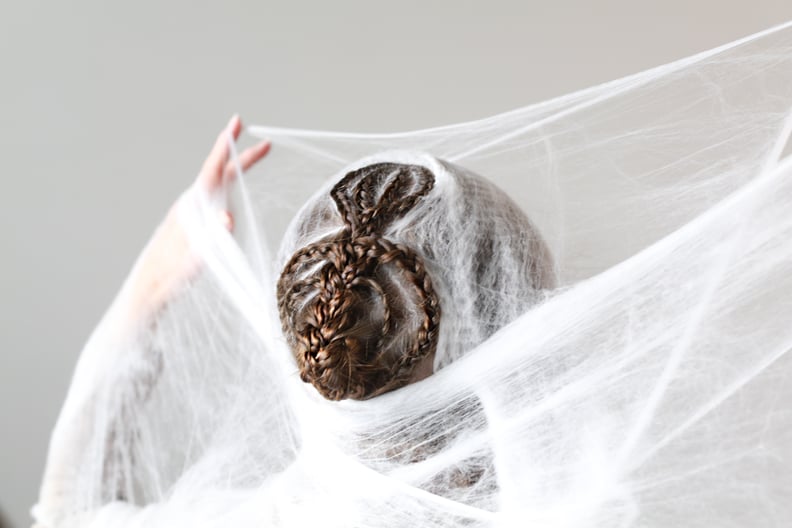 Spider Braid
"I wanted to challenge myself with a Halloween look done purely with braids," she noted. "The best part is the unexpected surprise factor when you turn around. The hair is the entire focus of this costume!"
Step 1: Section a diamond shape for the body of the spider.
Step 2: Start sectioning separate sections for each of the legs.
Step 3: Use mousse to keep each section clean.
Step 4: One by one, braid each section toward the body of the spider.
Step 5: Once every section is braided, take all eight braids and french braid them together. Then, roll them under to create a bun; secure with hair pins.
Step 6: Add white makeup in between to make the legs pop. Also, add Halloween webbing around the spider for a fun effect.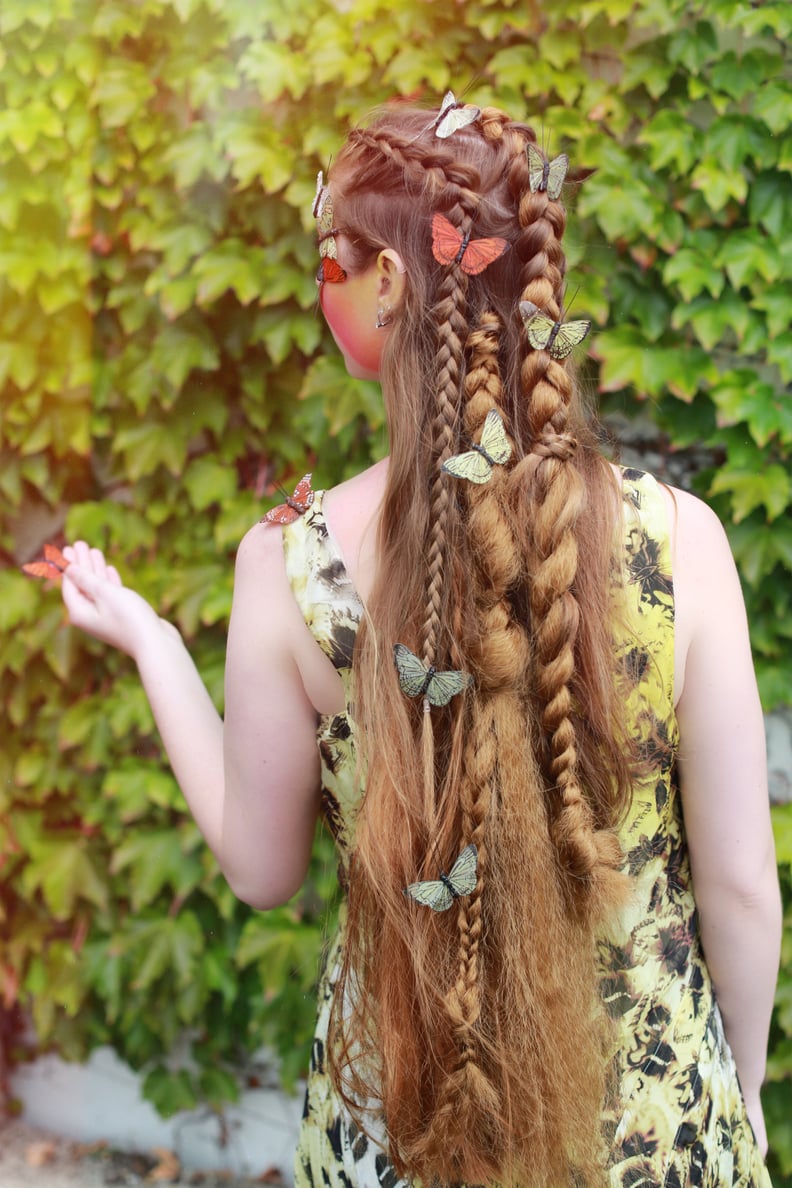 Garden Fairy Braids
"I love all the transitioning colors going from Summer to Fall," she gushed. "This whimsical fairy look was achieved by incorporating various braids that transition into each other."
Step 1: Add hair extensions for desired length.
Step 2: Start by braiding two dutch braids at the temples of your head.
Step 3: Using hair extensions, alternate between twisting and braiding extensions; secure them with hair pins onto natural braids.
Step 4: Add butterflies for the full garden fairy effect.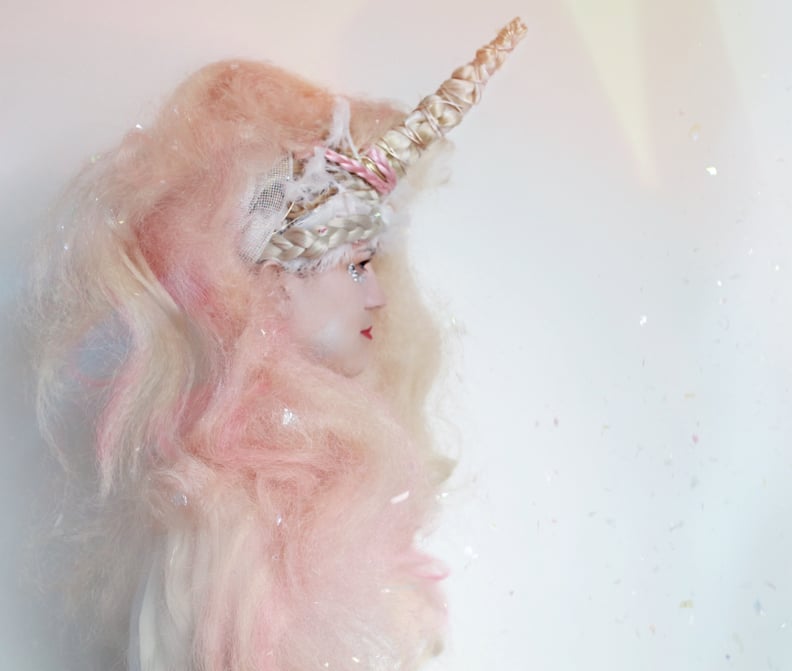 #MyUnicornLife Braid
"The #myunicornlife hashtag is dedicated to bringing all magical posts together," she explained. "All the colorful, creative, and positive photos gave me inspiration to create this look. "
Step 1: Braid hair into a double crown braid.
Step 2: Use thick, gold wire and wrap it around a braided hair extension to create a unicorn horn.
Step 3: Secure by spiraling more wire around the braid, and wrap wire around to make a headband.
Step 4: Add two bags of white braiding hair, and add any color hair spray.
Step 5: Finalize by adding some glitter for a fun twist.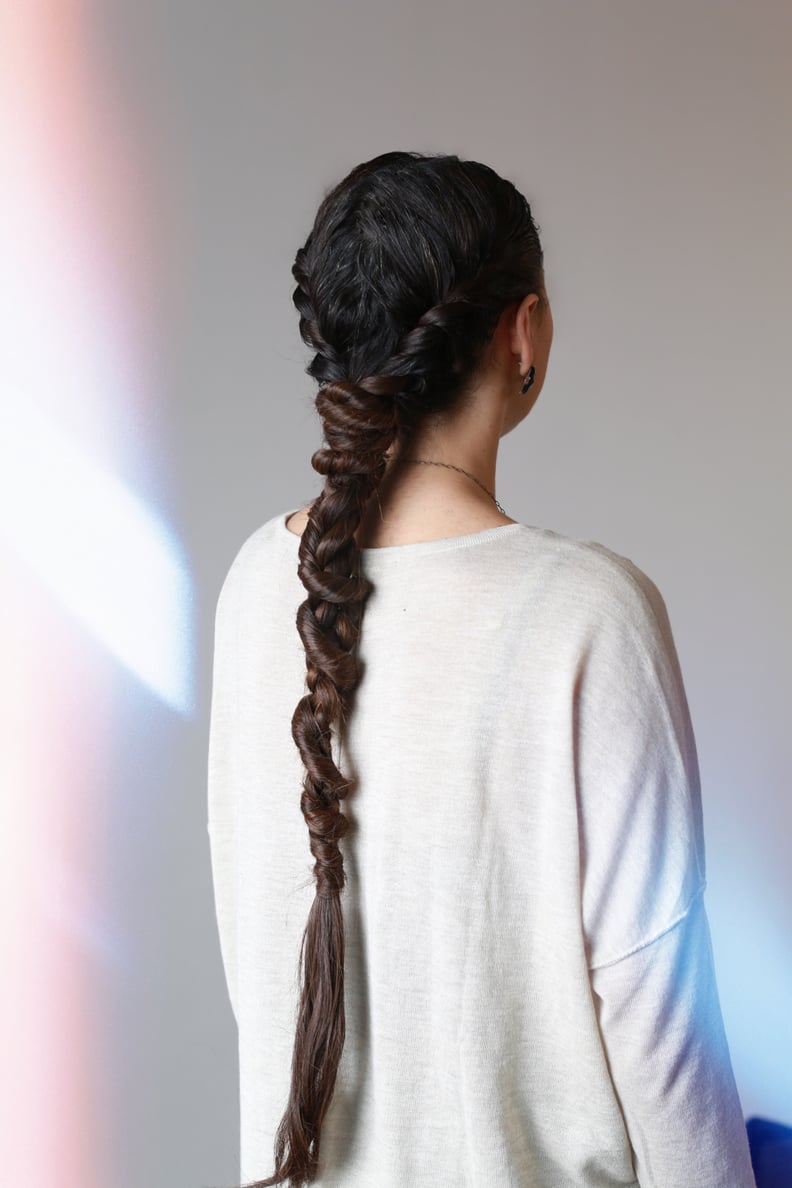 Princess Amidala
"Star Wars is one of the biggest movies coming out this year, so I wanted to show an alternative look to the famous Princess Leia," Sarah explained.
Step 1: Roll and twist sections of your hair starting from the temples to the back of your head.
Step 2: Secure into a loose ponytail.
Step 3: Create an opening above the ponytail, and insert the ponytail through.
Step 4: Braid the ponytail.
Step 5: Using hair extensions, twist and wrap around the ponytail; secure with hair pins.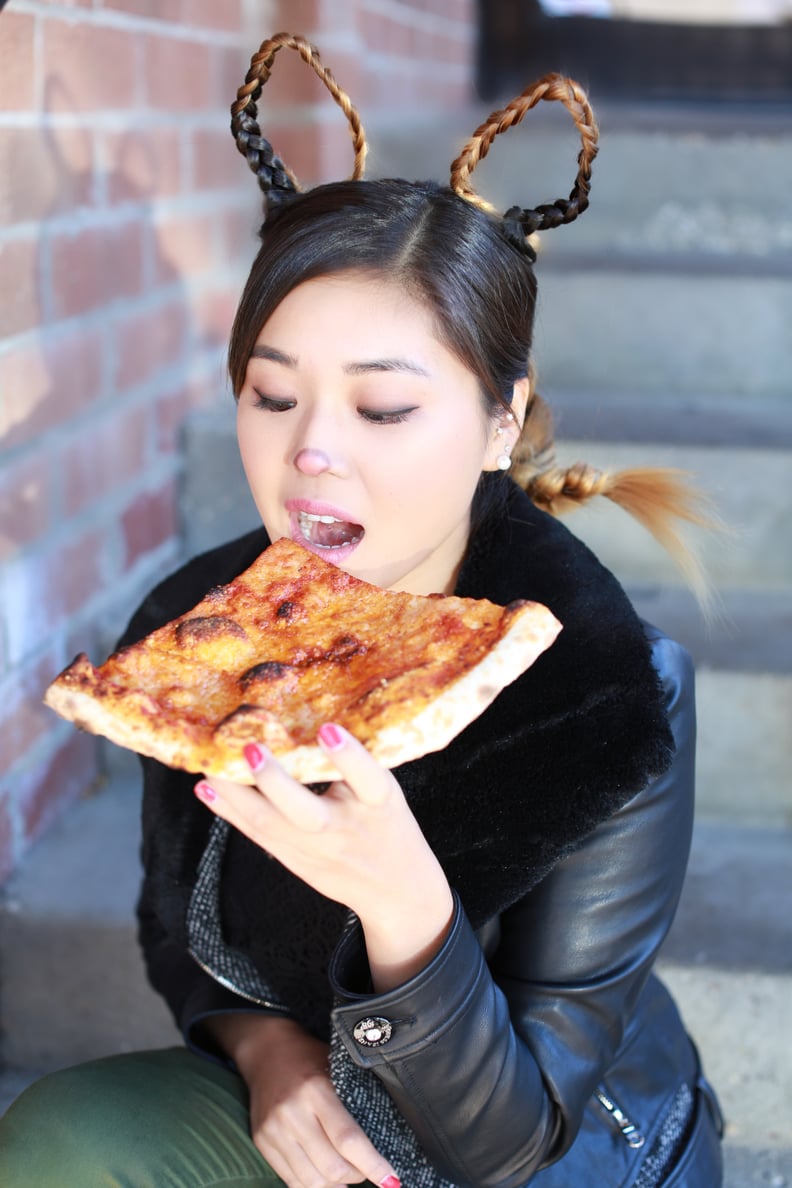 Rat With Pizza
"The hilarious pizza rat video was behind this look," Sarah said. "Just some wire and braids can take any animal costume to the next level!"
Step 1: Attach a wire to a headband.
Step 2: Braid around wire.
Step 3: Shape the braid into an ear shape and attach to the headband, and repeat on other side.
Step 4: Braid the remaining hair in the back around a wire to create a tail.
Step 5: Find some delicious pizza!