In recent years, demand has only increased for the Brazilian body-shaping lymphatic drainage massages that many A-list celebrities swear by. The popular technique promises to have many benefits, from creating a more sculpted appearance to reducing puffiness and bloating to improving circulation to even boosting the immune system. But there's a reason why a lot of the masters behind the highly sought-after massage happen to be Latinas.
Here, we're taking you through the storied history behind the practice and how it rose from a wellness technique that was birthed in Europe to a go-to spa offering across the world.
The History Behind Lymphatic Drainage Massages
The most well-known lymphatic drainage massage was developed in 1932 by Emil and Estrid Vodder, a Danish couple who originally worked as massage therapists in Cannes, France, in the 1930s, and went on to develop and publish their research on the massage technique. Dr. Emil Voddler taught his method across Europe throughout the '50s, and it eventually made its way to the Americas.
"The technique spread among European estheticians and later in South and Latin America. In Brazil, the method was disseminated through Waldtraud Ritter Winter, a former student of Dr. Vodder," says Camila Perez, a Brazilian founder and owner of MOVA spa and one of the pioneers of Brazilian lymphatic drainage in the US. "The technique was initially used only for aesthetic purposes, as a way to reduce body measurements."
Perez predicts that the technique made its way to Brazil around the 1980s, before popularizing in other Latin American countries like Colombia. "I started receiving treatments in the 1990s, which has [since] been part of my routine," she says. "When I started [cosmetology] school in 2002, I got more into the health and wellness benefits and fell in love."
Once people got wind of the benefits, people within varied Latinx communities started putting their own spins on the technique. After years of receiving training in the lymphatic drainage technique, Perez combined her knowledge and created her own signature method, which is known as the Massage High Definition (MHD) and includes sculpting tools that reduce the appearance of cellulite, and smooths tissues while enhancing the body's immune system. Her first spa opened in Miami, and she eventually expanded to Los Angeles and most recently opened a NYC location.
The Science Behind Lymphatic Drainage Massages
Perez describes the lymphatic drainage massage as "manual therapy that facilitates the reabsorption of the interstitial fluid (water and other substances outside of the cells) back into the lymph and blood circulation." It is essentially a gentle massage that encourages the natural drainage of the lymphatic system, which keeps body fluid levels in check and helps fight off infections.
"The process improves the function of the body's fluid balance, blood circulation, and immune mechanisms," says Angela Guerra, the Brazilian founder behind Angela Guerra Skincare and the aesthetician creator of the Modeladora Massage, which combines both lymphatic drainage and her own unique sculpting techniques. Guerra explains that her massages help clear unwanted toxins. These lymphatic drainage massages, she says, are targeting the lactic acid and uric acid buildup, "which is the reason for pain, soreness, and lack of flexibility."
Guerra notes that the lymphatic system works in tandem with the circulatory systems and helps the organs perform their natural detoxifying functions.
The treatment has also become popular for its metabolism-boosting benefits. The stagnant toxin-filled fluids and inflammation that can live in the lymph nodes can cause blockages that can affect the immune system and even slow down metabolism. The idea is that, as a result, the drainage of the lymph nodes can work to speed up metabolism and improve the body's overall health and function. Perez explains that approximately 90 percent of metabolic waste is absorbed by the lymphatic system and then returned to the circulatory system "to be filtered by the kidneys, the liver, and excreted by the urine."
The Aesthetic Appeal of Lymphatic Drainage Massages
Before people understood the overall health benefits of the lymphatic drainage technique, folks were sold on the aesthetic perks that come with getting these massages regularly. These perks can look like a reduction in the appearance of cellulite and toned, tighter-looking skin for post-op patients who often develop bumps after liposuction. Aesthetician Maryjory Valencia believes that's how it became popular in Brazil and her native country of Colombia. Valencia began studying, training, and offering lymphatic drainage massage treatments in Colombia for post-op patients in the early 2000s.
"It was only plastic surgery patients years ago; I never did lymphatic drainage massages on clients who hadn't gotten plastic surgery. It wasn't a thing," she says. "It was patients who had gotten procedures like liposuction. With these patients, I could actually see the fluids come out of them when I did the lymphatic drainage massages."
Surgery, thanks to the body's natural inflammatory response to damage, can leave us with excess fluids. These massages encourage the body to release them through the lymphatic system. According to Valencia, surgeons in countries like Brazil and Colombia started to understand the importance of this and the massages eventually became part of doctors' recommended post-op treatments.
Valencia, who has been working as a licensed esthetician in NYC for over 15 years, says it's only been in the past five years that she has started gaining a large clientele of non-plastic surgery clients. Many of these patients want to see themselves as less bloated and puffy, while others want to keep inflammation out of their bodies as a preventative health measure.
What It's Really Like to Get a Lymphatic Drainage Massage
I recently visited Angela Guerra Skincare in NYC, where Suelen Branco, a Brazilian aesthetician, provided me with a lymphatic drainage massage. As she worked her magic, she tells me that lymphatic drainage has become so popular since the '80s that you can find a spa providing the service on almost every block. It's become a regular part of Brazilian people's wellness and grooming practices.
"People [in Brazil] like being healthy and taking care of their bodies and it happens throughout Latin America — not just in Brazil," she says. "Latin American people, women especially, really care about the health of our bodies and looking good. I think this is why lymphatic drainage massages have been and still are very popular."
Growing up in the 1990s and early 2000s in Queens, I was certainly exposed to lymphatic drainage massages — only nobody was calling it that back then. Like Valencia says, it was often only offered to post-op clients who just had plastic surgery done in their native countries like Colombia, Brazil, or the Dominican Republic.
But the massages my mom's friends and acquaintances were getting seemed less than gentle. That's because they included things like wooden tools and a lot more force to assist in the stretching and sculpting of the skin. Guerra, Perez, and Valencia all incorporate these techniques into their lymphatic drainage massages when it's requested. Some combine wood therapy with hand sculpting techniques that use more strength and force than regular lymphatic drainage massages. Valencia also conducts some of her treatments using machines like the TriActive, a handheld device that combines laser, rhythmic massage, and localized cooling to increase blood circulation and lymphatic drainage, while smoothing and tightening the tissues.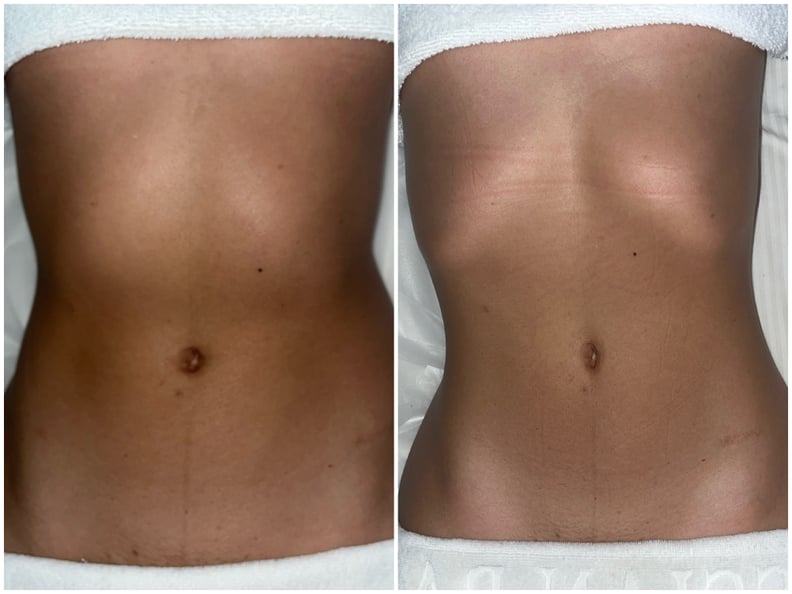 These are typically for clients that want results that go beyond bringing down water retention, bloating, and inflammation. They want to see their ab muscles more defined, they want the cellulite on their butt or upper thighs to be less noticeable, and they want to walk out looking more sculpted. And while results like these might seem too good to be true, in combination with regular exercise and healthy lifestyle habits, frequent sessions of lymphatic drainage massages with sculpting can assist in your weight loss goals. It's worked for me — especially when I've done them weekly. But when I don't have a particular weight loss goal in mind, I try to opt for monthly sessions for detoxifying and overall health purposes.
It's not surprising that many celebrities swear by the technique, too — including Kendall Jenner, Miranda Kerr, and Selena Gomez. Latina beauty experts have really taken over this space, including Brazilian celebrity aesthetician Flavia Morellato.
After my session with Branco, I saw a noticeable difference. I leave the room feeling lighter, less bloated, and visibly toned. Experts recommend drinking lots of water before and following your session to assist in detoxification. I often find myself having to urinate immediately after a session, and bowel movements follow hours later. It's the lymphatic system's way of flushing out the toxins that need to leave your body.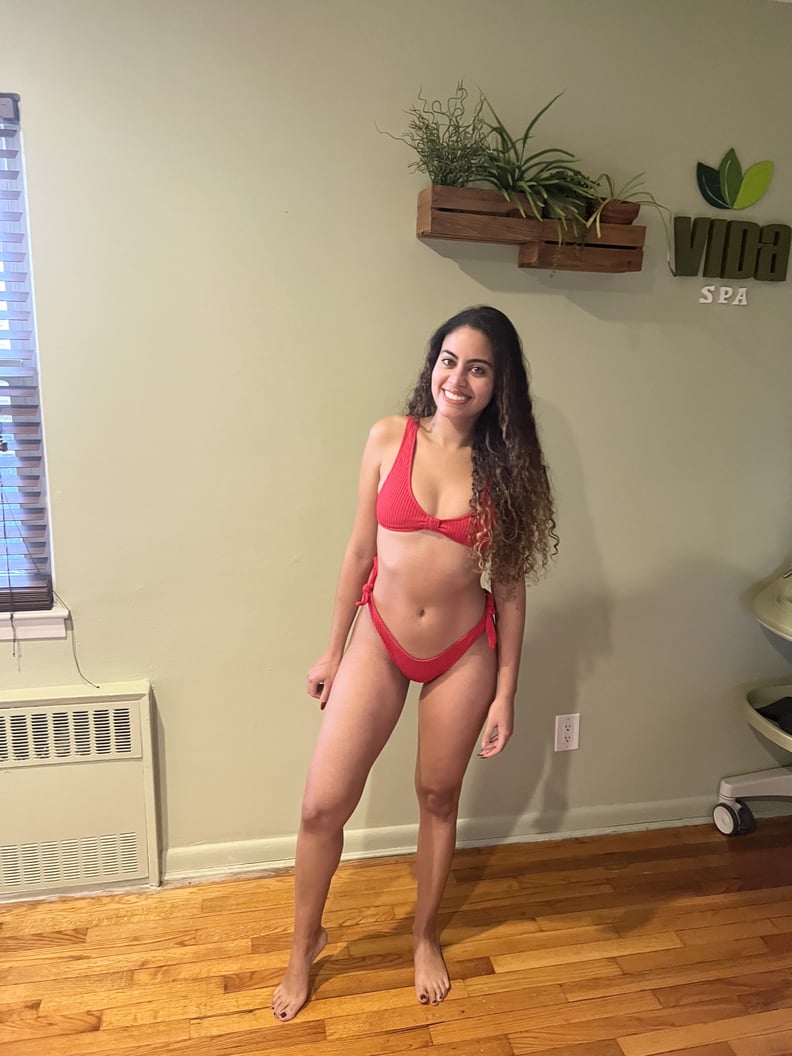 "If you think of the body as a house, the lymphatic would be the sewage system, and a healthy client would need a maintenance cleaning to keep everything working correctly," Perez says. "For a client, post-surgery is the same as doing the first cleaning after a flood. The tissue, vessels, and skin are damaged and need a particular kind of work to reestablish balance. "
If there was one word I would use to describe how I feel following a lymphatic drainage massage, it's balance.