Jessica Alba Took Us on a Private Tour of Her Chic New Beauty Store!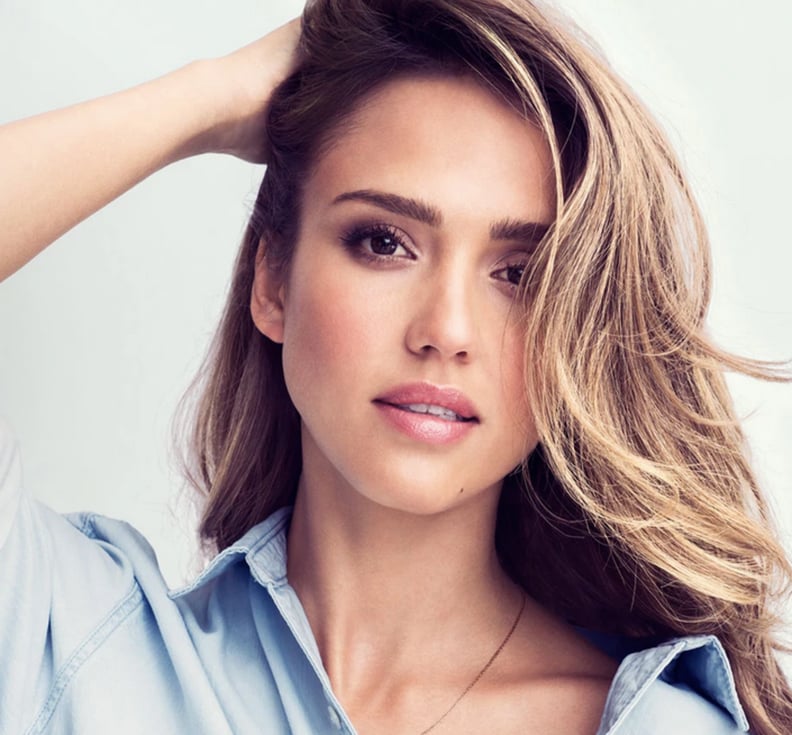 Honest Beauty
As POPSUGAR editors, we independently select and write about stuff we love and think you'll like too. If you buy a product we have recommended, we may receive affiliate commission, which in turn supports our work.
When Jessica Alba welcomed myself, another editor, and two makeup artists to the opening of Honest Beauty's pop-up shop, I knew we were in for a personalized experience. Instead of throwing a massive party for the launch or sending out a box of product, we were invited to view the retail space and experience the cosmetics and skin care line with Jessica by our side.
As someone who attends many events, parties, and appointments (rough life, I know), it was refreshing to get to get a first look at a brand as the founder wanted me to see it. I wasn't sure what to expect from Honest Beauty; I knew the products were "safe and effective" for the skin and sold by mass retailers, so would they be on the same level? And if I'm being honest (no pun intended), there are so many celebrity brands and collaborations that are uninspiring, I was skeptical; would this be a flash in the pan?
I should have known better, though. The Honest Company has a $1 billion valuation — and Jessica isn't just the face or spokeswoman for the brand, she's the woman who created it. When you walk into Honest Beauty's pop-up shop, it should be no surprise that Jessica means business and caters to the beauty crowd with the boutique. From the variety of ingredients and textures of her products (which includes buzzing beauty trends like a rice powder exfoliant, a konjac sponge and hyaluronic acid galore) to the cascading display of product that leads you into a bright, glowing beauty counter, it feels as if you're walking into a store with centuries under its belt. For good measure, though, it includes personal touches, like a secret door that leads to a photo booth. "One of my favorite restaurants in Paris has a secret door, and who doesn't like a photo booth?" Jessica explained.
Keep reading to learn more about our favorite products and to get a look at the shop!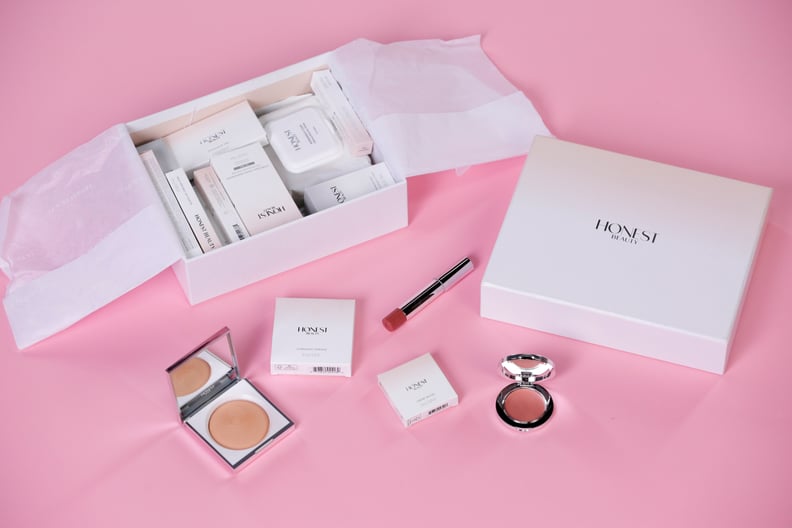 Honest Beauty Unboxing
After getting a tour of the pop-up shop from Jessica, we were allowed to go and try out each product in the collection and choose what worked best for our skin. Here's my selection!
The packaging of each product is just as gorgeous as the way it feels on the skin. Jessica collaborated with creative director Patrick Li and Humberto Leon, cofounder of Opening Ceremony, on the aesthetic of the brand.
"I worked with them on our color palette, the font, the packaging. I wanted it to feel modern and fresh, and cool. And chic!" she enthused.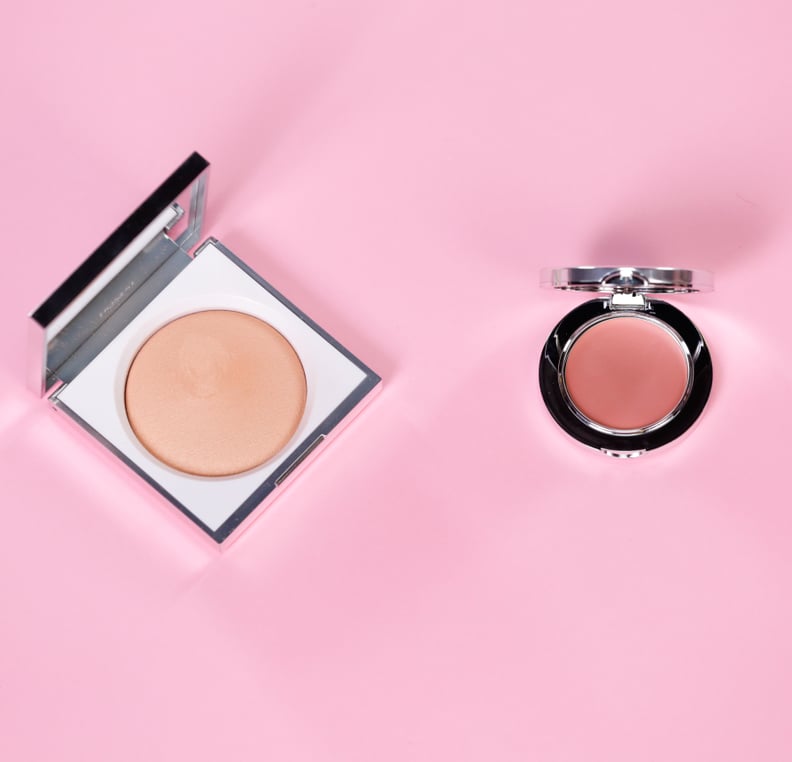 Cheek Products
The Luminizing Face Powder ($25) is a finely milled pressed highlighter and comes in three shades: Midnight Reflection, Dawn Reflection (shown), and Dusk Reflection.
The Créme Blush ($22) is available in six shades, including Truly Exciting (pictured), a dusty rose. What's legitimately exciting, though, is that it's made without parabens, mineral oil, sulfates, petroleum, and other questionable ingredients.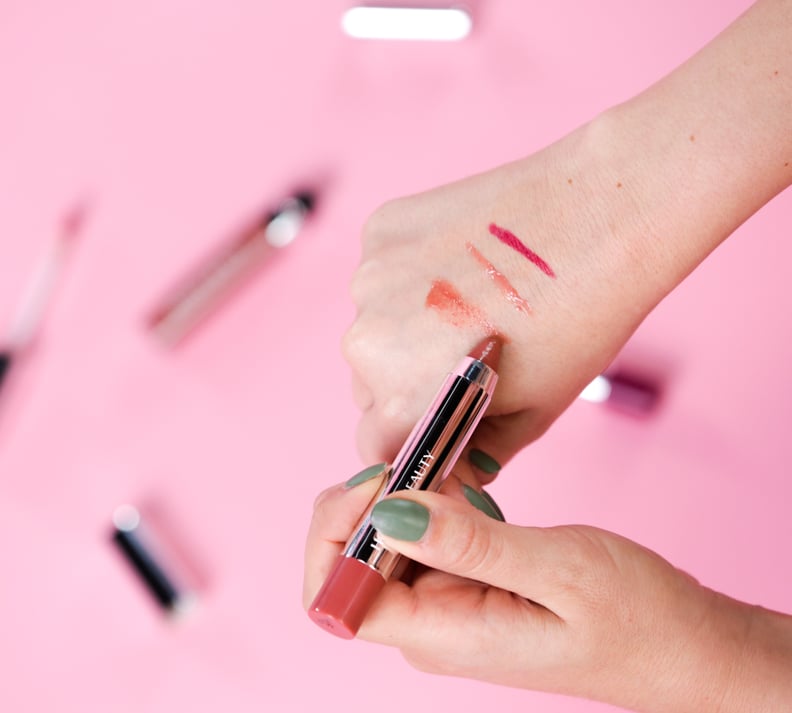 The Lips
In the line, there are 16 lip products to choose from: six Sheer Tint Truly Kissable Lip Crayons ($18) (shown in Chestnut Kiss, a sienna rose shade), four Demi-Matte Truly Kissable Lip Crayons ($18) (the right swatch in Mulberry Kiss, a burgundy), and six lip glosses ($18) (swatched in the middle in Generous Kiss).
Every piece is emollient and keeps lips from flaking. (Even the demi-matte crayons!) The lip gloss includes pomegranate as the marquee ingredient, while there's both jojoba oil and shea butter in the crayons.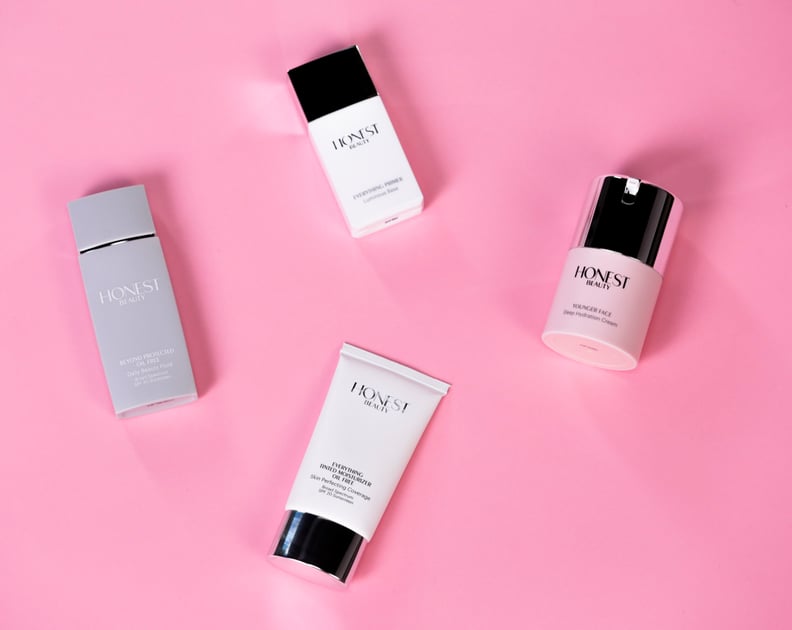 Beautiful, Glowing Skn
I'm a skin care nut, and I'm truly obsessed with all the face products.
The Everything Tinted Moisturizer Skin Perfecting Coverage ($28) come in a regular and oil-free option (shown, bottom). My biggest complaint with tinted moisturizers is that they can be too sheer, so I've been enjoying the medium coverage provided with these!
The Beyond Protected Daily Beauty Fluid SPF 30 ($28) is available in three options: oil-free (shown), regular, and sheer tint, which has mineral pigment to give a subtle glow to the skin. How gorgeous is this packaging? And with a name that includes "beyond protected" and "beauty fluid," it's hard not to want to wear it.
What I love most about the sunscreen is that it's creamy and makes your skin full, supple, and luxurious. Most fluids are runny and get everywhere, and they make your skin feel as if you doused your face in oil.
The Everything Primer ($28) adds a glow while eliminating imperfections (top) and the Younger Face Deep Hydration Face Cream ($34) works to brighten the skin, with ingredients like baobab fruit.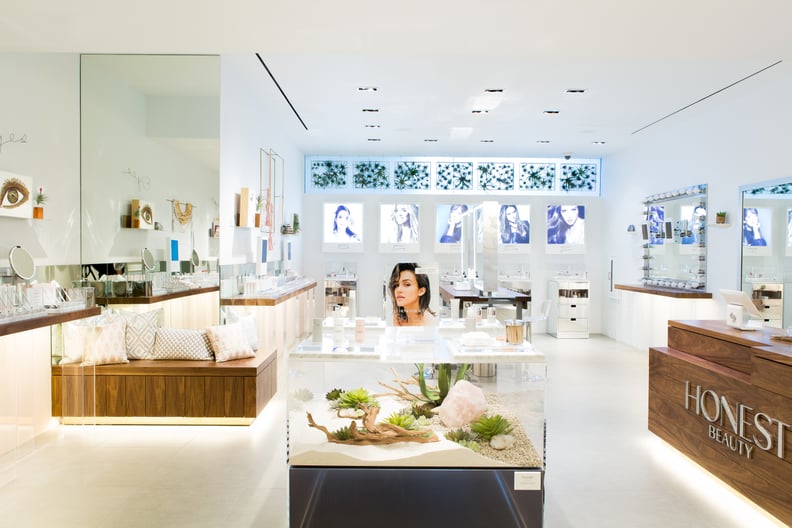 Inside the Store
Front and center is the aloe vera terrarium Jessica included, which reminds her of her grandmother. "When I was little, I practically grew up with my grandmother. Anytime I fell or got a bruise . . . she used aloe vera to heal it. I hated it as a kid, but I love it as a mom. It's included in some of our products," said Jessica.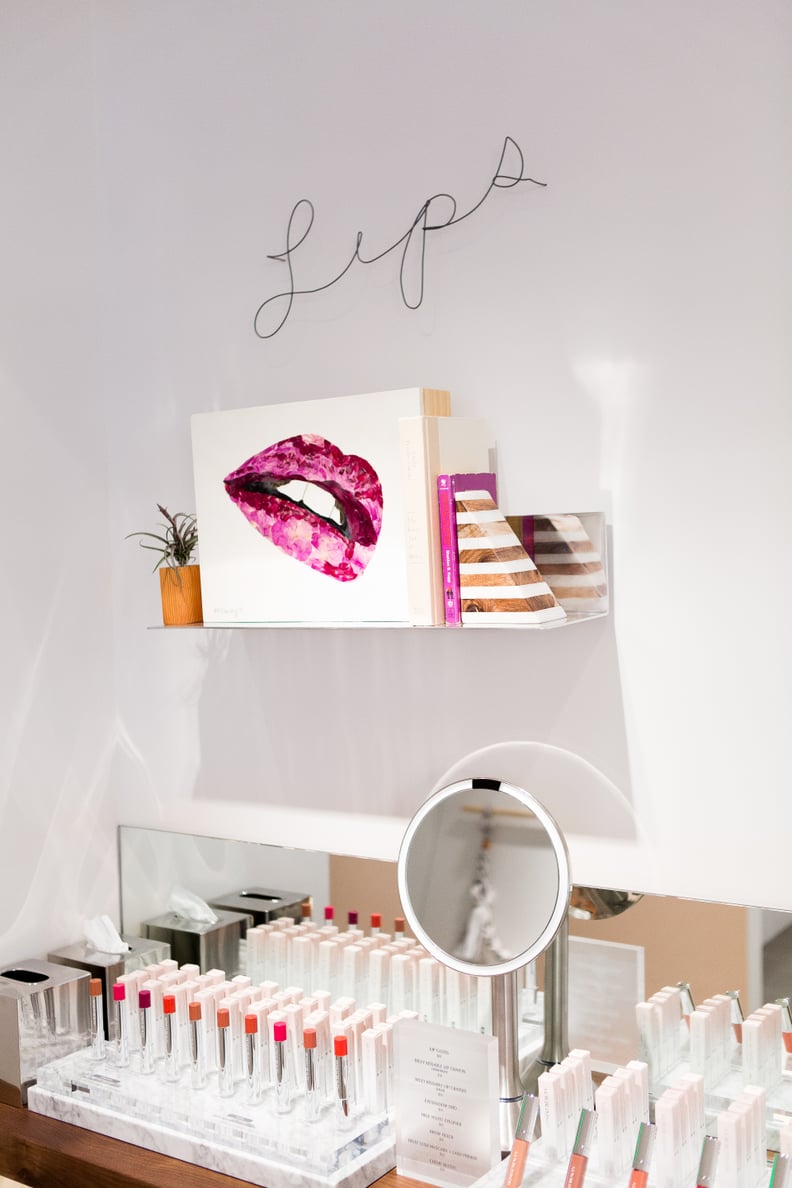 The Lip Area
One of the coolest features in the shop? The vanity mirrors, which light up as you get closer to them.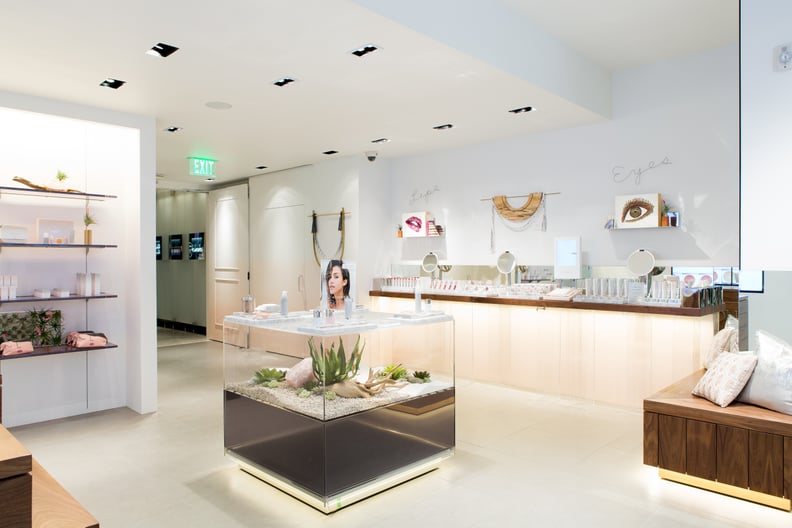 There's an App!
Plus, try on one of the five looks on display in the store — Fresh, Sunny, Chic, Daring, and Glam — by simply stepping in front of an iPad. It automatically maps your face, so you can scroll through each without having to take off your makeup!