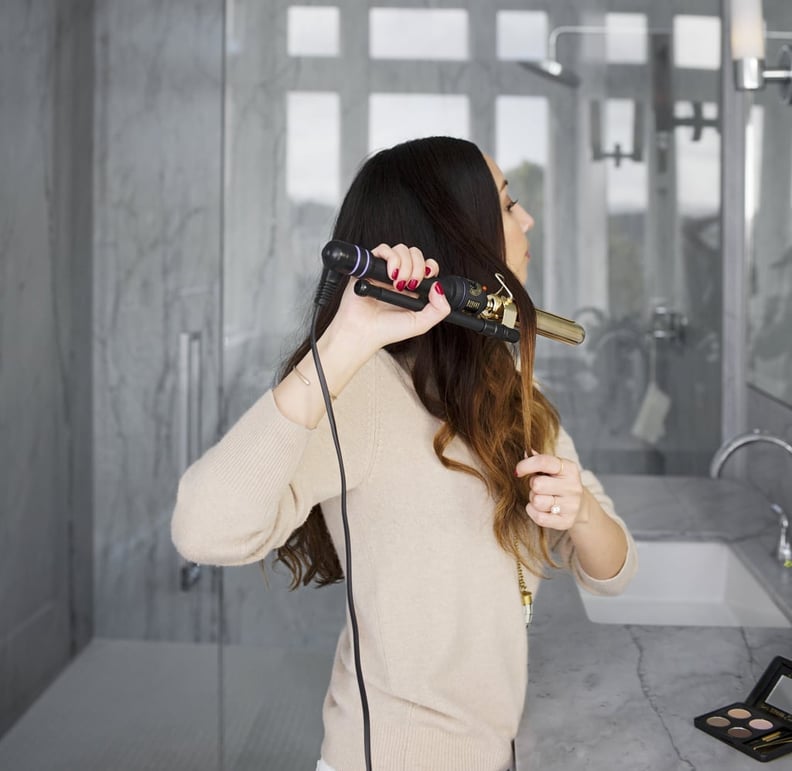 POPSUGAR Photography | Sheila Gim
POPSUGAR Photography | Sheila Gim
Given the number of rollers, curling irons, and flatirons on the market designed to curl hair, you'd think by now getting long-lasting waves would be easy. But not all curls are made equal, and many of us who weren't blessed with naturally curly hair still struggle to make our curls last more than a few minutes after styling.
The good news is there are actually some very simple ways to stop your curls from dropping or falling out completely and make them last longer than a few hours. Whether you have fine hair that always falls flat or superstraight ends that just won't bend, we can help. Read ahead for a few tips on how to make your curls last longer.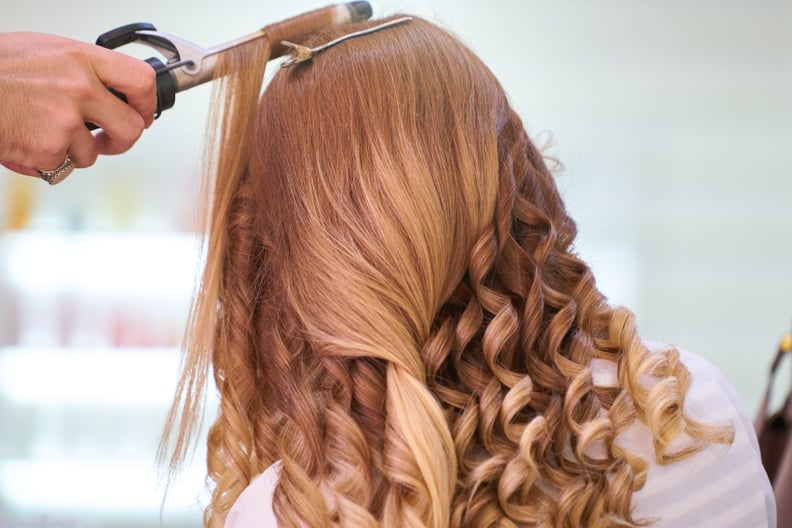 How to Make Your Curls Stay
Tip #1: Change the State
The best way to make a curl stay in hair that is not naturally curly is to change the state of the hair as you curl; do this by going from wet to dry or from hot to cold. A wet set is more gentle and will always last the longest as the hair dries in shape. To do a wet set, wash and towel-dry hair, add your chosen holding product, then create your curls either with velcro rollers, your fingers and clips, rags, or bendy rollers (don't use heated tools on wet hair). Let the hair dry completely before removing. For quicker results, going from hot to cold will have the same effect, using hot rollers, steam rollers, curling iron, flatiron, or something similar.
Tip #2: Use Product, Always
When you're trying to get your hair to do something it doesn't naturally do, you need to give it a helping hand. Don't expect a curling iron or GHD flatiron to work miracles on its own. Use some product! Firstly, for hot tools you'll need a heat protector like L'Oreal Paris Studio Pro Heat It Hot & Curl Heat Spray. Then choose a holding product that will give added oomph.
If your hair has a natural wave, a curl-enhancing mousse like Schwarzkopf Got2Be Twisted Curl Mousse will help to provide hold and lasting power. But if you have straight hair, you'll need something really powerful. Superdrug Setting Lotion Extra Firm is like liquid hair spray. It's not the most glamorous product, but it will definitely help to hold a curl.
Tip #3: Let It Set
One of the biggest mistakes we make when trying to create a lasting curl is to use a tool like a curling iron, wand, or flatiron. These are great for ease of use and will give a nice temporary curl, but those curls will drop very quickly, especially if you have fine hair, or very heavy, long ends. You can still use your heated tools for a longer lasting curl, just add in one extra step. Clip each tonged coil to your head as you curl it, letting it sit on the head until it's completely cooled down. This goes back to point number one: you need to change the state to set the curl. Speed things up with the cool-shot button on your hair dryer, and only shake the hair out when it's stone cold. Your curls will last twice as long this way.
Tip #4: Leave Your Rollers In For as Long as Possible
Hot rollers are great for retro waves and styles that require lots of body, but most tutorials tell you to leave them in for only 10 or 20 minutes. This is fine if you're using them for volume or to smooth hair ready for an updo, but if you want curls that last through a night of dancing, then you need to let those hot rollers cool completely . . . which in our experience can take up to a couple of hours in thick or long hair. Plan ahead and keep your rollers in as long as you can. And don't forget to use a styling product!
Tip #5: Adjust Your Cut (If You Can)
If you have particularly thick or long hair, you'll probably struggle to get a DIY curl to stay in. The longer your hair gets, the heavier it is and the harder it'll be to get a uniform curl to stay. You may find the ends go frizzy and curly, but the lengths fall flat. You have a few options to fix this. Firstly, get lots of layers chopped in — especially around the front — to reduce weight and give the hair some bounce. You should find that these shorter sections curl better. Secondly, chop your hair a few inches shorter.
The simple truth is super long hair will not curl easily if it's naturally straight. Finally, if you can't bear to face the scissors, try twisting wet hair into a bun (or two buns for very thick hair) and sleeping on it, or try headband curls; dampen your hair, part it as usual, and put a narrow stretchy headband over your head so it sits halfway down your forehead and quite high at the back of the head.
Starting from the front, take a section of hair from below and wind it up and round the band over and over again, adding more hair each time as you move around the head (as if you're creating a big croissant with your hair). Leave this in for as long as possible — overnight is best. When you pull out the band, your hair will sit in bouncy, full curls.