I Lasered Off My Hormonal Acne and Scars — and It Didn't Hurt One Bit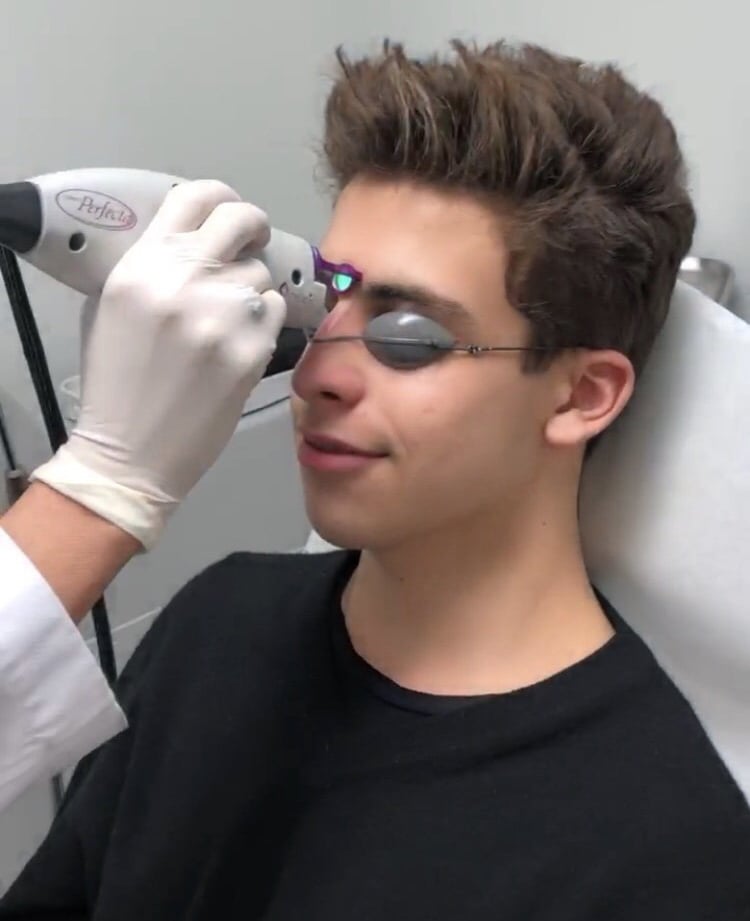 POPSUGAR Photography | David Ruff
POPSUGAR Photography | David Ruff
I'm 16, and until recently had no acne. It seemed to good to be true. Even as I faced a myriad of stressful school work and boy drama, I was surprised that no pesky pimples had popped up . . . until they did.
As a beauty influencer, I am constantly polishing my skin with the latest products. Since I take care of my skin religiously, I thought maybe I could avoid the inevitable plague of teenage hormonal acne. Little did I know, slathering on my favorite face mask on wasn't the answer to eliminating the sudden scads of pimples that began to invade my once perfectly dewy T-zone.
Hormonal acne is different than the average minor breakout. It was a new beast that I'd never tackled, and I needed help. That help came in the form of dermatologist Dr. Dendy Engelman, whose clients include Sofía Vergara and Christina Ricci.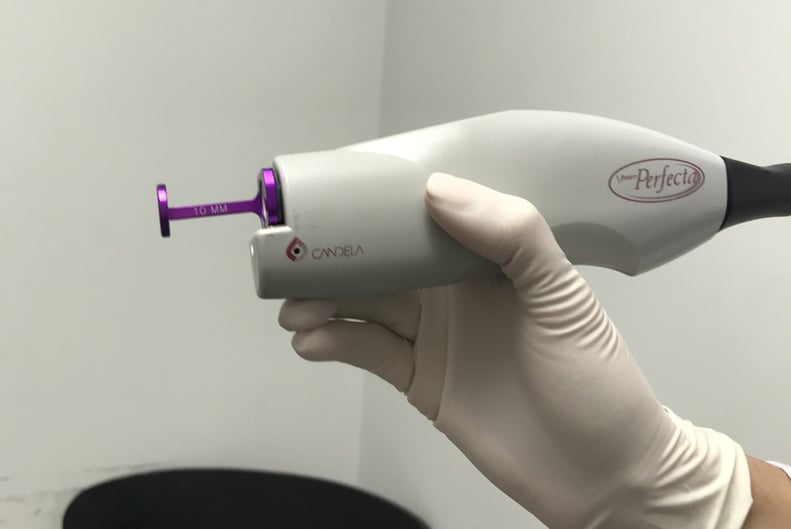 The Answer
Dr. Dendy's answer was Pulse Dye Laser (PDL), a method where the dermatologist uses a high-powered, handheld flash gun (like the one shown above) to deliver an intense wavelength of light to kill bacteria. This method also treats red lesions and triggers collagen production, which makes it ideal for people who are trying to get rid of pitted scars. It's also a great choice for boys suffering from hormonal acne, because unlike girls, we can't try quelling the outbreaks with birth control pills.
Dr. Dendy refers to PDL as life-friendly, as you can do everything normally, like go out to dinner afterward, resume your skincare routine, and still wear makeup.
How It Works
"Pulse Dye Laser is used to treat vascular lesions or areas of skin that are red," said Dr. Dendy. "The target there is hemoglobin, which is the oxygen-carrying component of blood. This helps to heat things up and injure the endothelium, which is the lining of the vessel. That subsequently clears the redness from the skin."
In real-people words, that means the laser injures parts of the dermal layer of your skin so it can repair itself quicker and leave an even skin tone. The PDL procedure essentially speeds up acne in all aspects, as it helps improve the appearance of post-breakout skin and can help treat active acne.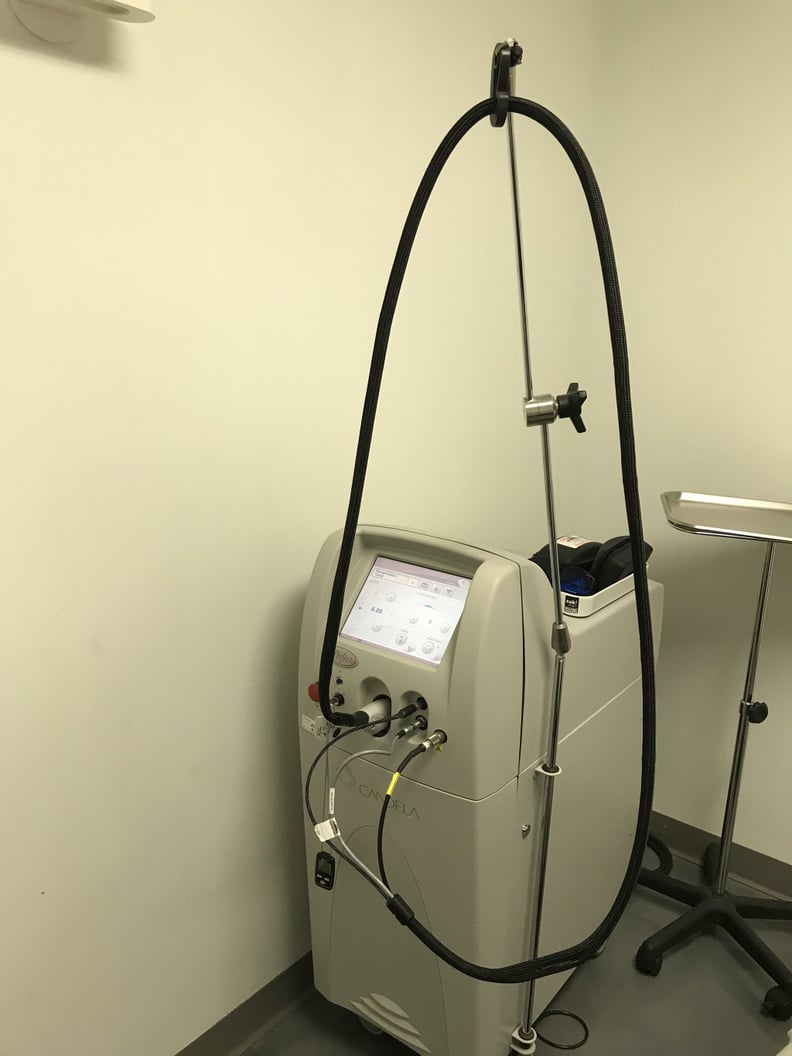 Is It Just For Acne?
Dr. Dendy recently treated a young boy who had a "spider angioma", which looks like a broken blood vessel, and eliminated that life-long mark with one zap of the PDL machine. Similarly, this can be done to acne marks and hormonal acne in two to four procedures.
Along with wanting to eliminate my acne bumps, I also wanted to get rid of the scars. According to Dr. Dendy, "That's where the lasers come in. This helps resolve the healing and the inflammation from the acne lesion much more quickly. You look much better and don't have these chronic reminders of breakouts from the past."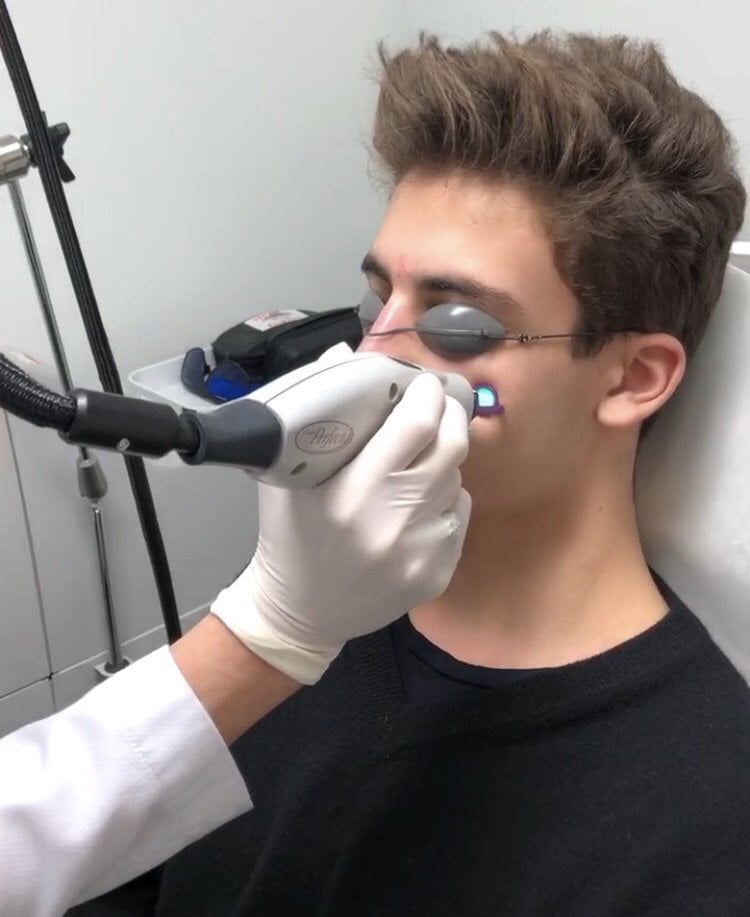 Does It Hurt?
During my first session, Dr. Dendy prepped the treatment area with a cleansing towel, and handed me a pair of protective sunglasses. It felt . . . less than chic, but hey, anything for perfect skin.
It is painless, and she recalls that none of her patients have ever stopped the procedure due to pain — even the wimpiest ones.
I almost want to say that PDL hurt, or it took a long time. But in fact, it was a string of beeps, flashes of lights, and tiny cool shots on my skin that lasted under two minutes. I jumped every time, but it was more from shock of the unexpected light flashes that coincide with the cool sprays than the feeling itself. Dr. Dendy herself admits that she still moves a bit during the PDL procedure. It is painless, and she recalls that none of her patients have ever stopped the procedure due to pain — even the wimpiest ones.
The Results
Immediately after, my face was glowing like I had just gotten an intense massage at a facial, yet it was also very pink. The next morning, I was happy that my pimple and nose were finally on the road to recovery; Dr. Dendy said that my pimple would get darker before it cleared up.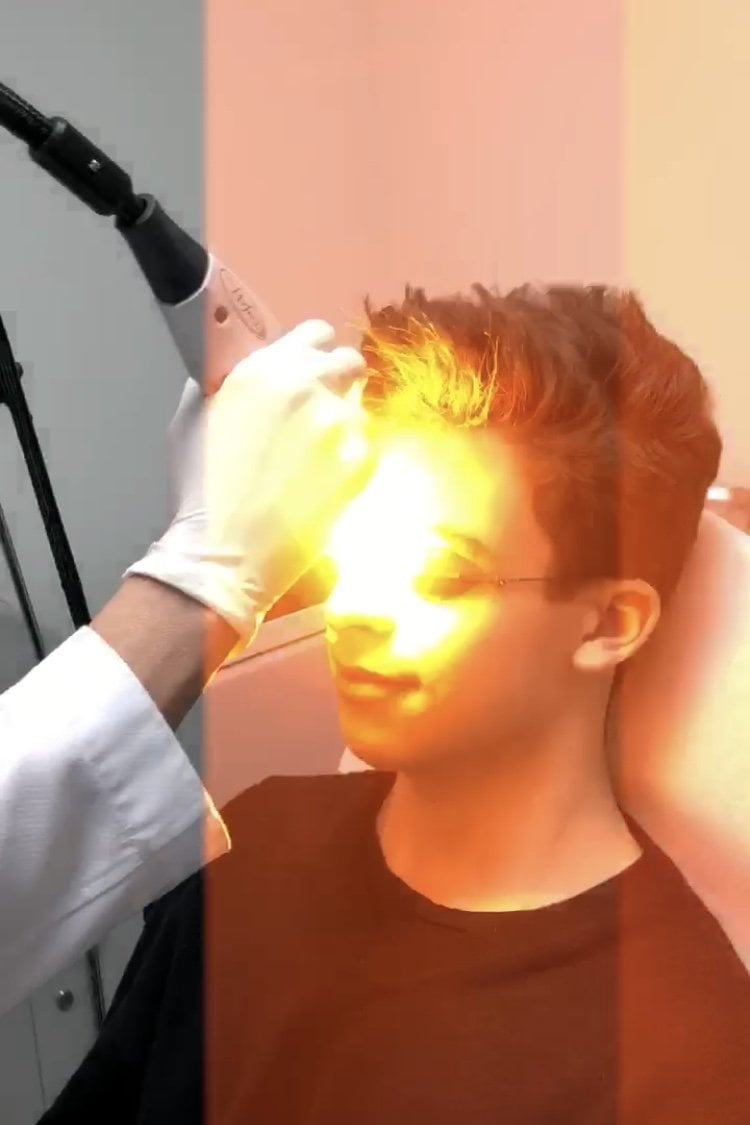 Aftercare
Regardless of what acne you have, if you decide to get PDL, it's important to maintain your treatment protocol for a outcome that will produce longevity. Additionally, use gentle products as suggested by the doctor.
First, you should keep your regular skincare regimen. I use a cleanser with salicylic acid to clear pores and treat acne, and a vitamin C serum called Nerium IllumaBoost Brightening & Shield ($80). Recently, I added the Mattifying Hydrator Pore Minimizing Gel ($48) from Dr. Brandt to minimize the appearance of large pores.
One trick I learned from Sir John when I interviewed him on my YouTube channel is to use matte products on areas of concern, and use reflective products to your advantage. For instance, the Josie Maran Moonstone Drops ($48) with argan oil are moisturizing and give my skin a dewy glow. I follow those with sunscreen, because Dr. Dendy would not like it if I didn't, and lastly Erborian CC Creme ($45), which is tinted to conceal any active lesions, darkness, redness, and acne.
At night, I like to make sure I use the Conture Kinetic Reveal Exfoliating Scrub ($28) twice a week to unclog pores, followed by Differin Gel ($14) on acne-prone areas. Occasionally, I like to use the Dr. Brandt Hydro-Biotic Mask ($52), which I leave on overnight to hydrate and reduce inflammation.
As I have learned, hormonal acne is inexorable (much like school stress and boy problems), but like anything else in life, there are ways to prevent, treat, and overcome sudden obstacles.