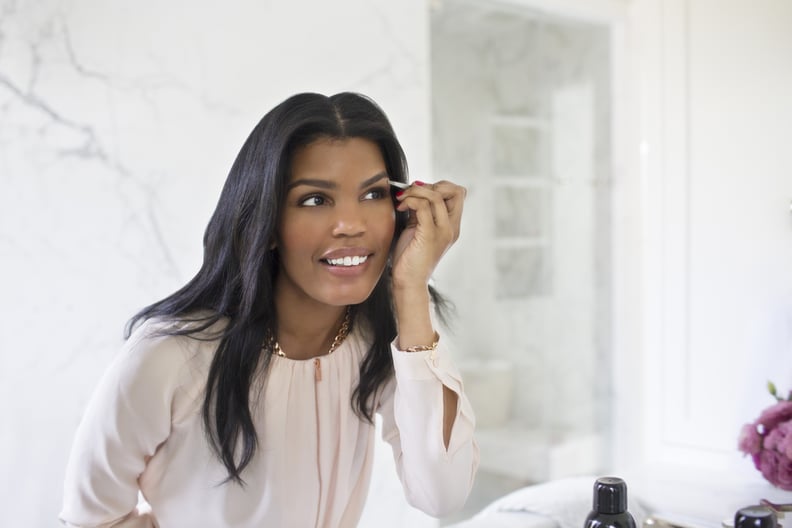 POPSUGAR Photography | Sheila Gim
POPSUGAR Photography | Sheila Gim
As POPSUGAR editors, we independently select and write about stuff we love and think you'll like too. If you buy a product we have recommended, we may receive affiliate commission, which in turn supports our work.
Think you're an expert at plucking your eyebrows? So did I, but that was before I discovered an extra step that has completely changed how I groom my brows for the better. With this trick up my sleeve, I'll never go overboard with the tweezers ever again.
As I sat down to give my brows the professional pampering they deserved, an expert from The Brow Gal started filling my brows in. At first, I wondered if I'd gotten the appointment wrong and just booked a fill-in. They really needed plucking and shaping! But then the brow expert explained that filling them in first avoids removing too much hair. Game changer! Tonya Crooks, founder of The Brow Gal and the woman responsible for Julia Roberts and Megan Fox's brows, trained all of her brow experts to follow this rule. I reached out to her to find out exactly why this is the best method for at-home brow shaping.
Tonya began by saying "too many brow artists or customers start their brow routine or maintenance by blindly removing hair." Guilty. "If you find your shape first, and fill in the brows, then you are simply removing hair that falls outside of those baselines you created. This will keep your brows fuller and the shape correct." Not only will this ensure that you don't overpluck your brows but also that you get the correct shape for your face. Tonya says that if you over-create an arch for your face and don't have the classic arch shape naturally, you'll simple give yourself a "surprised" look with brows that are too high.
Not only did I come away from my brow appointment with natural yet tidy brows, but I knew exactly how to re-create them at home. I can even grow out my stubborn bald spots with The Brow Gal Second Chance Brow Enhancement Serum.