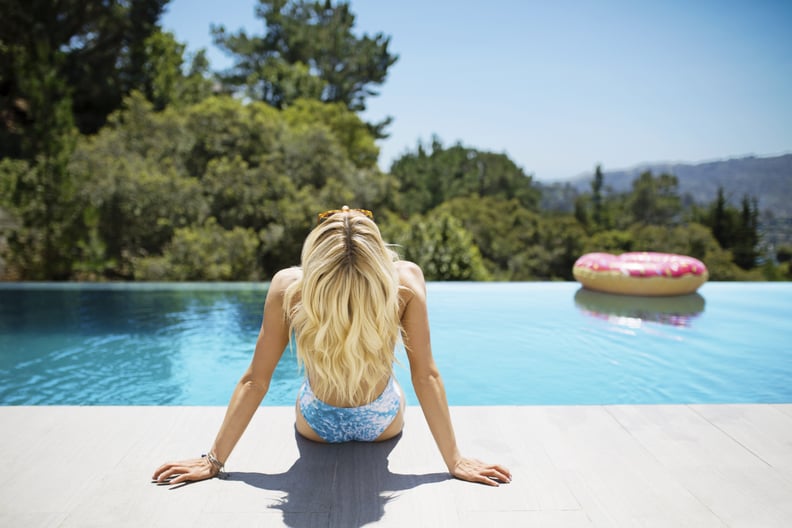 POPSUGAR Photography | Sheila Gim
POPSUGAR Photography | Sheila Gim
As POPSUGAR editors, we independently select and write about stuff we love and think you'll like too. If you buy a product we have recommended, we may receive affiliate commission, which in turn supports our work.
Our hair can go through a lot in the Summer months: though we'd never complain about good weather, the blazing sunshine can be harsh on our strands, and that's before you factor in all that swimming. Living in Asia as a kid, the memory of my mom slapping ketchup on my blond ends after hours spent in the pool is all too familiar. Thank goodness there are now products to specifically help with this damage and discoloration! We quizzed hairstylist to the stars Rita Hazan to find out exactly how to maintain healthy hair all Summer long.
How does chlorine affect hair, and how does this differ with colored hair?
"Chlorine affects hair by essentially stripping it of moisture and its natural oils. This makes hair dull, less flexible, and more prone to breakage and split ends," Hazan said. In short, chlorine is bad news. She noted that chlorine can exacerbate these effects on colored hair, particularly if you're sitting in the sun, as this breaks down the color molecules.
How can you protect hair from chlorine?
Hazan has a top poolside tip. "Whenever I'm at the pool or the beach, I like to coat my wet hair with a dab of my Triple Threat Split End Remedy ($30). It works to help protect the hair cuticle from becoming dried out and breaking from chlorine exposure. After swimming, I suggest a shampoo and rinse and deep condition."
Does rinsing hair prior to swimming help minimize damage?
There's one thing you can do that will reduce damage and doesn't require any extra product: rinsing hair with water before getting into the pool. Hazan agreed and said, "Wetting hair with clean, fresh water before swimming is supposedly meant to saturate the hair so it doesn't absorb as much pool water, so I wouldn't recommend entering the pool with dry hair."
What are some favorite products for protecting hair from chlorine?
Hazan said it does help to use a conditioning treatment in between dips to protect the hair cuticles from chlorine. She also said sun protection is particularly important for color-treated hair and suggested using Lock + Block Protective Spray ($26). Thankfully, there are plenty of products to help protect hair from both chlorine and UV rays during Summer.