As POPSUGAR editors, we independently select and write about stuff we love and think you'll like too. If you buy a product we have recommended, we may receive affiliate commission, which in turn supports our work.
Women (and men!) know the pick-me-up powers of shopping for new makeup, but for many, it's specifically lipstick that holds the ability to completely transform the wearer's mood. You've likely noticed that over the past few years, some people are eschewing standard reds and pinks in favor of one particular color category: rainbow brights. We say, why not? It's the easiest way to feel like a badass. And while blue pouts were the edgiest way to make a statement in 2016, we're positive that 2017 will be dominated by green lipstick.
Rihanna may have worn it back in 2012, but just look at some of the most recent — and upcoming — launches from some of the industry's biggest brands. Bite Beauty debuted a blackened green shade, Kale ($26), as part of its bestselling Amuse Bouche range last Fall. Both Anastasia Beverly Hills and Too Faced revealed plans to release liquid lipsticks in the category this year. And, as part of its colorful blockbuster ColourRocker launch, artistry brand MAC Cosmetics shared five different takes on emerald.
"Lipstick has indeed become the most popular (and affordable) accessory in fashion," MAC Cosmetics Senior Artist Victor Cembellin told POPSUGAR via email. "Making a 'uniquely you' statement of individuality is currently at the forefront of style."
When we asked him why he thought green was blowing up, he remarked, "perhaps because this color comes with the reputation of being a challenging shade to pull off . . . and true to form, fashionistas can't resist a challenge."
According to Cembellin, anyone can wear any shade of green "with the right spirit and a little bit of attitude!" (We agree: just like rainbow hair, it's more about the wearer's confidence than her undertone.) Dabbing it on lightly will not make the same statement or make it clear you're partaking in the trend. So just go for it and own your verdant pout!
If you're wary of stepping into the green category, Cembellin advises trying a jewel-toned teal, a shade that was seen in many runway collections for the Spring 2017 season. "Perhaps because teal as a color straddles the fence between blue and green, it feels right at this moment," he said. Alternatively, he suggested trying a jade-tinged putty hue like MAC Cosmetics ColourRocker Lipstick in Night Mint ($17, available in February). That's because this tone combines two hot trends — the taupe-brown lip and the green pout — into a wearable color.
There are really no rules when it comes to wearing this lipstick hue except one: perfect application. No matter how skilled you are at slicking on lipstick sans mirror, take a little extra care with this category.
"Think of a green lip as a precious piece of emerald jewelry that should be thoughtfully set against a modest makeup," said Cembellin, who recommends taking symmetry, a sharp lip line, and your lip's finish into consideration.
A sharp lip line may sound like a challenge with a green lip — after all, have you ever heard of an emerald lip liner? — but the solution is simple: just use an eye pencil! Depending on the depth of the shade you prefer, you can opt for lime, khaki, or even black liner to ensure a precise edge (and a good lip brush doesn't hurt either). Finish off the lip by pressing glitter on top to add sparkle, a generous coat of clear gloss for intensified color and shine, or keep the texture matte.
As for the rest of the face, Cembellin likes pairing this statement pout with fresh, lightly sculpted skin, a bold cat eye, and a coat of mascara on curled lashes. For those who plan on taking a lot of selfies with their new dramatic pucker, he cautions you to avoid applying too many coats of lipstick on the very inside of the lip, which could spread and stick to your teeth. "If this is a concern, a closed-mouth coy smirk always does the trick," he noted.
Read on to see Cembellin's hue recommendations for fair, medium, and deep complexions, but remember: wearing a green lip is all about breaking traditional beauty rules. Wear any shade you damn well please!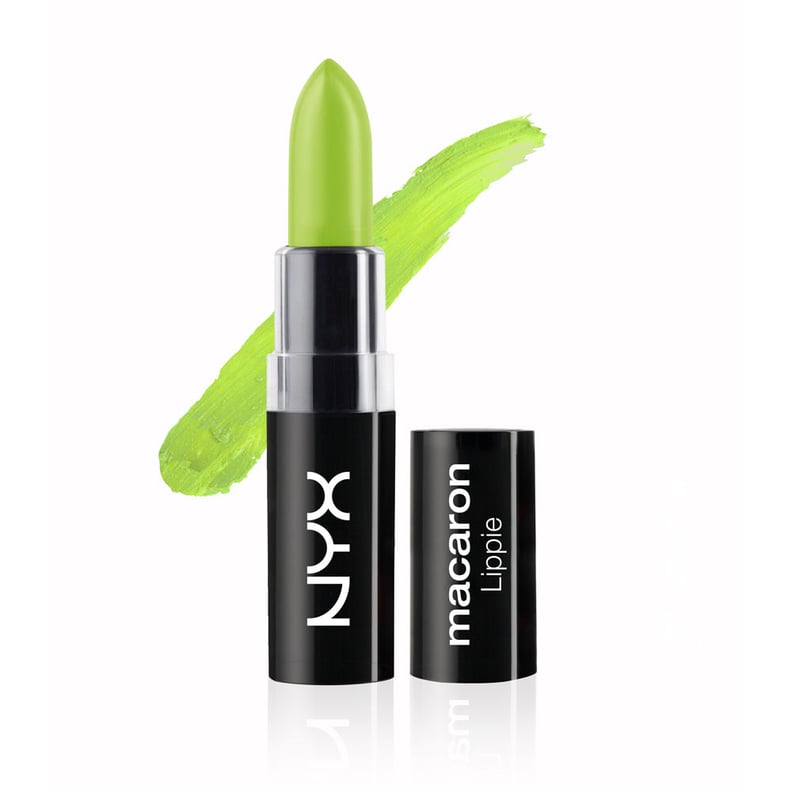 Fair Skin
Cembellin recommends a "high-energy lime green" for fair complexions. This zesty hue will pop against a pale backdrop.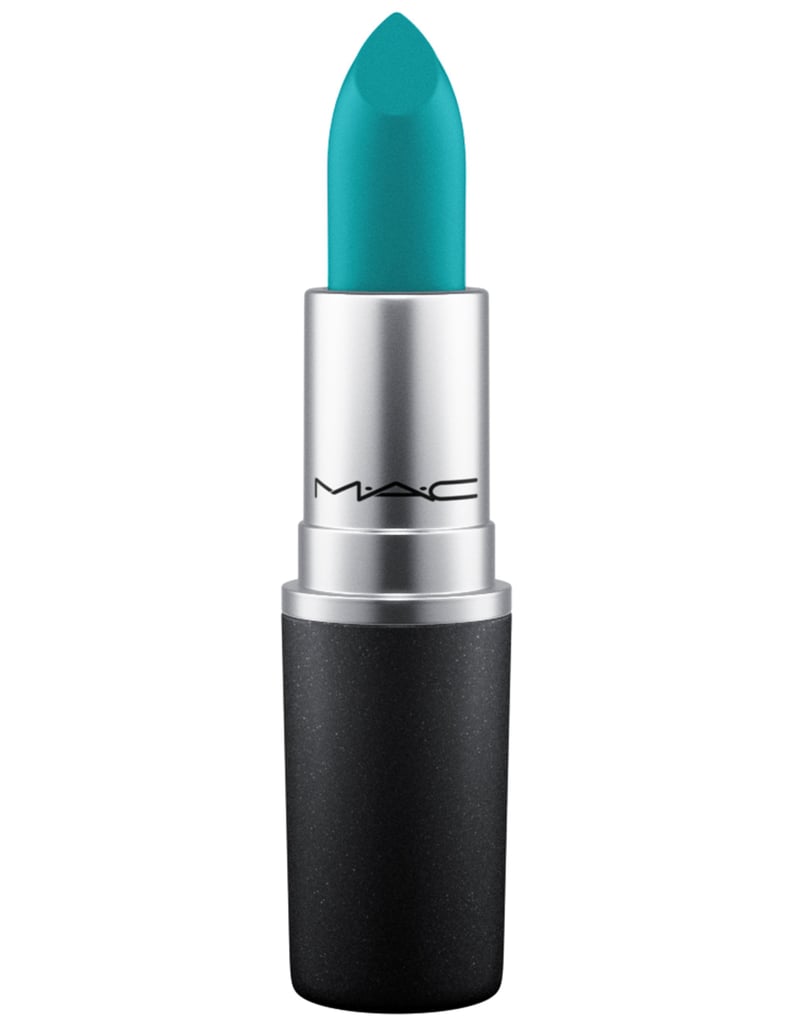 Medium Skin
This complexion would look especially stunning in a "luxe jewel-toned teal." As teal toes the line between blue and green, it won't overly enhance the olive tones in your skin (which could make you look sallow).
Try: MAC Cosmetics ColourRocker Lipstick in Show and Teal ($17, available in February)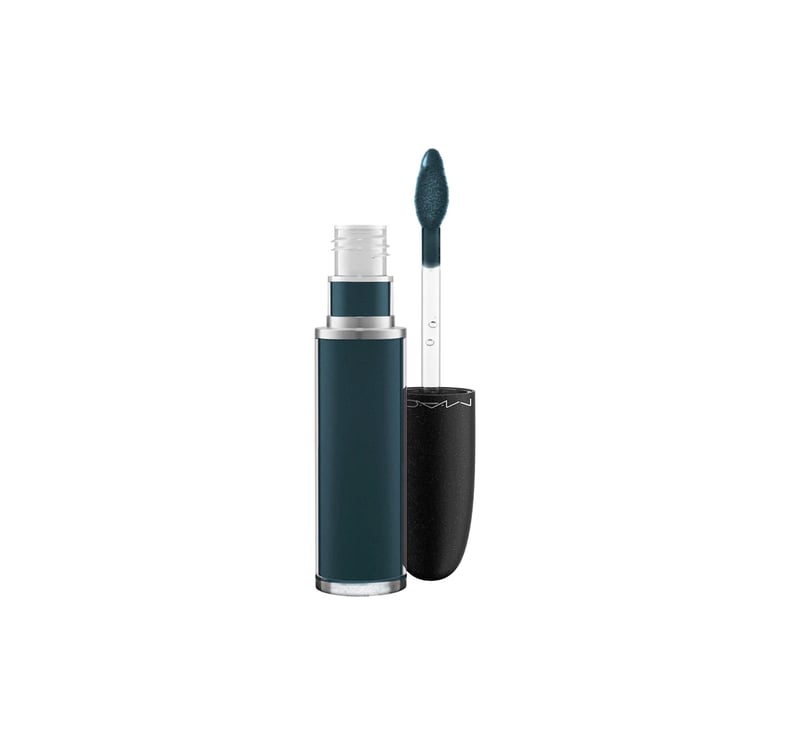 Deep Skin
Darker-toned women should try an even deeper variation on teal for a more dramatic style. (Want something a little edgier? Try the aforementioned "jaded putty" shade, which Cembellin says will "float forward against the complexion.")
Try: MAC Cosmetics Retro Matte Liquid Lipcolour in Young Attitude ($21)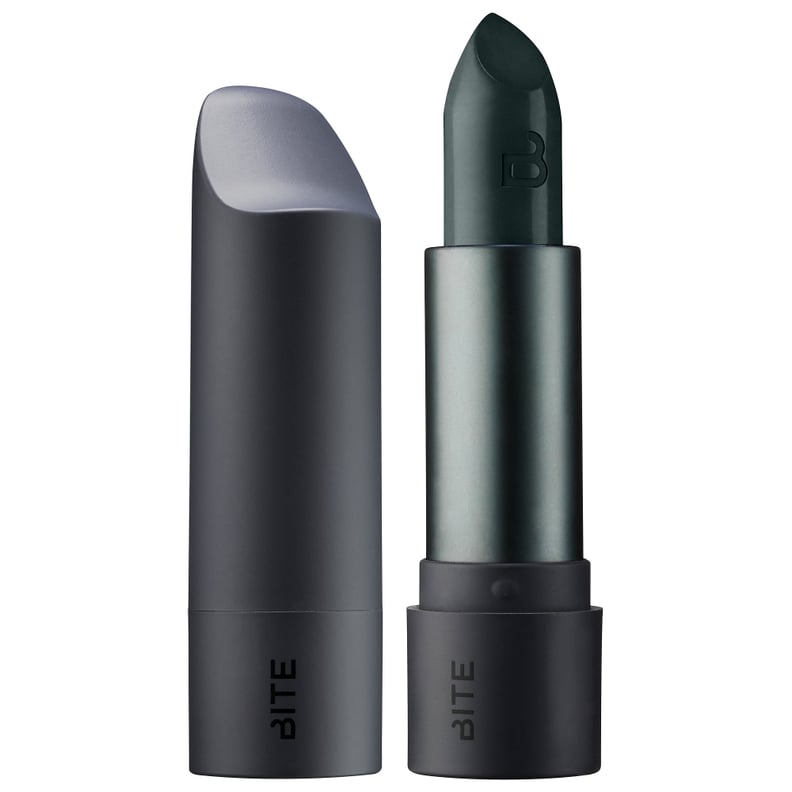 For a Vampy Look
Think of this hunter green color as the equivalent of a moody burgundy or even black lipstick. It's totally unexpected but looks stunning on all complexions — all you need to wear it is confidence.
Try: Bite Beauty Amuse Bouche Lipstick in Kale ($26)