When you have only 15 minutes to interview the legendary Isabella Rossellini, things can get daunting. What topics do you touch on during such a short time? There's so much to ask: Rossellini's film career spans such classics as Blue Velvet and Death Becomes Her, she just returned to model Lancome's Rénergie Multi-Glow collection after repping the brand in the '90s, and she's the daughter of Hollywood royalty Ingrid Bergman and Roberto Rossellini.
Don't worry. As a millennial who has spent many a night binging Friends on Netflix, I opted to open with a very important question.
POPSUGAR: Tell me everything about that episode. [Editor's note: Rossellini starred in "The One With Frank Jr.," where Ross puts her name on a laminated list of celebrities Rachel would let him sleep with. He cuts Isabella from the lineup right before meeting her by chance.]
Isabella Rossellini: When I was asked to be in Friends, I was very honored. When I read the script, I couldn't believe that I was presented as somebody who was very known. I was playing myself, rather than a character. Then there was the joke about if you could betray your partner, who would you want to do it with? I thought, "Wow. My modeling really is strong for them to select me as the person that represents a celebrity guys want to go to bed with." If I can make a parallel, once I read that Charlie Chaplin also couldn't really gauge how famous he was until he came to New York. He was walking through Times Square, and he saw a sign that said, "Charlie Chaplin is in town." And that's when it hit him: "Oh, I'm that known." That's almost the same as when I was asked to be in Friends as myself and as a celebrity. I thought, "Wow, I'm known in America."
PS: You're coming back to Lancome after previously working for the brand in the '80s and '90s. How does it feel to be a campaign star in 2018? Is it different than it used to be?
"You write with your clothes. You write with the way you wear makeup. You present yourself as yourself. That's elegance to me."
IR: Well, I'm delighted to be back. We all are very curious to see what will be the impact of the ads. The first impact was very positive. When I put on Instagram that I was back at Lancome, people were very happy. But we don't know how successful Rénergie Multi-Glow Cream Moisturizer ($79) will be, because it has just come out. Will my face still sell the cream? Or is it impossible for a 65-year-old woman to sell it? I think it's possible, and I'm sure Lancome thinks it's possible, too. Otherwise, they wouldn't have taken the risk. So it's new ground, but we will see.
PS: It seems like the beauty industry is trying to stop thinking about aging as if it was a bad thing.
IR: I was the face of Cream Energie 30 years ago. If you look at the ads of the time, you can see what words it used: "anti-wrinkle, firms skin." There was a real emphasis on antiaging. Now it's reformulated, the message is "multi-glow," and the emphasis is on your personal glamour and sophistication. I find that to be a much happier step than the old one that was look at yourself, judge yourself, and hide who you are. I think showing off rather than hiding is really much more the definition of elegance. I'm not only happy to be back with Lancome, but I'm happy to be back with Lancome with a message that has evolved so positively for women.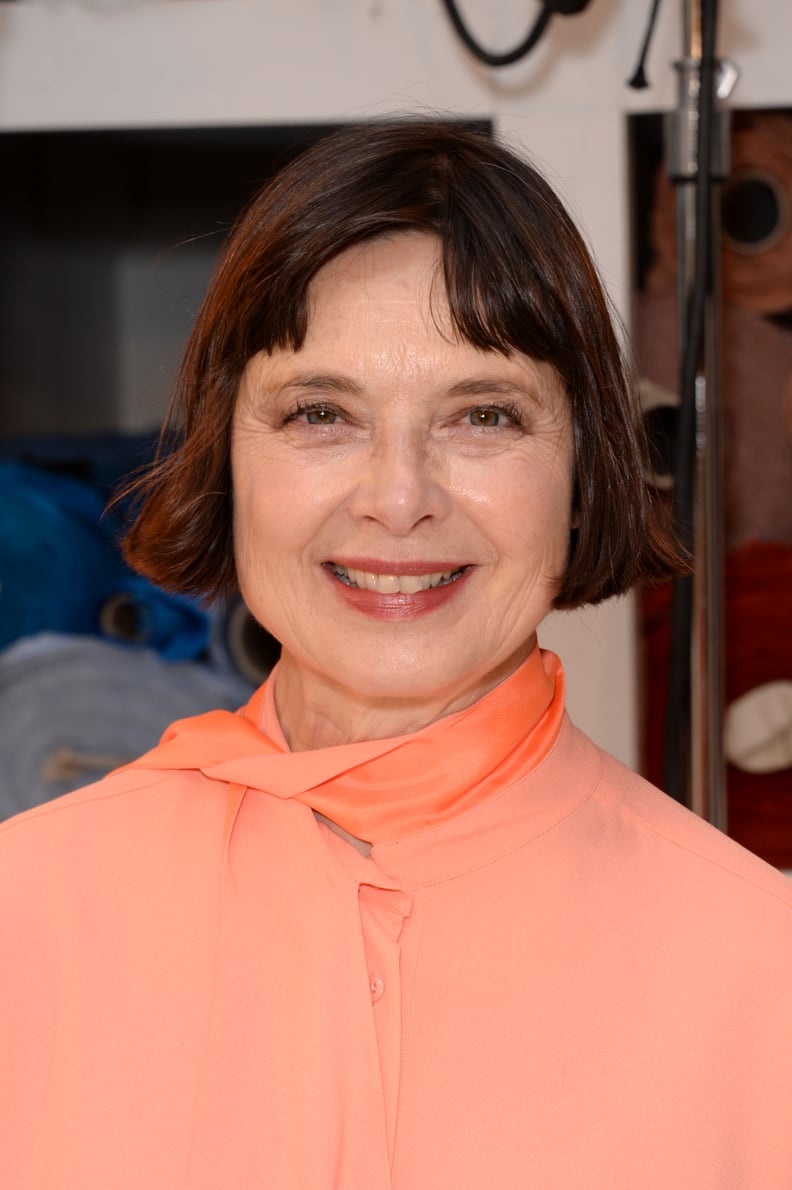 PS: Let's talk more about the definition of elegance, since to so many people you represent elegance and aging gracefully.
IR: There are so many definitions of gracefulness, or elegance. There is not one rule, and I think that's starting to be more accepted. There is more self-expression. You can define who you are. Before, it was this idea that we created an ideal woman, whether she was blond, blue eyed, this tall, that thin, and we had to try to see how close we could get to that ideal. Right now, it is all about who you are and how you express that. You write with your clothes. You write with the way you wear makeup. You present yourself as yourself. That's elegance to me. It's expression of a mind.
PS: You grew up with scoliosis. How did that shape your approach to femininity?
IR: Scoliosis is a genetic deformity of the spine. Men can have it, but it's more common in women. It accentuates during puberty. And so my spine was twisted, and I had to have one operation, and another one five years after that, because my vertebra was not moving naturally. So when people say to me, "Why didn't you have plastic surgery?" I think the real answer is, "I didn't want another operation." I can embellish my answer and say, "There is beauty in every age," but the truth of the matter is the absolute fear! Maybe that philosophy is based on my personal experience. I'm not condemning women who want to get plastic surgery, but I would never want to do anything for beauty that is painful.
PS: I think one thing that is so ubiquitous with you in so many people's mind is the short hair.
IR: Yes. So my hair is incredibly fine. And when I try to grow it long, it falls flat. And I have to put a lot of product, and rollers, and all of that. But I want a routine that I can do every day that doesn't take a long time. So I thought that short hair would better accommodate the nature of my hair, because if I have a good haircut, I don't need to put in a lot of products. I don't have to put in rollers. I don't know how to do that myself. I would need a hairdresser following me around every two seconds. You have to work with what you have. You have to see who you are, what you have, and work with it. It's useless to say, "Oh, I want to be blond and have hair like Brigitte Bardot." If I wanted to look like that, I would have to dedicate five hours of my day, every day. So I find another solution and occasionally put on a wig to play Brigitte Bardot when I want to.