Beyonce, Our Fairy Godmother, Is Changing the Curly-Hair Game With This Genius Hat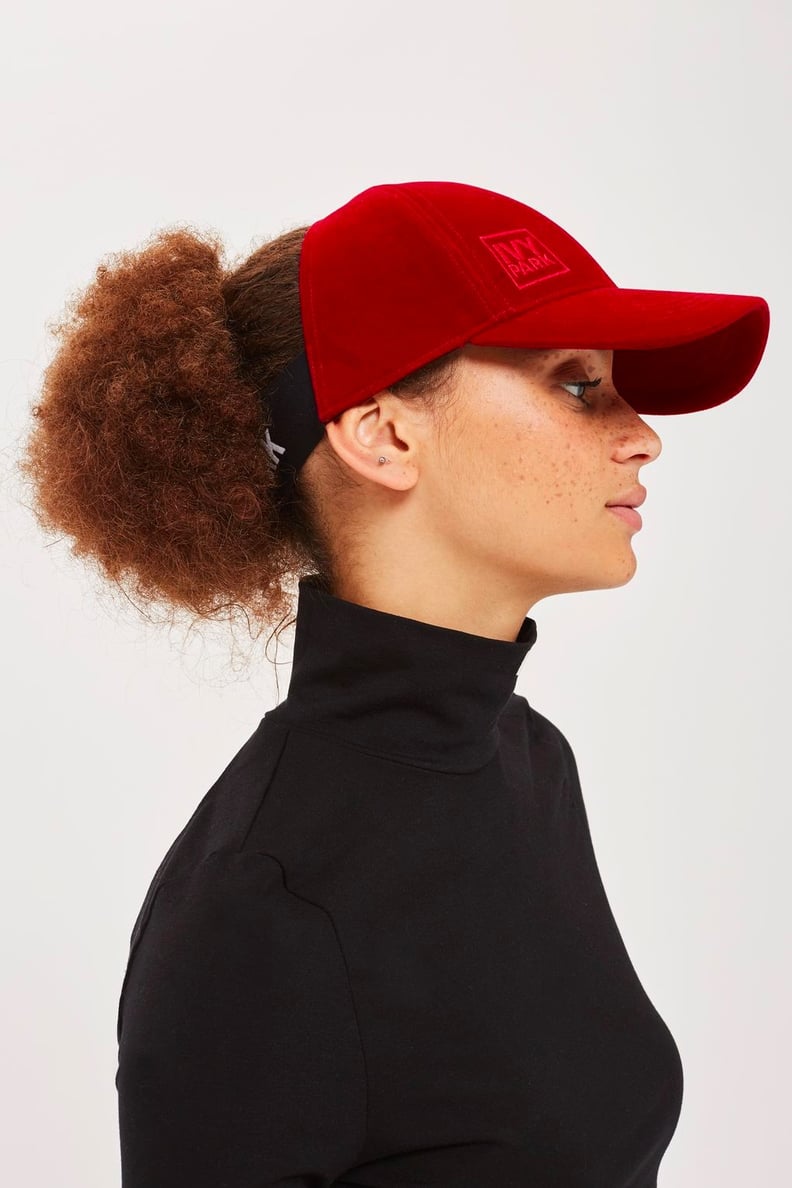 From the front, this red velvet hat looks like a typical, trendy baseball cap. But when anyone wearing it turns around, it's revealed to be backless. And this is a game changer for women with natural hair. It was created by Beyoncé's fashion label, Ivy Park, because of course. (Thank you, Bey!)
Here's why this hat is do damn awesome: Normally your curls would get squashed under a hat. The back of regular baseball caps are often too small to pull your ponytail through, especially if you have thick curls. This one makes it easy to pull your hair back with no struggle. And sure, you could wear a visor, but that doesn't keep the top of your head warm or protected from the sun. So this backless cap is genius. The velvet finish gives it a fashion-forward edge, since the '90s are back, yo.
People have a lot of feelings about this accessory — which seems to be a brand-new hat category, at least from a mass standpoint.
"As much as I love wearing baseball caps, I can never get my natural hair to fit through the back of one," said Aimee Simeon, POPSUGAR's social media strategist. "This hat is the solution for every natural gal (myself included) who has ever struggled to get her puff through a baseball cap. Now you can rock your puff and throw on your hat without a hassle!"
Other editors at our office agreed. "As someone with a LOT of thick hair who has always loved caps from afar, this hat is a gift," said Mekishana Pierre, POPSUGAR's associate social media strategist. "I can rock my puff with a cap on and keep it cute at last!"
Makeup.com's Assistant Editor Tembe Denton-Hurst added: "I'm obsessed with this hat because of the versatility and the fact that it's totally on trend right now. Between the velvet, the visor style, and the color, it's the perfect addition to my Fall wardrobe! Not to mention I can still rock my curls while wearing it."
People on Twitter are getting jazzed up, too. Twitter user @rocyonce shared a photo of the cap with the caption: "BEY THEN CHANGED THE GAME OMGNANDFNJRENWJ." It's been retweeted over 15K times and has received more than 30K "likes."
Twitter user Eva DuFerme (@EvaDuferme) said: "The woman knows her audience. Women of color needed stuff like this for years. No one else cared to design for us."
The only bummer is that the hat is not available yet. Though it doesn't say when the cap will be back in stock, we see it's coming soon to Topshop.com for just $35. Plus, you can sign up for the notification list, since it's likely to sell out fast.
Keep reading to see the hat from all angles, as well as some of our favorite Twitter reactions to this news!