Jessica Alba's Favorite Antiaging Product (You're Welcome)
Every editorial product is independently selected by our editors. If you buy something through our links, we may earn commission.
When celebrity makeup artist Lauren Andersen (i.e., the hot redhead you've seen in photos with Jessica Alba and Chrissy Teigen) told me about esthetician Shani Darden, I was intrigued. She casually mentioned that Shani is responsible for perfecting Jessica's skin — though it always looked pretty flawless to me! Rosie Huntington-Whiteley is a huge fan of the LA-based guru as well. Are there any better endorsements than that?
My skin was getting to a good place: it was clearer, and my breakouts were few and far between. But I wanted a pro I could feel comfortable with — someone who wouldn't BS me about what I needed to do to keep my skin looking good for years to come. I was seeking a savvy girlfriend to gab with who also could get real about my melasma, moles, and Botox.
So I booked an appointment at Shani's West Hollywood sanctuary, hoping she was "the one." Let's just get this out of the way: the esthetician is stunningly beautiful, no makeup needed. She's a walking billboard for her practice, with poreless skin that could pass for airbrush. During our session, we talked about everything from the popped blood vessel on my face to hair extensions, much like how I chat with a close girlfriend. I recorded our conversation to share my new bestie's intel on must-know antiaging tips, the product that transformed Jessica Alba's skin, and exactly what you need to buy on your next beauty shopping trip.
Her Approach to Beauty
I had heard Shani has a natural approach to beauty. A given the term "holistic" is a rarity when it comes to celebrity beauty, I decided to confirm her stance.
"Do you have a holistic approach to beauty? Would you agree with that?" I inquired with a smile on my face, glancing at her LED lights and bottles of high-end potions.
"No!" Shani laughed. "You know where I think people get that from? I think they get that from Jessica (and her company, The Honest Company). Because I've been working with her for so long and she's more [like that]. I worked for two dermatologists. So that's how I learned everything. I'm not a natural skin care person in any way."
Aha! Once that was out of the way, it was time to learn about how her clients get their gorgeous glow. Her Signature Facial
Most people see Shani for one of two things: her signature facials or her product, Retinol Reform (more on that later). Let's talk facials first. What do they consist of?
"It depends," Shani said. "But it starts with a cleanse. Then I use something for tightening called a Novasonic."
Novasonic is a sound frequency device that vibrates or massages the skin, causing the deep tissue of your skin to heal. I equate it with one of those devices you strap babies into calm them down — I was in a cathartic state after she used this on me.
Shani continued with her regimen. "Steam is on the whole time. Then I do a chemical peel on face, neck, chest, and hands. After the peel, we do extractions, a mask, ultrasound, and then LED light. And sometimes microderm in the beginning."
Take it from me (or Jessica Alba's skin) when I say that it was the best facial I have had in my career, mostly because I saw immediate results. I had a blepharoplasty on my eyes when I was 3 to help fix ptosis, and I've noticed the skin on one of my eyes has started to become less taut. After the facial, I looked more awake and lifted. And it lasted for days after!
The highlight of the treatment was probably the LED light. It felt like I was incubating — and it's a must have when it comes to seeing results, according to Shani.
"One of my favorite treatments to transform skin is LED light therapy since they can be used to treat acne and antiaging. Not only do they speed up healing and kill bacteria from acne, but they also help with fine lines and wrinkles by boosting collagen in the skin."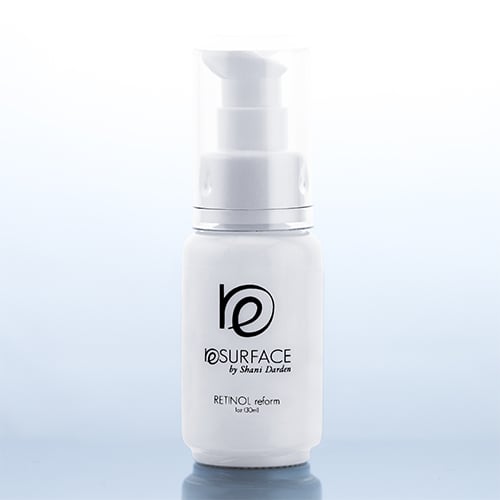 The Secret Skin Care Weapon
Unfortunately, you can't package up Shani and take her home. (I wish I could. Her child might not like that, though.) But one product both Jessica and Rosie have attributed to changing their skin is Shani's Retinol Reform ($95). This the mecca of retinols. If you cringe at the thought of vitamin A, reconsider with this wonder worker. Much like Shani said she can't live without a chemical peel, I cannot live without her retinol now!
"Hands down, one of the best antiaging products is retinol," she explained. "With regular use, it can help with acne, reduce fine lines, boost collagen in the skin, and decrease discoloration." Hers contains five percent retinol.
Personally, it leaves my skin glowing and gets me compliments every time I use it, but I never get dry or flaky, like I had with retinols I was using B.S. (That's "before Shani.")
Be sure to wear sunscreen after using any type of retinoid. Shani prefers Control Corrective Oil-Free Sunscreen SPF 30 ($28). Enjoy your selfie-ready skin!