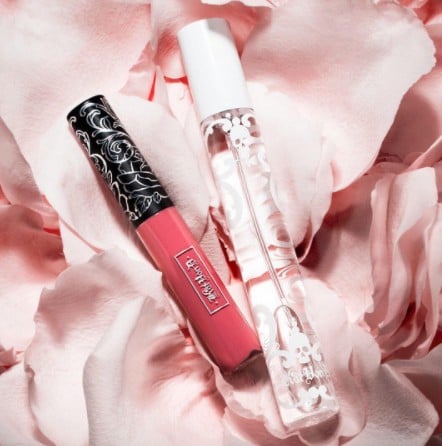 Since you've literally waited years for Kat Von D's Saint + Sinner Perfumes to return, it makes sense that you would want to take the scents (which launched again in July) everywhere you go.
But we all know that a bulky fragrance (even one as breathtakingly gorgeous as Saint + Sinner's gothic-inspired bottles) is unfortunately listed close to the top of the beauty product no-fly list. So what are you supposed to do if you want to travel home for the holidays smelling like KVD's iconic vanilla and mandarin flavored angel or the darker, spicy cinnamon wicked stepsister?
Luckily, come October, Kat's got you covered. The brand has announced that it will launch mini versions of this cult fragrance on Oct. 10 — just in time for your Winter traveling. And since a Saintly goddess or Sinner siren deserves a seductive lip to match, these minis will live in a Perfume and Liquid Lipstick Set ($27).
Want more of a pint-size lippie variety? Kat answered those prayers with an Everlasting Mini Liquid Lipstick Set, which includes eight popular, portable shades. This bundle also drops in October and features dark, moodier hues that are perfect for Halloween — or a very trendy Thanksgiving family dinner.