18 Electric Makeup Ideas Using Kat Von D's New Saint + Sinner Palette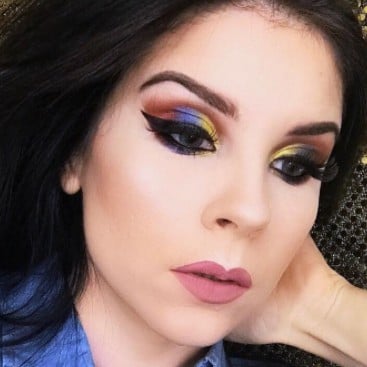 Few makeup launches have had as much hype as Kat Von D's Saint + Sinner ($62). After nearly a year of endless teases and cryptic hints, the 24-shade wonder palette finally debuted Sept. 19.
As we saw in swatches Kat did herself, the formula and colors definitely live up to the hype. There are intense, highly-pigmented hues like lime green, red, orange, yellow, purple, and blue along with your standard smoky blacks, greys, and taupes.
Fans didn't wait a second to get their hands on the new launch, and they've already been playing with the rainbow of options with gorgeous results. Allow yourself to be inspired by 18 ways to wear Saint + Sinner, ahead.
Blue, Pink, and Yellow Eyes
Cut Crease and Green Underliner
Subtle Highlighter Yellow on the Inner Corners
A Hint of Gold at the Inner Corners