Kat Von D Answers Our Prayers With Swatches of the Saint + Sinner Palette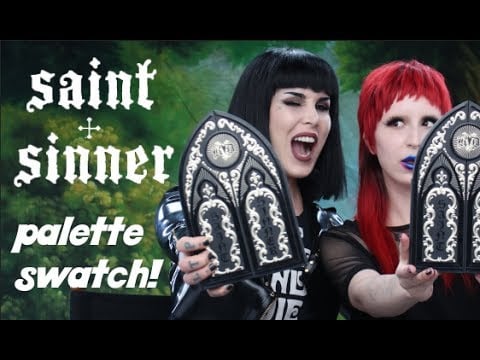 We've been talking about Kat Von D's Saint + Sinner palette for so long, we could've sworn it was already out. But, you still have to wait until Sept. 19 to get your hands on her most amazing array of eye shadows yet. Days after doing the big product reveal on YouTube, the beauty guru has come back to the platform to do swatches of the 24 new shades for the first time ever.
Because she has tattoo sleeves on her arms, Kat got help from Kelsey Anna Fitzpatrick, a KVD Artistry Collective Makeup Artist. "The color range is all over the spectrum," Kat said, introducing the palette. It includes two "top coats" — Absolution, a sheer pearl, and Rapture, a metallic rose — meant to be layered on top of other shadows or worn as highlighter. The Saint side appears to be a collection of darker colors in taupe, olive, and greys, while the Sinner side includes more electric shades of blue, lime green, red, and purple. After seeing it in action, the formula looks extremely velvety in texture and highly pigmented — all it takes is one brush swipe for a color bomb.
Kat revealed that her favorite shade out of all of them is Vestment, an emerald-black, shimmery hue reminiscent of dragon scales. Take a closer look at some of the swatches, ahead.
Left to Right: Amen, Sanctuary, Heaven, Crucifix, Cathedral, Rosary, Baptism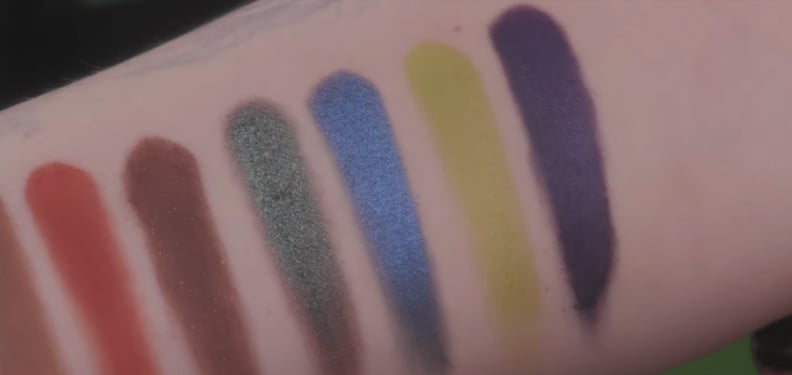 Left to right: Martyr, Devil, Revelation, Vestment, Ministry, Exodus, Exorcism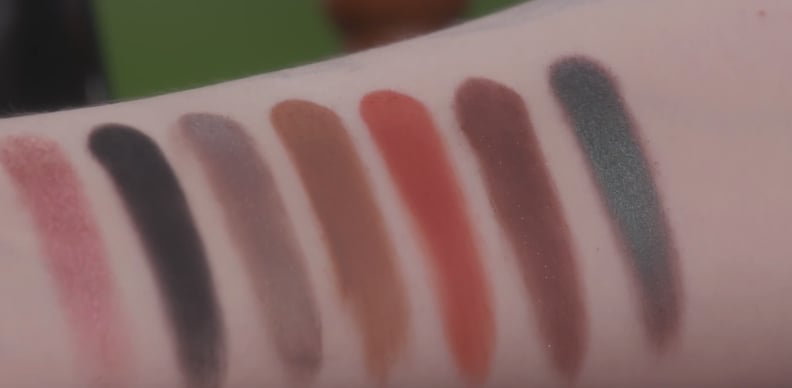 Left to Right: Rapture, Sabbath, Ashes, Martyr, Devil, Revelation, Vestment
SAINT + SINNER PALETTE SWATCHES REVEALED! Kat Von D