Kylie Jenner Just Tried the '90s Summer Nail Trend That You're About to See Everywhere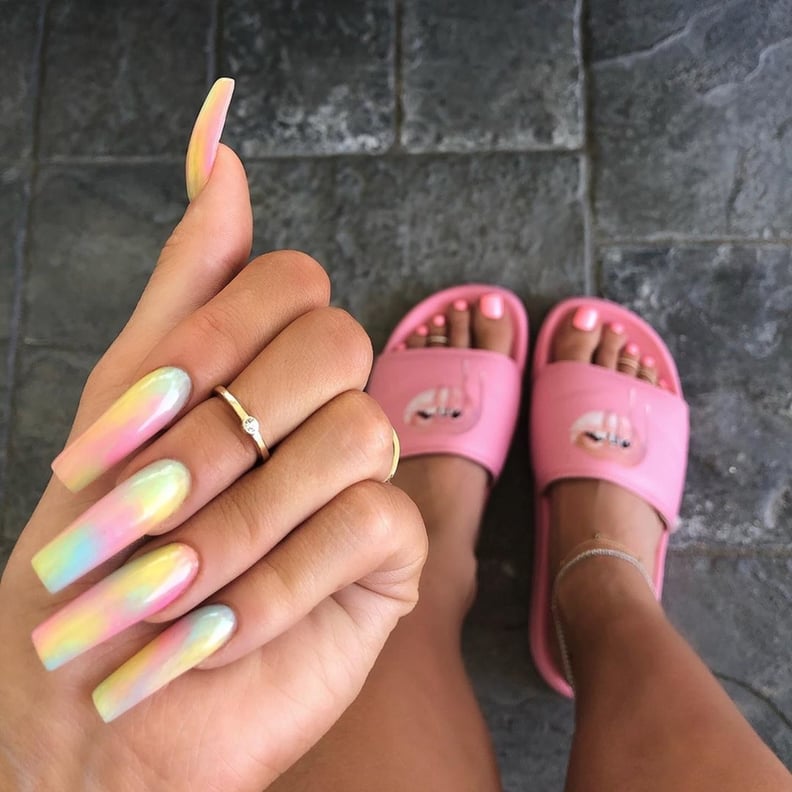 Kylie Jenner is at the forefront of many beauty trends (she is the owner of a beauty brand after all). But nail art is a trend that she always seems to be one step ahead of everyone on. Case in point: she was the first to try jelly nails last Summer, and on Thursday, she posted a photo of her long, pastel, tie-dye nails on Instagram, her gold toe rings visible in the background. We're having flashbacks to the '90s in all the best ways. Jenner is just one of the many celebrities helping to bring tie-dye in a major way, and we're not complaining one bit.
The best part about tie-dye is that there are so many different ways to interpret the trend when creating nail art. The myriad of designs include but are not limited to: intricately dragging the nail polish into specific patterns, creating a swirling technique with superbright colors, or in Jenner's case, using a sponge to dab on pastel shades, creating a hazy yet very pretty multicolor effect. Each design is a completely different take on the tie-dye trend but all as impressive as the other.
We're not the only ones loving the style, either. One fan commented on her Instagram quoting a line from Mean Girls, "I saw Kylie Jenner wearing tie dye and toe rings, so I started wearing tie dye and toe rings," and to be honest, same. Another commenting "next nail inspo😏😏😏"; also same. Read on to get a closer look at Jenner's summery nail art — it's a trend that you're going to see cropping up all season long.
Kylie Jenner's Pastel Tie-Dye Nails