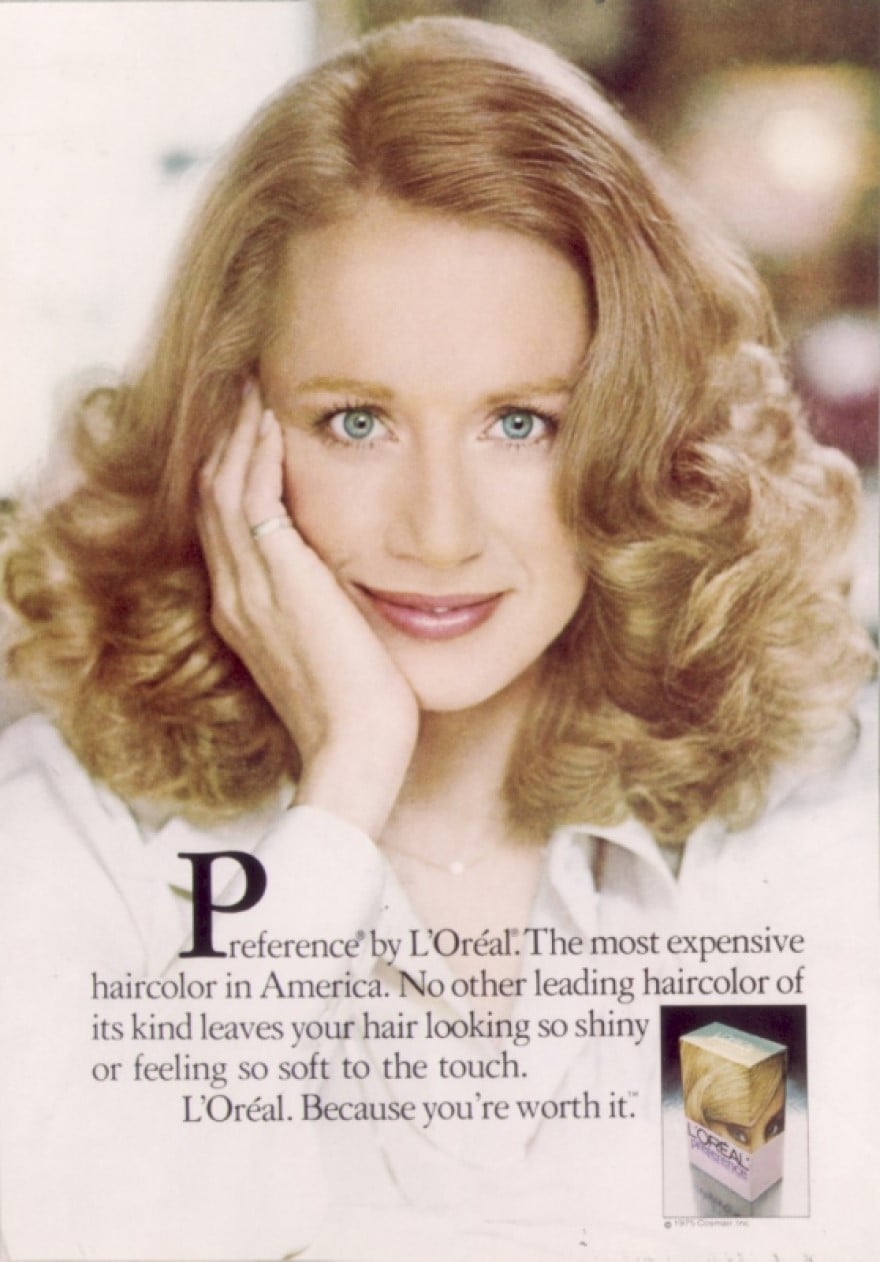 "Because We're Worth It." You'd be hard-pressed to find someone who isn't familiar with L'Oréal Paris's [1] iconic tagline, which has evolved from "Because I'm Worth It" to "You're Worth It" to its most recent plural form. But while the phrase itself is so well-known that it regularly appears on trivia shows around the world, the story behind the tagline is decidedly less so. It's why this month, as L'Oréal marks its 50th anniversary, we take a look back at the history of the empowering marketing initiative.
The original tagline "Because I'm Worth It" was coined in 1971 by 23-year-old female copywriter Ilon Specht. The phrase first appeared in the US for L'Oréal's Preference Hair Color advertisement, which the brand described as a product of its time. "The women's rights movement was emancipating women from the housewife persona of the '50s and the tagline was a reflection of what the brand stood for," L'Oréal said via press release.
With the women's rights movement front of mind, Specht wanted to do something revolutionary for the time period — she wanted the woman in the ad to speak for herself. "In advertising [created by men] the woman was a complete object, I don't think she even spoke," Specht said. "I wanted to portray a real woman who was more assertive and more contemporary. I wanted the ad to benefit her."
Let's quickly throw it back to the original "Because I'm Worth It" ad copy, which read: "I use the most expensive hair color in the world. Preference, by L'Oréal. It's not that I care about money. It's that I care about hair. What's worth to me is the way my hair feels. It feels good against my neck. Actually, I don't mind spending more for L'Oréal. Because I'm worth it."
That first commercial was revolutionary in a lot of ways, and not just because it was written by a woman and showed a woman talking about a product meant for her (imagine that). It also showed a woman who was self-confident and who was more concerned with feeling good than being the object of a man's desire. "I could just see that they had this traditional view of women, and my feeling was that I'm not writing an ad about looking good for men, which is what it seems to me that they were doing," Specht told The New Yorker 20 years after the initial ad came out. "I just thought, f*ck you. I sat down and did it, in five minutes. It was very personal. I can recite to you the whole commercial, because I was so angry when I wrote it."
L'Oréal Paris's message, which marked a turning point in beauty advertising, has continued to resonate through the decades. It picked up momentum through the '70s and '80s as the women's rights movement evolved and again in the '90s when L'Oréal Paris expanded into new markets, including the Middle East, India, and Asia — making the tagline renowned across the globe.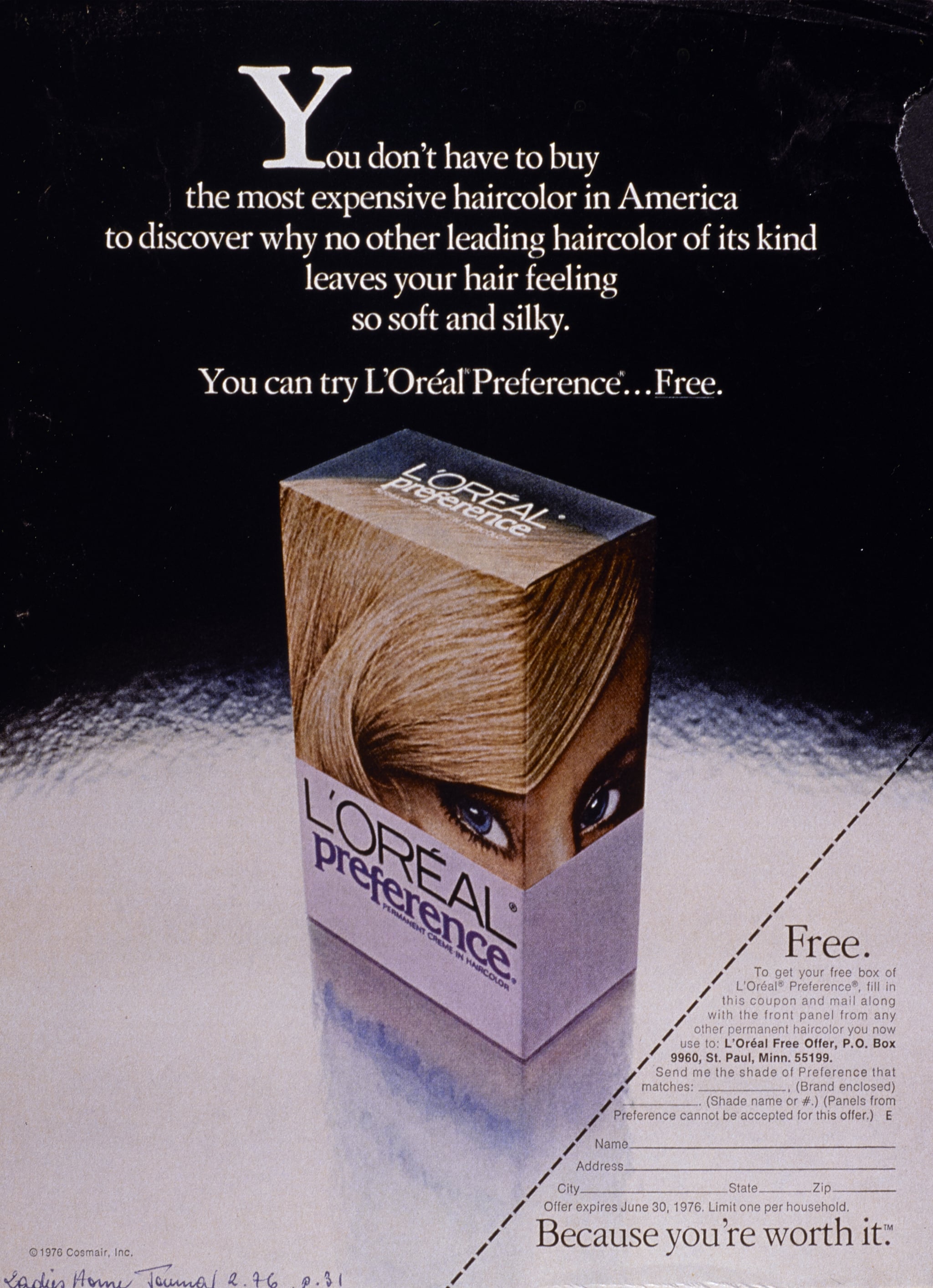 The brand has continued its efforts in championing people's right around the world with partnerships like the one it has with The Prince's Trust — which is heading into its fifth year of collaboration — through its "All Worth it" program, which aims to transform young people's self-worth and confidence.
Now, in 2021, to mark International Women's Day, L'Oréal Paris announces its commitment to end street harassment and continue the conversation around female empowerment. The brand has teamed up with NGO Hollaback! [2] to create the platform "Stand Up", which includes training sessions that provides tools to help those victim or witness to harassment in public spaces.
In addition to great initiatives, L'Oréal Paris has welcomed many ambassadors: Jane Fonda, Viola Davis, Elle Fanning, and Eva Longoria [3], to name a few — all of which bring their passions for self-love and confidence.
"We believe that there is no 'one size fits all' vision: beauty is universally unique. Our spokespeople personify dedication and female strength, inspiring every woman to believe in her sense of worth and we are proud to work with unique, diverse, and committed role models," the brand said, adding, "in every campaign, when they assert the words, "Because We're Worth It," they amplify L'Oréal Paris' message, empowering every woman to celebrate her worth."