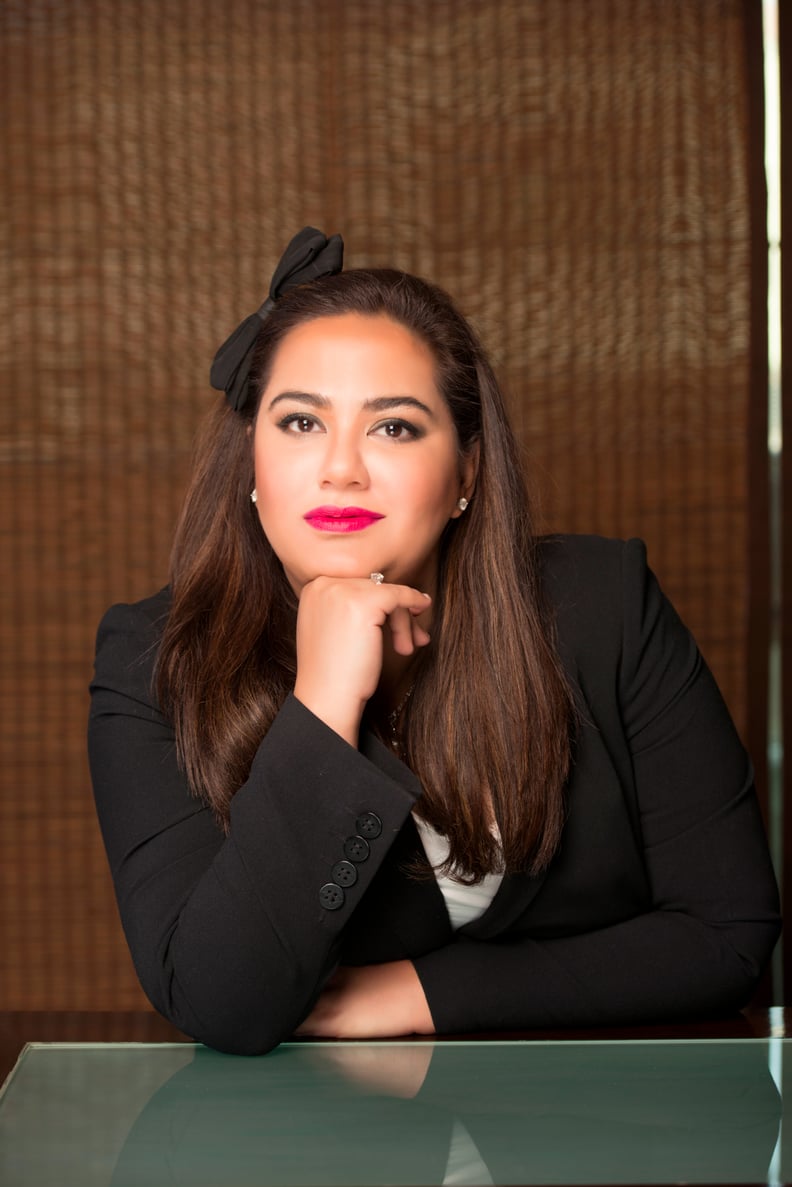 Faisal Farouqi/Dragonfly
Faisal Farouqi/Dragonfly
Luscious Cosmetics is as enticing as it sounds. By definition, the word "luscious" means sexy and rich — and that's exactly what Dubai-based entrepreneur Mehrbano Sethi achieved when she created the brand. But there's a catch: even though the makeup battles some of the most expensive picks on the market, it's all affordable ranging around $20 a piece. And after developing a following in the Middle East, it's finally launching Stateside on Aug. 10.
"We are thrilled to finally be in the US!" Sethi told POPSUGAR. "I have wanted to enter the US market for years, but as an independent beauty brand, it took some time for us to grow organically around the globe and create enough inventory for the largest beauty market in the world. Also, with the rise of homegrown, independent beauty brands and a new focus on diversity and multiculturalism, we feel it's the perfect time to introduce ourselves as a brand whose DNA is modern, global, beauty."
Luscious Cosmetics features beauty essentials like the perfect mascara for naturally curled lashes, a brow pencil so longwear you could run a marathon with it on, and a contour kit that takes the guessing out of the intimidating technique. Everything is housed in chic black packaging with a touch of kitsch. Think MAC Cosmetics meets Benefit.
Sethi explains what makes her line so unique: "Luscious Cosmetics brings a multicultural, truly international perspective to beauty. Our product development team is spread over three continents. We have been vegan and cruelty-free since we launched, before it was trendy to do so, and most importantly, our pricing is affordable, taking into account all these additional features. We are quirky and believe in the timelessness of glamorous packaging and the sheer joy of applying makeup. There is a definite South Asia meets Hollywood flavor to our formulations: they're built to look fabulous but tested to withstand extreme humidity and heat."
What makes Sethi's story so interesting is that the brand combines her family heritage with her own need to create. She started Luscious Cosmetics in college, giving budding brand owners hope. "I have been obsessed with makeup and beauty products since I was a toddler, marveling at (and wreaking havoc on!) my grandmother's dresser full of powder compacts, lotions, and lipsticks," she said. "As a college student in Boston, I often reverse-engineered lipstick and foundation shades to suit my friends' varied skin tones. It was the late '90s, and although we wanted matte, bolder shades, drugstore beauty brands largely carried lots of pale and sheer colors. I used to mix lipstick shades together to de-stress at the student union premidterms. Later on, faced with the question of starting a business where I could do what I love, makeup was what I chose. Luscious Cosmetics was launched in 2007 with a quirky, fun approach to makeup, but with user-friendly products that give serious results."
Ready to take a deep dive and learn more about the brand? Keep reading for the top 10 Luscious Cosmetics products to buy and quotes from Sethi on how to use them.
Luscious Cosmetics Angel Eyes Primer
"This is the only eye-shadow primer we've ever needed. We haven't released more versions yet because we haven't found a better formula! It is a creamy texture that dries down just quick enough for you to apply your eye makeup. It's also slightly peach-beige tinted, so it brightens eyes, while covering and erasing any discoloration on eyelids — to really make your eye-shadow artistry pop. It stays put till you remove your makeup at the end of the day or night, and it holds onto eye shadow and eyeliner like a magnet.
We've seen marathon 'stay tests' by dedicated beauty bloggers and won them all! I recommend using it under concealer to boost its coverage and keep it in place all day. Our resident makeup artist uses it to prime her lashes, a hack many fans swear by."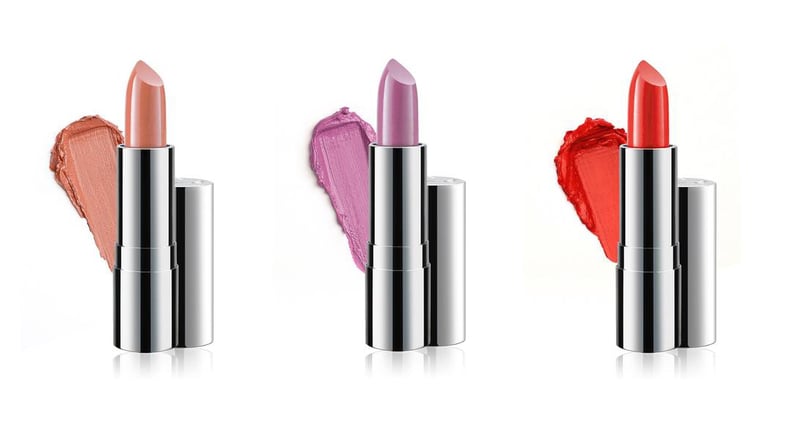 Luscious Cosmetics Super Moisturizing Lipstick
"This was our first product release when I created Luscious Cosmetics. As a brand new venture, we didn't have the luxury of creating multiple lipstick lines yet, so we poured all our hopes and dreams into this everyday, swipe-and-go, lip-flattering formula.
This lipstick line has a cult following around the world for universally flattering shades such as Vintage Rose, Haute Pink, and Dreams. I wear it to work every morning for an instant, flattering pop of color. I recommend skipping the lip liner for a very soft, pretty effect."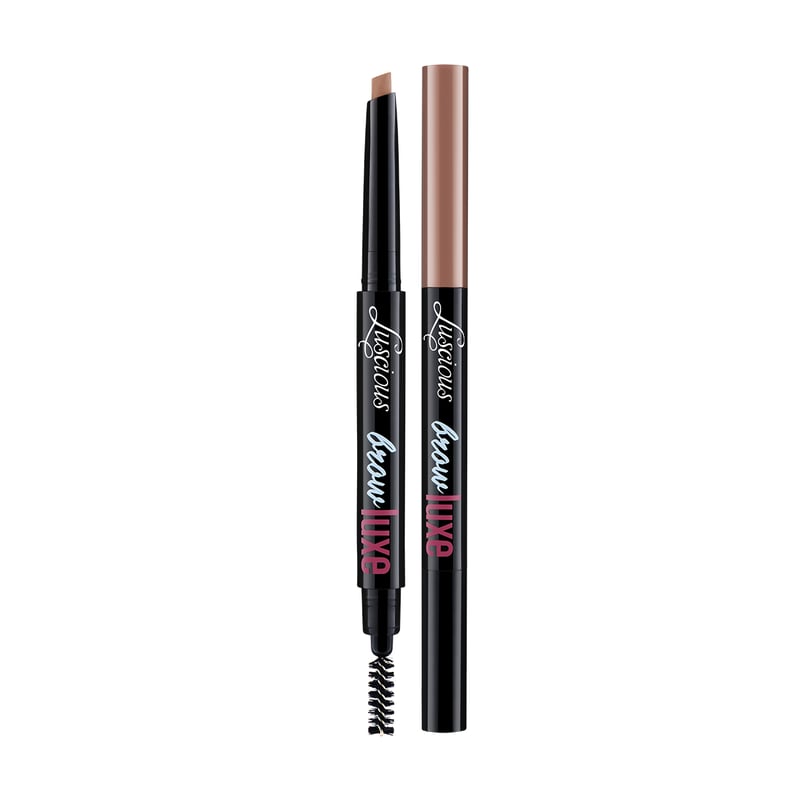 Luscious Cosmetics Brow Luxe Designer Pencil
"I'm surrounded by friends with fabulously thick, on-trend brows ranging from the bold to the downright revolutionary. Among this brow diversity is one common gripe: as you grow out your brows, natural gaps appear between the longer hairs. At their request, I developed our own version of the slant-tipped Brow Designer Pencil. It has just enough pigment to very easily and quickly 'design' natural hair-shaped lines to make gaps in your brows disappear, create definition, and add volume. Plus, it has a sweat-proof formula.
Apart from the slightly boring, but necessary, in-vitro tests we do to support our claims, we had an interesting volunteer at the office take this formula for a run, so to speak. Our, Inventory Manager (no names at his request) was training for a marathon and wanted to take this formula for what he calls a 'real survival test.' He doesn't wear a headband and his experiment was to let the sweat streak into his eyes and judge the wear of the eyebrow pencil. I won't go into detail, but our Brow Designer Pencil passed the test! He can be seen with the best brows around the office."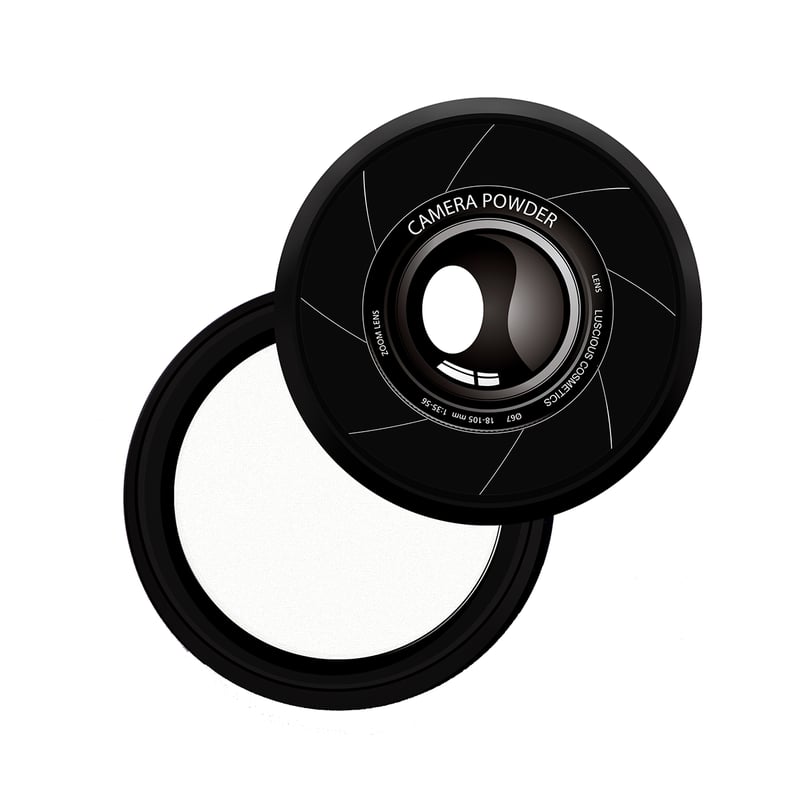 Luscious Cosmetics Camera Powder
"This is truly an innovative powder, developed with our lab in Korea. It is so fine milled that it's almost cool to the touch. It's a universal colorless setting powder tested on all skin tones (yes, it works on everyone!). My MUA friends use it for all their photo shoots as a finishing touch to set makeup and blur imperfections.
For super-long-lasting results, my tip is to create a 'sandwich' effect by applying Camera Powder as a primer over your regular moisturizer. Then [add] your liquid/cream makeup, and apply Camera Powder again to set it all. The result is a super-long-lasting, airbrushed look that balances oil all day or night."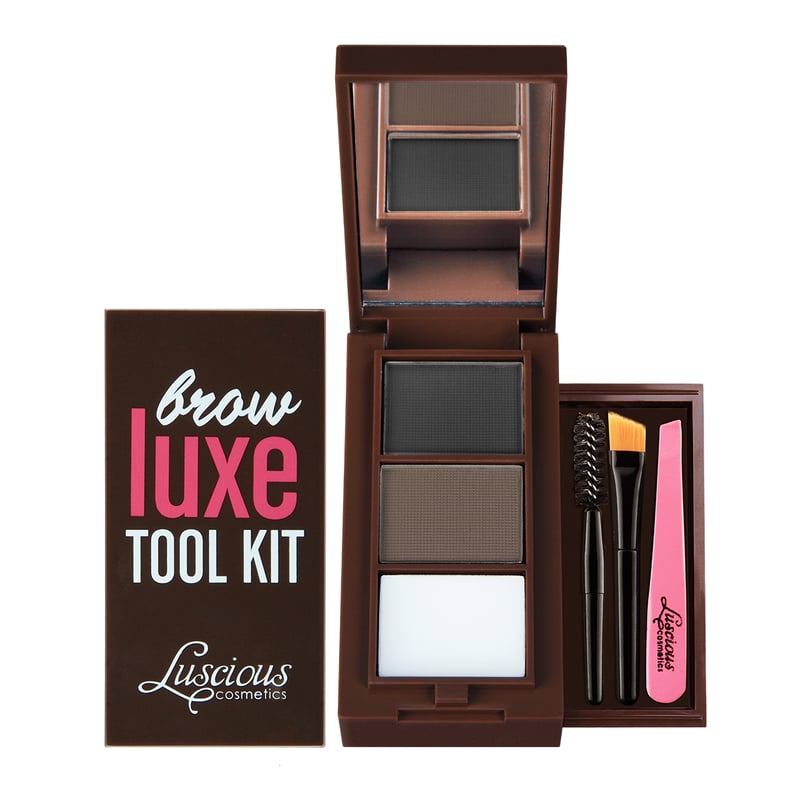 Luscious Cosmetics Brow Luxe Tool Kit
"Brows are superimportant for us at Luscious! My mom made me swear never to over pluck my brows even when my friends were sporting trendy superthin ones. The Brow Luxe Tool Kit was designed as an on-the-go grooming powerhouse that fits in the palm of your hand. Two perfectly pigmented brow powders (the darker one is for the outer brow, the lighter one is for the thicker, inner part of the brow), a brow wax to seal it all and groom those errant hairs, tweezers for a quick cleanup, applicators, and three brow stencils to make it all easy to use.
I love pulling out a stencil and doing a friend's brows just to see their amazement, followed by meekly having to hand over my own brow kit for their handbag stash."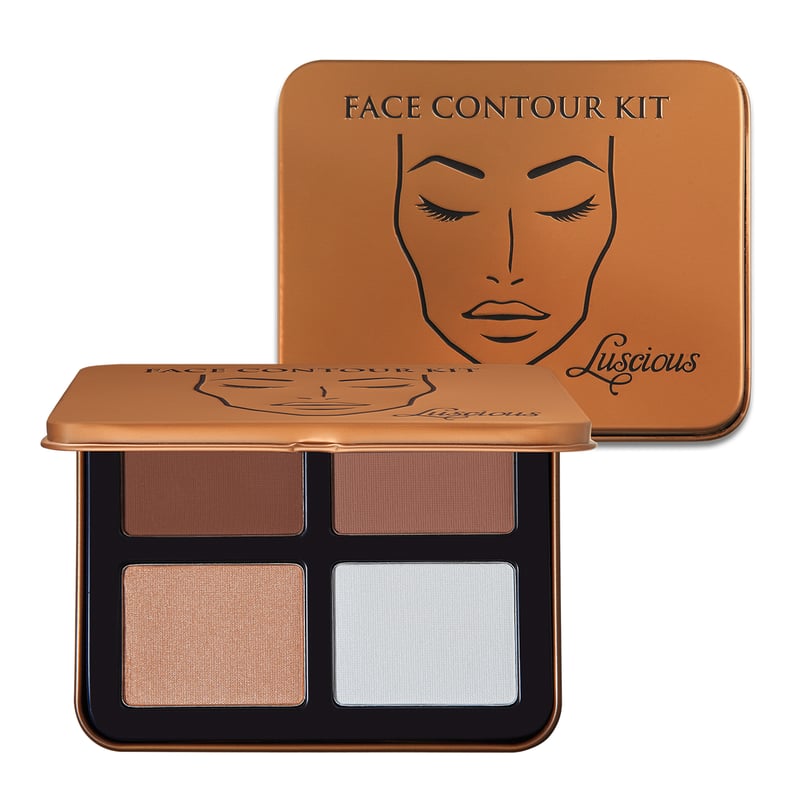 Luscious Cosmetics Face Contour Kit
"I'm proud of this relatively minimalistic kit. It has a trend-defying count of just four shades that work for every skin tone I have ever encountered. Beauty novices, professional makeup artists, and beauty bloggers alike have come to love the no-fuss power of the Luscious Face Contour Kit.
My team and I were in such a no-frills, cut-the-extra-shades-out mood that we didn't even give it a sexy name. It's just, Face Contour Kit. I love playing with makeup, it's my job, but off-camera and going to a party where I would like to have my nonexistent cheekbones 'on,' I did not find the usual 12-18 shade kits offered much comfort. Tons of emails would pour in from customers saying, 'we've bought this huge contour kit from another brand and are afraid to use it, can you make something simpler?'
We spent two years testing these four shades on everyone who walked into the office, my house, at conferences, and on photo shoots. It just works if you're looking for a quick, no stripes, and flattering contour with depth and highlight.
My tip is to use the shades on your eyes as well (Medium and Dark Contour for lid and crease, Highlighter under your brow bone, and Luminizer in the inner corner of your eye) for the season's hottest sun-kissed, monochrome look. You can easily transition your contour from day to night with this baby."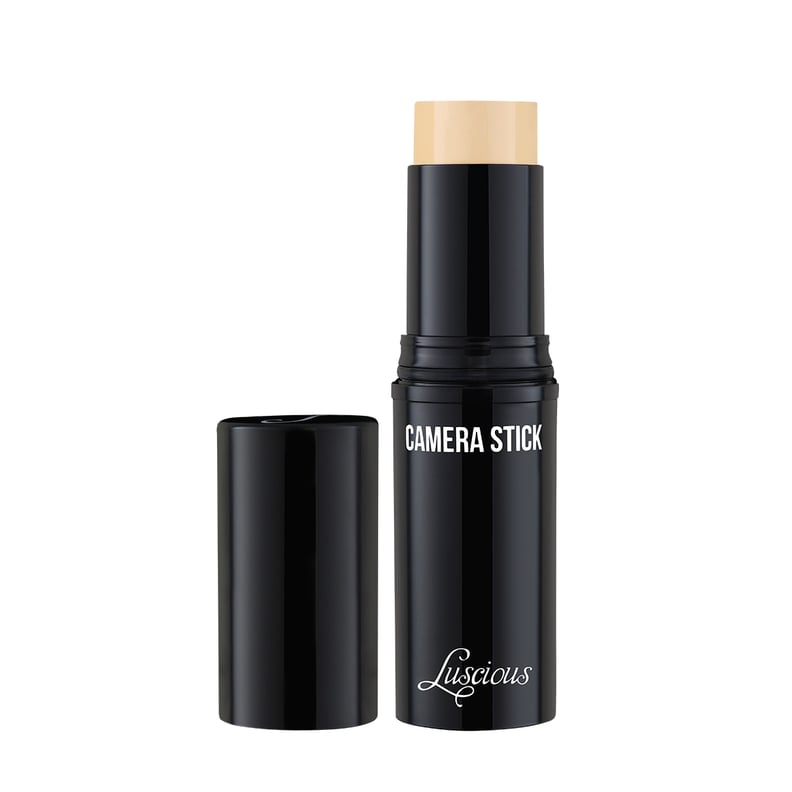 Luscious Cosmetics Camera Stick Foundation
"Camera Stick is a superblendable cream foundation in a handbag-friendly stick. This is a multitasking formula I created with our lab in Korea that can go from sheer to medium to full-on reality TV star (I'm naming no names, but I'm a fan!) coverage.
Used over and/or under Camera Powder, you can create a flawless complexion while controlling the amount of coverage your skin needs. I have days when I spot conceal and blend it out for a fresh look and days when I slather it on for a confidence boost. Either way, it never looks cakey and moves with my skin for a soft-focus effect."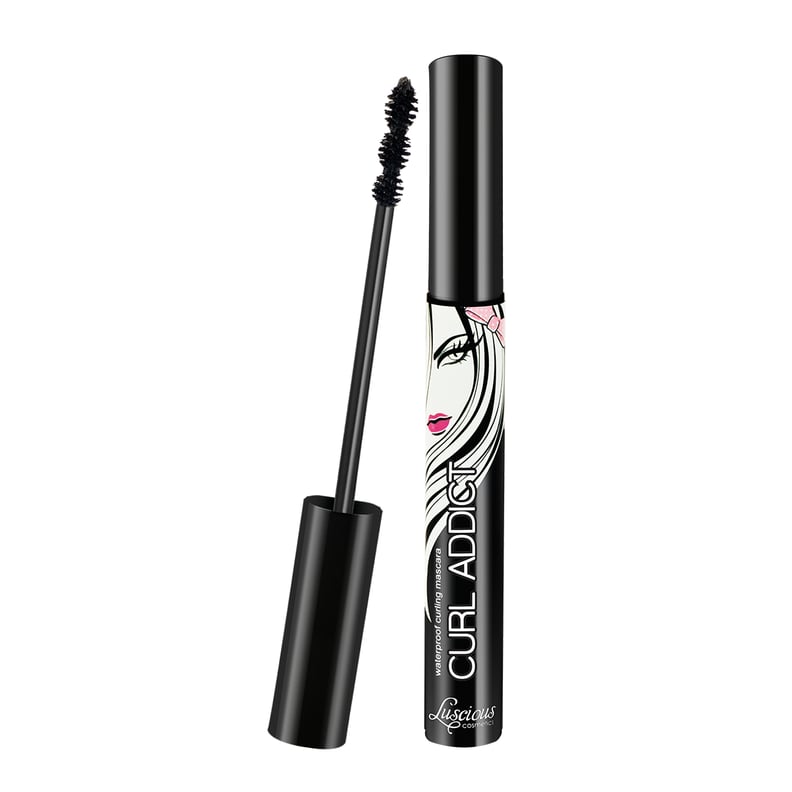 Luscious Cosmetics Curl Addict Mascara
"Mascara is a family matter here at Luscious! All the (very headstrong) women in my family consider a good mascara the key to their makeup routine. Because of this, the testing for new brushes and formulas has to pass my aunt's approval before we can produce them.
Curl Addict is a curling, flattering formula with a triple sphere brush that defines and curls lashes with a zero smudge stay time. It dries down quickly without being crispy, letting your lashes move naturally without any stiffness. Most importantly, it is approved by the mascara addicts in my family, who have a collection of more that 150 types of mascara among them."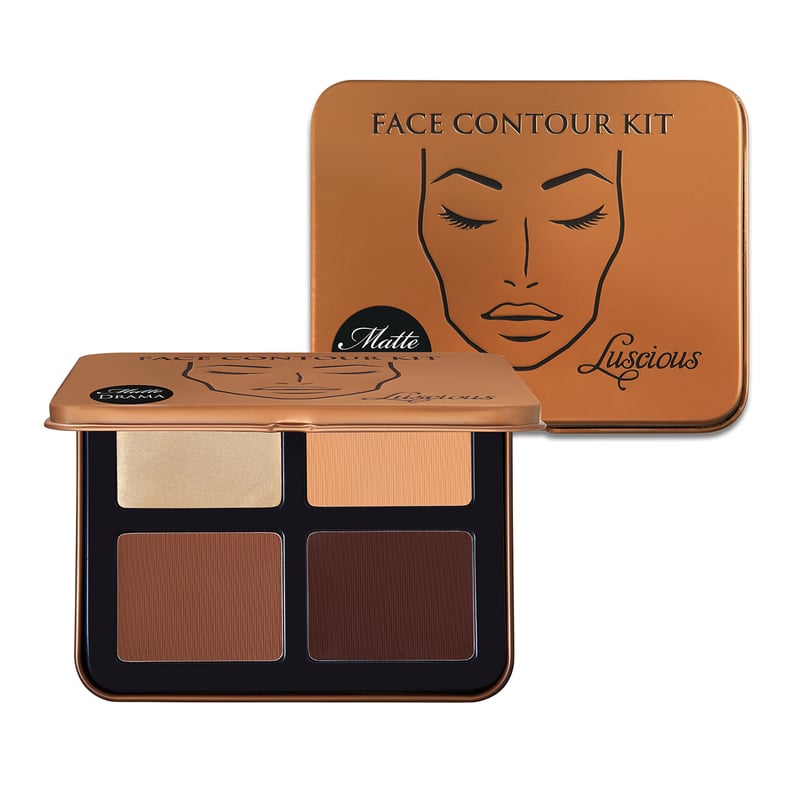 Luscious Cosmetics Face Contour Kit in Matte Drama
"Did I mention I've been contouring since 1997? At 16, my best friend and I bought some brown eye shadow and went to town on each others' noses, trying to make them sleeker. We succeeded so well that it has been part of my evening-out makeup routine since.
After the success of the original Face Contour Kit, we were emboldened by fans to create another version that would be more dramatic for a cooler, smoldering, make-an-entrance type of contour — but with no more than four shades. The Matte Drama version features a banana-toned matte highlighter, two cooler toned contour shades that blend out as easily as the original version but with more shadowy depth, and a glimmering cream highlighter that glides onto skin for a gilded effect.
I transition between the two versions of our Face Contour Kit depending on what the lighting will be: for brighter lit places like my office, I wear the original, and for mood-lit darker venues, I bring out my Matte Drama. The matte highlighter works wonders as a quick under-eye brightener, and the cream highlight doubles beautifully as a sheer lip gloss to compliment your deeper contouring."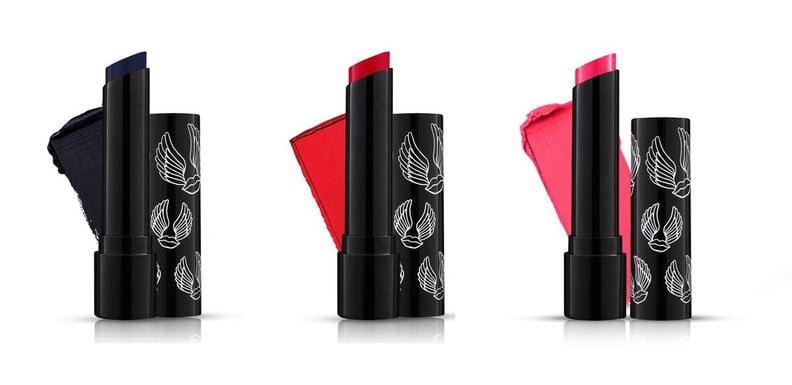 Luscious Cosmetics Heartbreaker Creamy Matte Lipstick
"There is a big difference in what is considered 'matte' lipstick here in the US and matte lipstick in South Asia/Middle East. In that part of the world, anything calling itself a matte lipstick must have zero shine and full, bold color coverage (similar to matte liquid lipsticks).
This is our first truly matte lipstick, under development for three years, designed for buttery, hydrating, megamatte color payoff. The secret is in the blend of butters in this formula that make it deliciously comfortable to wear. It's a great alternative if you're not comfortable with liquid lipstick without compromising on color payoff."