Madelyn Cline Uses a Weird TikTok Hack to Wash Her Face — So I Tried It
Every editorial product is independently selected by our editors. If you buy something through our links, we may earn commission.
I'll be the first to admit that my skin is not perfect. I'm always battling perpetual dryness, I only recently got my hormonal acne under control, and my hyperpigmentation from spending too much time in the sun without SPF is no joke. After years of trial and error, I finally have my routine down pat, but I'm still always searching for new hacks and tips that will give me a little extra glow.
When I saw that Madelyn Cline went through her entire skin-care routine in a Vogue Beauty Secrets video, I was practically foaming at the mouth to learn her secrets. While I would have put money on the fact that it was related to expensive products and facials, I was surprised to learn that Cline has an interesting way of washing her face.
Rather than using her hands to apply cleanser, she uses a makeup brush. "I saw this on TikTok and I can't remember who did the video, but she used a brush to wash her face. It's changed my life," Cline says in the video. The actor has amazing skin, and since I'm always looking for ways to make my dry, acne-prone skin look better, I decided to give it a try and see whether or not it made a difference.
How to Wash Your Face Like Madelyn Cline
After watching the video all the way through twice, I tested out her trick at the beginning of last week. Here's how it went.
Step 1: Cline starts out by squirting a large amount of the PanOxyl Acne Foaming Wash Benzoyl Peroxide 10% Maximum Strength ($10) into the palm of her hand. I didn't have that exact one on hand, so I followed suit with my current favorite face wash, the La Roche Posay Toleriane Hydrating Gentle Face Cleanser for Dry Skin ($16).
Step 2: Next, I took the Luxie 560 Medium Fan Brush ($18) and mixed up the face wash in my palm until it was foamy, as Cline instructed in her video.
Step 3: Then, I applied the product directly to my face using the brush until my face was completely covered in the cleanser.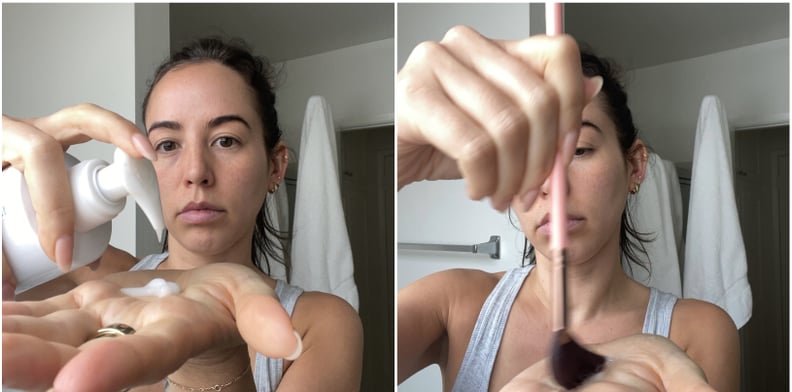 Step 4: To finish off the application, I took the rest of the face wash that was left on my hands and pressed it into my face using my fingers. Of this step, Cline says, "This makes me feel like it's actually getting in my pores. I have noticed a difference in the amount of blackheads I've been getting."
Step 5: As a last step, I rinsed everything off with warm water and then patted my face dry.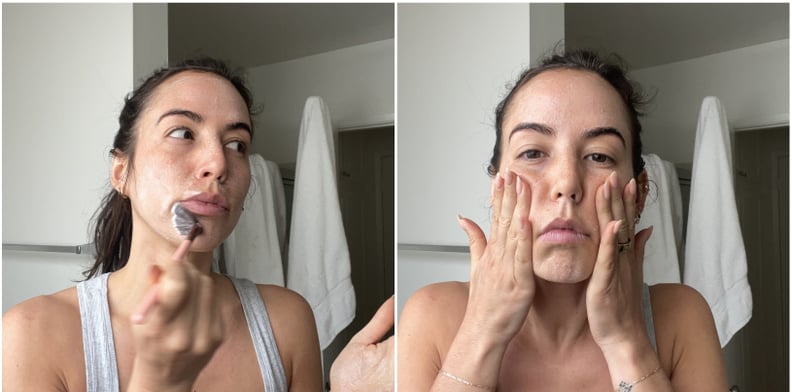 I followed these steps twice a day every day for a week, and I came to a few conclusions. First, washing my face with a makeup brush every day made me feel like I was giving myself a mini spa treatment, which was nice and relaxing. I also was surprised to find that it felt like I was getting a little bit of exfoliation from the brush, which felt like it left my skin extra smooth after each and every wash. I also felt like it left my skin feeling plump and looking glowy, which is always a plus.
However, there were a few cons. Having to wash the makeup brush after every time I washed my face was an additional step I didn't love, especially when I was running late in the morning. Also, if I wasn't wearing makeup, doing this as my cleansing step worked well, but if I was wearing makeup I felt like my hands were an easier tool to use to ensure I was properly removing everything.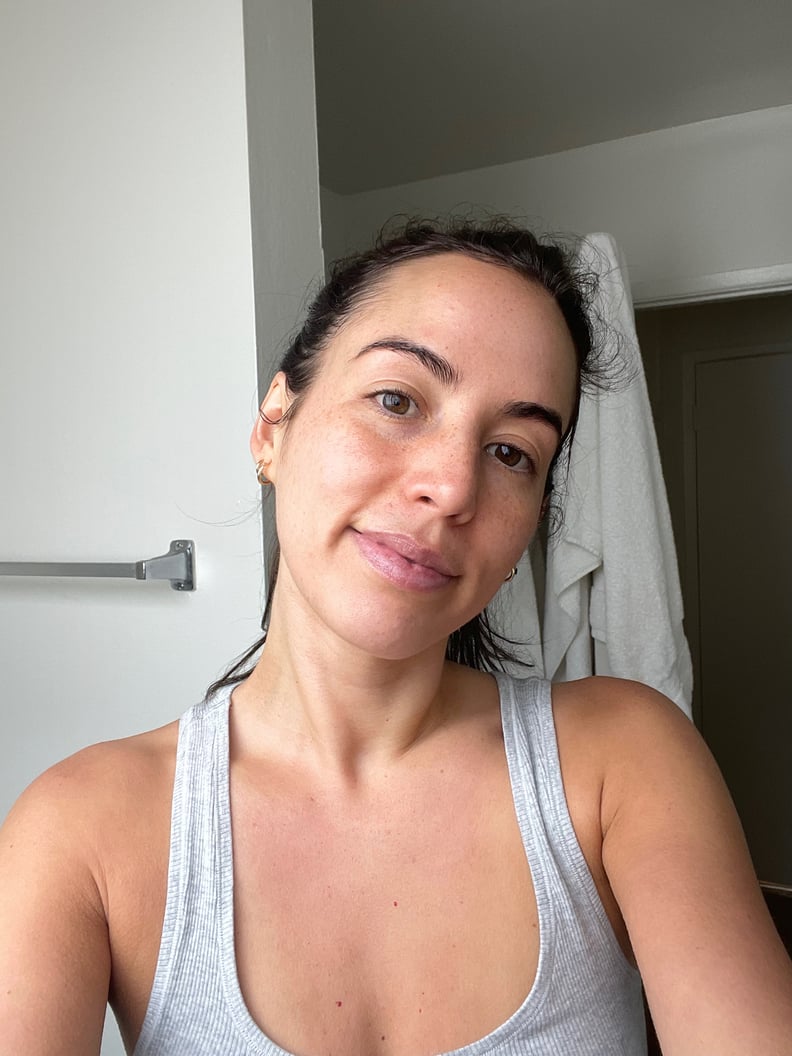 Overall, I think I'll use Cline's trick a few times a week because I loved the experience, but for the day-to-day it makes more sense for me to just use my hands.