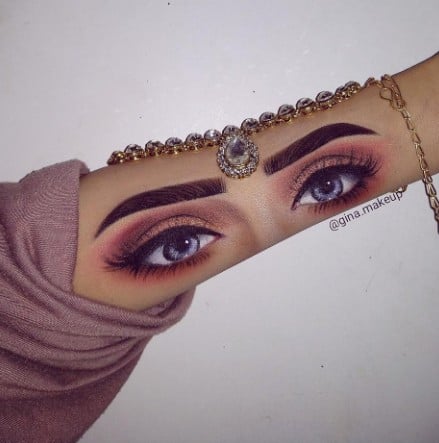 Swatching makeup is a deceptively hard task. You have to worry about catching your eye shadow in the right light and be sure to dust off any stray powders that might fall off on your arm.
So for convenience's sake, even the most skilled makeup artists usually stick to just swatching thick, chubby lines of pigmentation. However, one self-taught Instagram makeup artist named Gina does so much more than that. That's because she chooses to showcase her new eye shadow palettes by swatching total works of art on her forearm . . . works of art that are always watching you.
Sometimes Gina will re-create the peepers of the creator of the palette she's using, such as Huda Kattan or Anastasia Beverly Hills's Claudia Soare. Other times, Gina draws anonymous eyes on her forearm that are gorgeously sexy — and how I like to think I smolder from across the room on a good makeup day.
What's more, with all of the intricate blending, shading, and precision that goes into crafting these looks, you can actually get a really good idea of how well the palette Gina's testing works. Pretty and practical!
Ahead, take a look at some of Gina's most recent swatch art — but know these designs are also staring back into your soul.