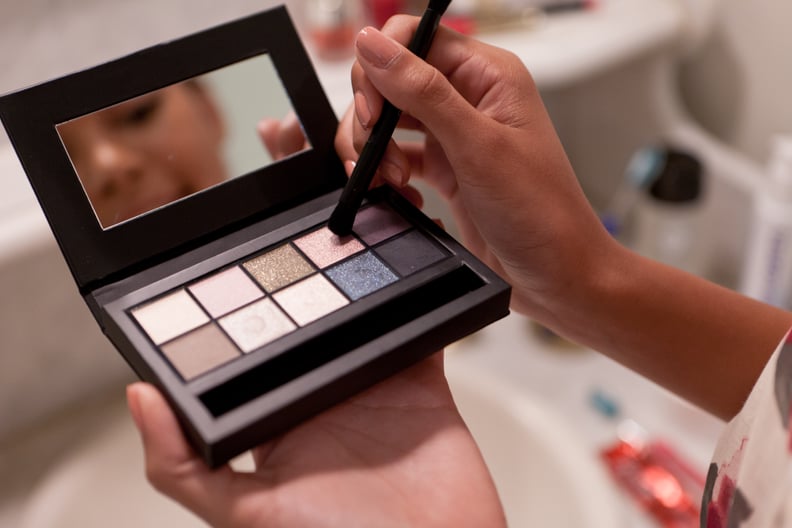 POPSUGAR Photography | Mark Popovich
POPSUGAR Photography | Mark Popovich
As POPSUGAR editors, we independently select and write about stuff we love and think you'll like too. If you buy a product we have recommended, we may receive affiliate commission, which in turn supports our work.
Listen, I don't want to sound too over-the-top about this, but I'm honestly not sure how I lived before I embraced makeup-setting spray. A refreshing mist? A full face of makeup that actually lasts? The product's promises seemed too good to be true. (Spoiler alert: they weren't.)
It all started when I learned that I'd be doing my own makeup as a bridesmaid in my best friend's wedding. I've cried during literally every wedding ceremony I've ever attended, so I panicked at the thought of standing at the sunny altar beside my best friend, mascara and concealer dripping down my face, all runny makeup and bloodshot raccoon eyes. Not helping matters at all? I was also pregnant, which meant I was perpetually hot (see: red, sweaty forehead) and even more emotional than usual. Yikes.
Enter our beauty editors, who recommended a few waterproof eyeliners and suggested that I try a setting spray. Until then, I'd only used setting sprays on a handful of occasions, once when I had my makeup done plus a few times in college when a friend shared her spray before going out. I'd thought of it as a product for "real" beauty girls — people who used foundation and highlighter and who knew how to apply liquid eyeliner. I am not one of those people, and with my simpler routine, setting spray didn't feel worth it.
My turn as a pregnant bridesmaid felt like the right time to try it, though — I was going to need all the help I could get — so I combed through our list of the best setting sprays to find one that might suit me. I have incredibly sensitive skin that became even more sensitive during pregnancy, so after reading some reviews and checking ingredient lists, I purchased Urban Decay's All Nighter Long-Lasting Makeup Setting Spray ($31), which is free of oils and parabens.
Here's where I tell you that I don't typically get makeup-related compliments. I'm a concealer, mascara, and simple eyeliner kind of girl, and by the end of the day, my eyeliner is slightly smudged and the concealer has usually faded.
But damn if my makeup didn't stay put (and somehow look brighter?) during that wedding. It gave me a glowy look that usually escapes me thanks to my powder bronzer, and I didn't need to reapply mascara or eyeliner like I typically do. Even after hours in the sun and on the dance floor, plus a handful of tears during the ceremony, my drugstore makeup held up. It felt like a true pregnancy miracle.
The real miracle worker at play, of course, was the setting spray, which I now use nearly every weekend. A daytime BBQ? Sweat isn't a problem. All-night dance party? I leave looking almost the same as when I arrived.
So, OK, it may not change your life, but it will definitely up your makeup game.