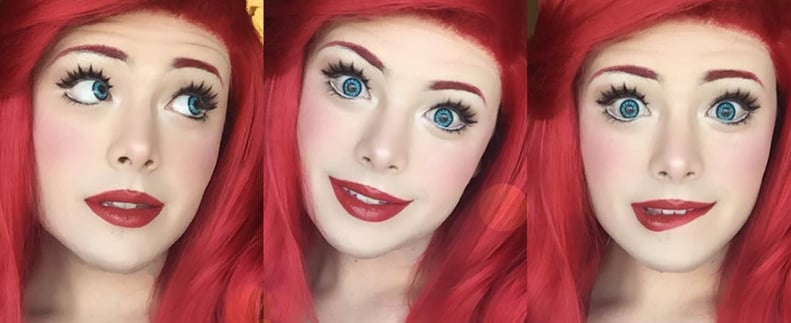 We've seen a lot of Disney princess cosplayers out there, but 22-year-old Richard Schaefer might be the best. The Orange County, CA, design student, who has worked as a Jungle Cruise skipper at Disneyland in the past, goes by the Instagram name TheOfficialAriel and for a good reason: his transformations into Disney princesses like Ariel are flat-out magical. Schaefer cosplays as both male and female Disney characters using a combination of detailed wigs, intricate costumes, colorful contacts, and some seriously impressive makeup skills.
From Disneybounding at park events to cosplaying at large conventions, Richard does it all . . . with the poise, cheerful attitude, and on-point contour of a true Disney princess, of course. Take a look at some of his most jaw-droppingly gorgeous looks, then follow his Disney-focused Instagram account to see even more of his enviable costume work.
His Aladdin is straight-up perfect.
But then again, so is his Pocahontas.
He's capable of becoming Aurora . . .
Or her film's villain, Maleficent.
And Richard can transform into Anna . . .
Or her older sister, Queen Elsa.
Richard's princess Giselle is almost better than Amy Adams.
And his Jane would steal Tarzan's heart in a flash.
He pulls off cartoon Cinderella like nobody's business.
But he is stunning as the live-action version of Cinderella, too!
His Peter Pan cosplay is adorable with a capital A.
And Richard's Belle is everything we've ever dreamt of.
We can't stop staring at his Merida cosplay.
Or Richard's gorgeous take on Snow White.
But our favorite Disney princess that Richard portrays has to be Rapunzel. Look at that expression!
We won't say we're in love with his Megara. (But we are!)
And Richard isn't limited to Disney characters — look at his stunning Morticia Addams!
And his Edith Cushing from Crimson Peak is creepily gorgeous.
But let's be real: Richard's most impressive transformation is Taylor Swift.