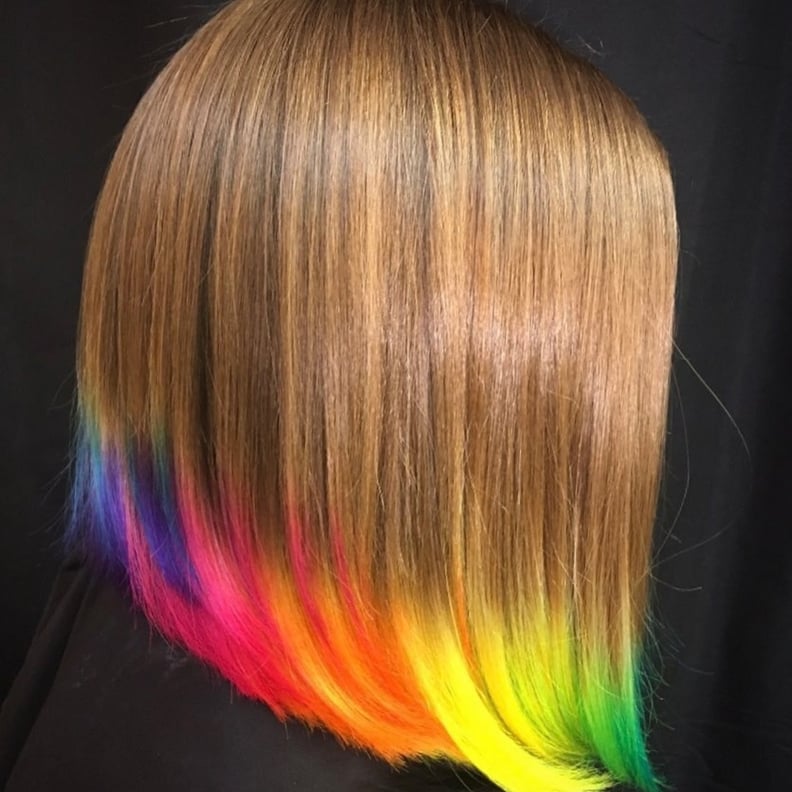 Have you always fantasized about getting rainbow hair, but ultimately backed out because the thought of lightening your entire head of hair (and the upkeep that comes with it) was too much? From amethyst, watercolor, to hidden rainbow, there's no doubt lots of options to choose from, but it's no secret that maintaining a technicolored dye job is hard work. If this sounds like you, stop your hair search because we just found the perfect alternative: Neon dip dye.
Forget the not-so-fortunate looking dip dyes you might have seen your friends trying out at home, this dip dye is bold, fun, and strikingly beautiful. Even better, it can be chopped off when you get bored. If you can't commit to a full head of rainbow color, this technique is screaming your name. Colorist Ursula Goff is the master creator behind the neon technique, but she doesn't just choose one neon color to embellish the ends of the hair, she uses five, giving a whole new meaning to dip dye. Ahead, get more neon inspiration and learn all the tips to pulling it off.
Neon Dip Dye Inspiration
Goff explained that this technique is something she suggests to clients who want something low maintenance or low commitment. She also said, "It can be a great option for kids, for those who aren't sure about colour yet, for just a fun Summer look, or those who maybe don't have the budget to frequently colour their hair." If only I'd had someone like Goff when I tried to dye my hair pink at the age of 13, and it went orange instead.
Once the neon fades, Goff explains that a client is left with blonde ends or ombré, which still looks nice with no harsh regrowth lines. If you want the neon off altogether, you can simply get your ends trimmed and you're left with no trace of the rainbow tips. However, Goff says that she's never had to cut off anyone's neon ends because everyone always wants more colour.
Neon Dip Dye Technique
Coloured hair is a process, but it's worth it. "Typically, I lighten the area to be coloured first and usually tease the sections before I apply the lightener to keep the line of the demarcation soft", Goff explains that doing just the tips doesn't require as much of a graduation or strong technique as balayage does. Once this is done, she applies the desired colours and design, which is where the imagination truly comes in.
Who Can Get Neon Dip Dye?
As for the best candidate? Goff says those who have healthy hair on the ends which can "tolerate the relatively harsh process of lightening the hair before the color can be applied." Because of this she recommends always visiting a professional, rather than attempting colorful hair at home. "Hair lightener is no joke and can melt your hair and/or cause chemical burns if used improperly." She recommends if you see someone in your area with great color ask for their colorist details, or "search on Instagram where you can get instant access to the portfolios of great stylists in your area. It can take a little time and money but it's absolutely worth it for fantastic results."