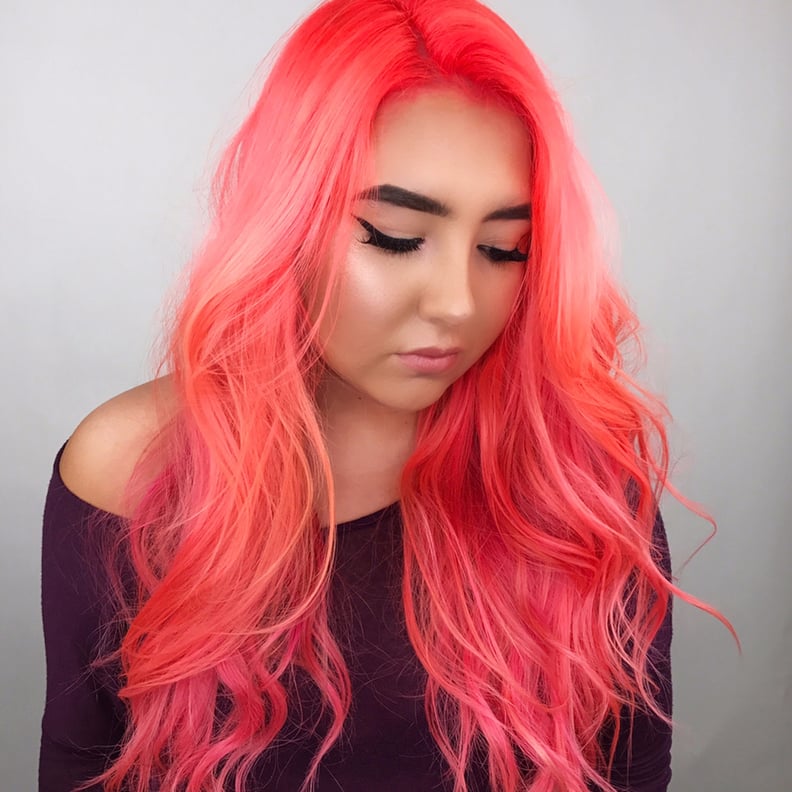 This Summer has blessed us with a wealth of inventive hair color trends to inspire our next dye session. We've seen everything from sherbet and sunset millennial pink to hues inspired by both Starburst candy and salmon sushi. But the latest bold dye trend that's about to take over your Instagram feed? Neon peach hair. Get ready to whip out your sunnies, because this one is vibrant AF.
Allure originally discovered this bright-as-can-be hair color after coming across the stunning dye work of hairstylist Jessica Jewel. The LA-based hair genius nailed down a distinct process for crafting the glowing hue. She started by dyeing a customer's virgin hair platinum blond, and then followed up by mixing two shades from Pulp Riot's Neon Electric line — four parts Candy (a bright pink) and one part Lava (a striking orange). Once processed and rinsed with icy-cold water, her client was left with utterly electrifying strands.
If you'd prefer to DIY this hair color at home, you're in luck, because Lime Crime sells its own semipermanent Neon Peach dye for just $16. What a steal!
Mesmerized by the neon peach hair trend? Us, too! Read on to watch a viral behind-the-scenes video of how Jessica crafted this stunning hue, and then check out other examples of the trend, which is rapidly spreading all over social media.
A Look at Jessica's Dye Process
How It Looked After the Dye Job
A Few Other Neon Peach Looks From Instagram