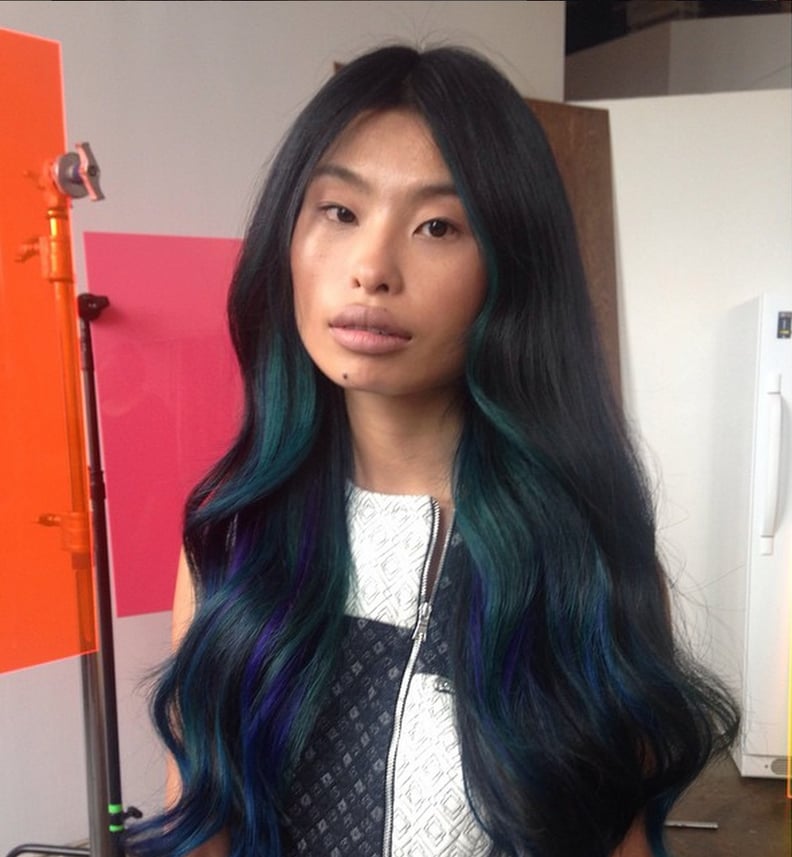 Everywhere you look this Summer, blondes have been sporting colorful hair shades — pastel pinks, vibrant blues, and even gray. But what about the ladies with mahogany manes? For a long time, we've been jealous of our fair-haired friends, who can easily dye with Manic Panic while we're stuck with blasé brown. So you'll be happy to know that celebrity colorist Aura Friedman of Sally Hershberger Salon has created the ultimate dye technique for ladies with darker hair. It's called the oil slick (or duck feather).
The iridescent tone mixes purples and greens on top of hair for an inky effect. "I've been trying to re-create gasoline or oil when it's on the ground and it rains," she said. "I find that when you take a dark purple and a dark green and layer them one on top of the other, you end up with this iridescent feeling." When you take the snapshots ahead to your colorist, make sure to ask for a shiny, blackish base with color peeking through.
The oil slick style is a cousin to the opal and mother of pearl hair color, but Aura recommends this look for Fall because it uses darker tones of rainbow. Plus, there are major hair benefits, too. "It will also be great for people who naturally have dark hair and don't want to go through a major bleaching process," she explained. "You don't have to lighten it so much to get it there, so your hair will be in better condition." Bonus: while pastel shades tend to fade quickly, these deeper colors will last for months.