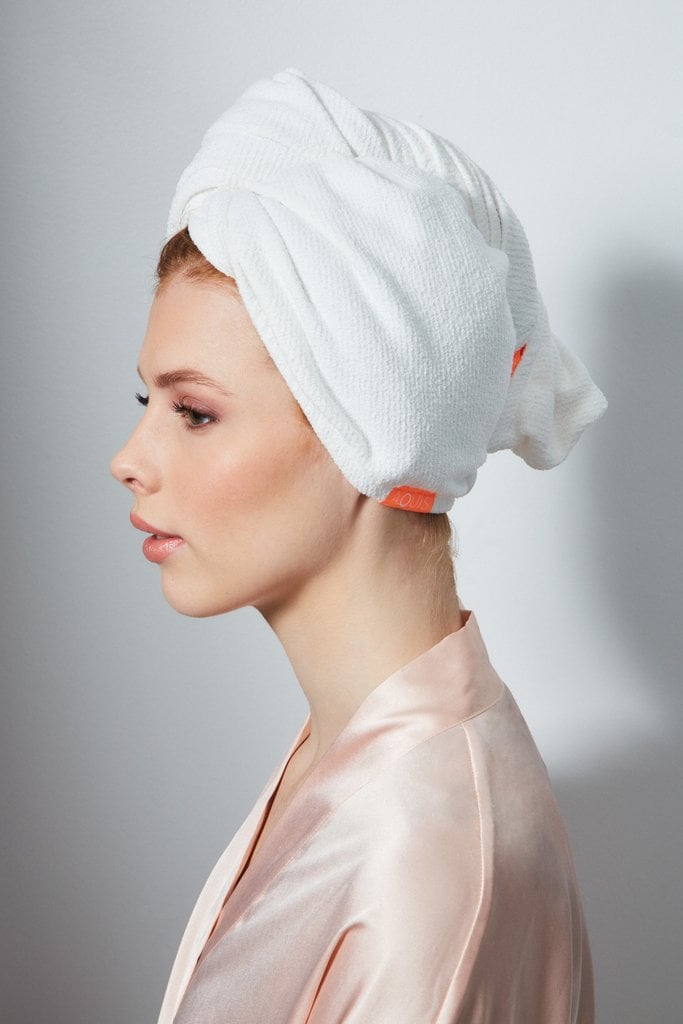 POPSUGAR Photography | Benjamin Stone
POPSUGAR Photography | Benjamin Stone
I am so guilty of this: I totally go to bed with wet hair. Often. I am lazy, and my hair takes 20 minutes to blow-dry — which cuts into my Hulu binge-watching time. You might be thinking, NBD. Or you might be horrified. The old wives' tale is that going to bed with damp hair can break the ends and damage it. Yet, some experts say it's totally fine.
To get to the bottom of this debate, I consulted with KMS Global Stylist Lori Panarello.
"Yes, it is OK to go to bed with wet hair," she confirmed via email. "Leaving your hair damp can enhance a natural wave pattern or even put wave into your hair, giving it a natural, lived-in look. Of course, letting your hair dry naturally is always better for the health of your hair because you avoid removing the hair's natural oils. This allows hair structure to remain intact while also keeping hair from drying out and splitting."
That said, there is a big difference between hitting your pillow with damp hair and walking right out of the shower into bed. "Never go to bed with your hair soaking wet," Panarello warned. "It will never dry overnight; it should only be damp. Also, do not towel dry your hair vigorously, as this will cause the hair to become frizzy. Instead, squeeze the water out gently so it won't disturb the hair cuticle. I also recommend staying away from heavy oils, which tend to coat the cuticle and are only a temporary solution that make hair seem healthier than it is."
I definitely have the issue of hair that doesn't always dry overnight. "If your hair is still damp in the morning, gently diffuse it on high heat, low speed," Panarello instructed. "Once the hair is dry, release the set, shake it out gently, and add a lightweight styling product, such as a working hairspray or styling creme."
So the good news is that my my "bad" habit isn't so bad. That said, when I do it, my hair often looks crazy in the morning. I never wake up with nice curls and great volume. Usually my hair is frizzy and matted. Sometimes, I even look like a baby lion.
Panarello offered tips on how to style wet hair to avoid this. "Braiding hair using a simple three strand braid left in overnight will give the hair a beautiful wave in the morning," she explained. "For more of a dramatic wave, section out the sides and back into four braids. For control, wrapping hair tightly in a scarf or headband will relax frizz but will leave hair in a more natural state. Another trick would be wrapping small sections of hair in rags while you sleep; this will give hair a beachy texture."
You also may need a little help — in the form of products — before you pass out postshower. "Depending on the texture of the hair, I would recommend the use of product to help enhance or control the outcome," she said. "For instance, a frizzy texture would definitely benefit by using a product to control the hair, while a finer hair type might use a volume product to enhance texture."
Try KMS Tamefrizz Curl Leave-In Conditioner ($21) if you want to polish your curls or Bumble and Bumble Surf Foam ($31) to give fine hair more texture. I personally love a good wave-enhancing spray — like Redken Curvaceous CCC Spray ($24) — in the morning to help reshape hair. And if all else fails and your sort-of wet, sort-of dry hair still looks funky, put on a damn hat, and head out the door!