Priyanka Chopra Made This 1 Fall Color Work on Her Eyes and Lips at the Emmys
hIt may still technically be Summer, but Priyanka Chopra has us ready to embrace all the dark, moody colors Fall has to offer. At the 2017 Emmy Awards, the actress walked the red carpet with monochromatic purple makeup, and it looked hauntingly beautiful.
Her makeup artist, Pati Dubroff for Laura Mercier, told POPSUGAR what influenced the look: "I was inspired by Priyanka's Balmain gown — it was beautiful, mirrored, and reminiscent of an art deco '20s/'30s vibe. As soon as I saw that dress, I knew the direction I wanted to take. This inspired me to create a sultry, shiny, and mysterious look for her."
This manifested into a dark purple smoky eye and a matching matte lip. Her skin looked porcelain-like with just a slight flush on the cheeks. "Priyanka's complexion is flawless," Dubroff said. "Her eyes have a deep red, greasy look — almost a glass mirror effect to mimic the dress. Her lips are deep and dark."
The exact shades Priyanka is wearing on her red-plum eyes are a mix of Laura Mercier Caviar Sticks in Plum and Burnished Bronze ($29). "I'd recommend applying it with the stick and using your finger to blend," Dubroff told POPSUGAR.
Dubroff also added extra redness to the lids using Rituel De Fille Eye Soot in Vescera ($38), topped with Glossier Haloscope in Moonstone ($22) for glossiness. Kevyn Aucoin The Expert Mascara in Bloodroses ($29) pull the vampy look together.
Her hairstylist, Danilo for Pantene, was also inspired by her outfit when creating her slicked-back ponytail. "There is something cool and contemporary about her hair tonight, and it's a nice way to accent the gown," he told POPSUGAR. "We didn't want beauty queen, which you sometimes get with the waves. We wanted an effortless, contemporary look and we accomplished that with the straight ponytail."
The updo, which he also called "sleek" and "chic," had a bit of height at the crown with no flyaways in sight. Danilo explained to POPSUGAR how he got her hair so damn smooth. In addition to using Pantene Pro-V Moisturizing Combing Cream ($6), a leave-in preblowout cream that makes her hair silky yet textured enough to style, he has a special hot tools theory.
"Blow the hair out straight back from the face, always anticipating placement of the ponytail," he said of his technique. "I call it 'directionally blow-drying,' and the same thing goes for flat ironing; you should always flat iron in the direction you plan to style."
Priyanka's hair was wrapped around the ponytail base, a classic trick to conceal a rubber band. That said, Danilo did not use a rubber band in this case. "I secured the ponytail with a hook elastic," he noted. "I'm a big believer in the hook elastic because it perfectly holds a clean and firm ponytail."
Since we are such big fans of Priyanka, we had to know what it's like to be part of her glam team. "It's always a blast to get ready with Priyanka," said Dubroff. "She always listens to great music and her best friends — who are like her sisters, and I know them so well — are with us. I always enjoy their company." She noted that overall, there's fantastic music, great company, chatting, and laughing.
Danilo also had a blast behind the scenes. "Priyanka has a wonderful energy and permeates the room. Her beauty, happiness, and professional eye all come together to make the person she is. She's generous and very supportive of the collaboration."
Keep reading to see all angles and close-ups of Priyanka's red carpet style, as well as an exclusive snap of Danilo doing her hair.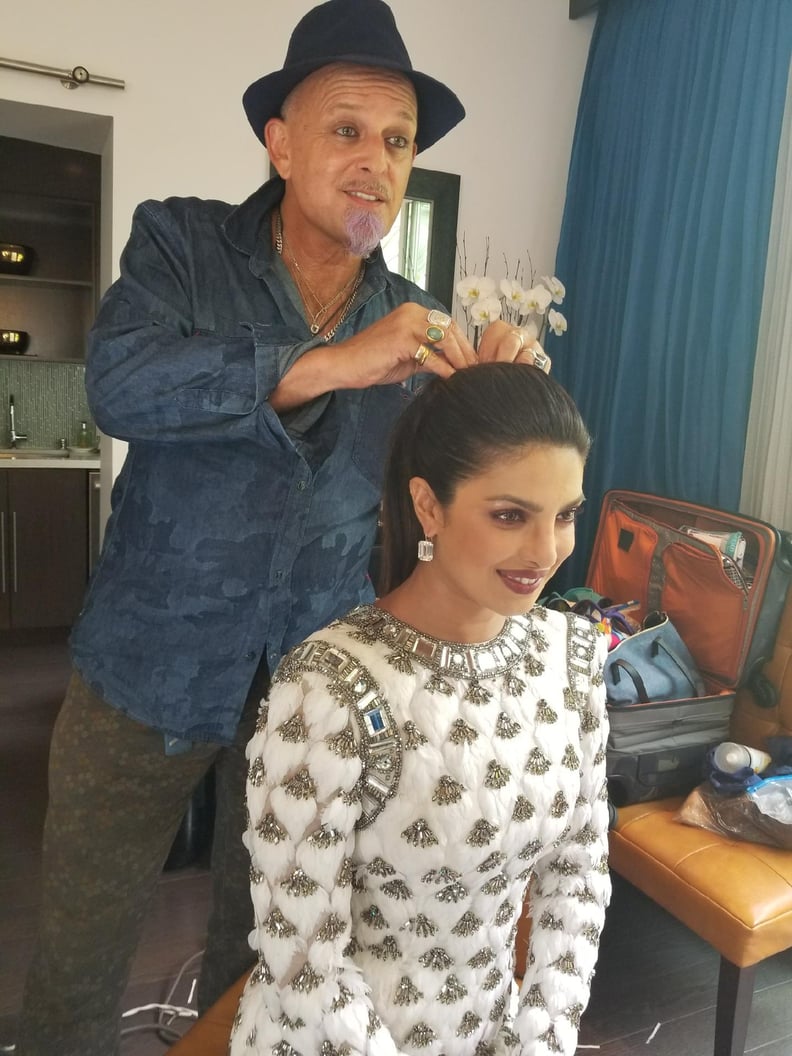 Exclusive Image of Danilo Doing Priyanka Chopra's Hair For the 2017 Emmy Awards