I Got My Teeth Professionally Whitened and Missed Coffee Desperately — but It Was Worth It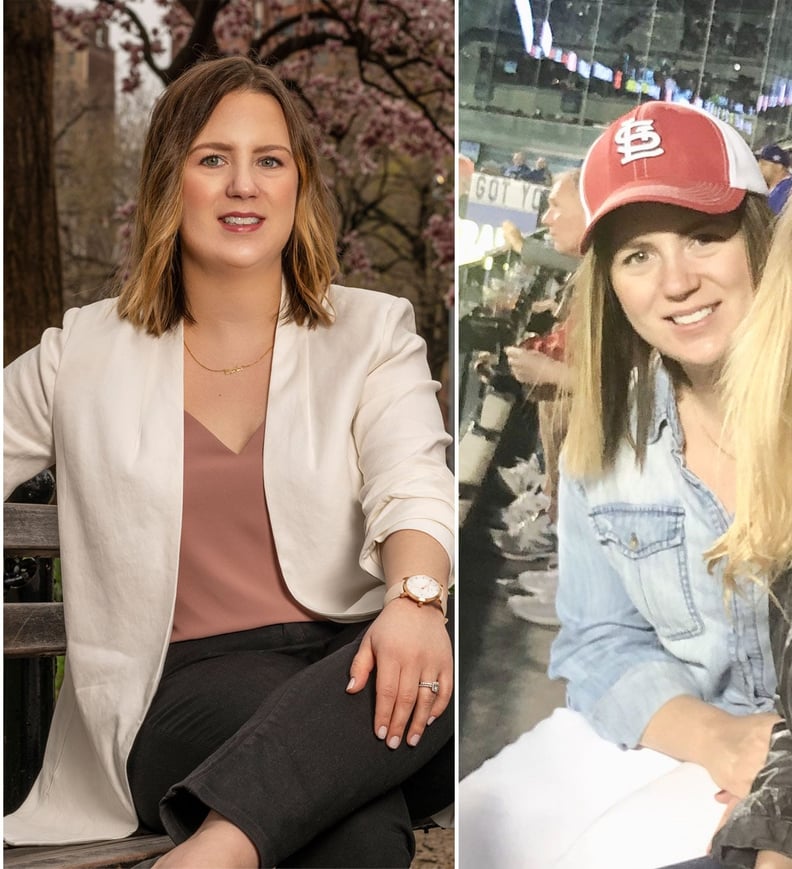 POPSUGAR Photography | Christina Stiehl
POPSUGAR Photography | Christina Stiehl
As a connoisseur of both coffee and red wine — OK, not connoisseur, but enthusiast — I'm always on a quest for a whiter smile. Even when I use white strips or an at-home gel whitening kit, within weeks, I inevitably smile to reveal duller, less vibrant teeth. It is a huge bummer and makes me pretty self-conscious in photos, hence why I don't have many photos of myself smiling (and I never take selfies).
Luckily, the talented team at Jonathan B. Levine and Associates aesthetic dentistry on New York's Upper East Side came to the rescue. Among their dozens of services is teeth whitening. The teeth whitening is done with GLO Science, a whitening service that Levine himself innovated. It's performed by one of their skilled dental hygienists, and you are in and out of the office within an hour. I was skeptical of how much it would help, but I walked out a believer. Here are the pros and cons of getting your teeth professionally whitened with GLO Science.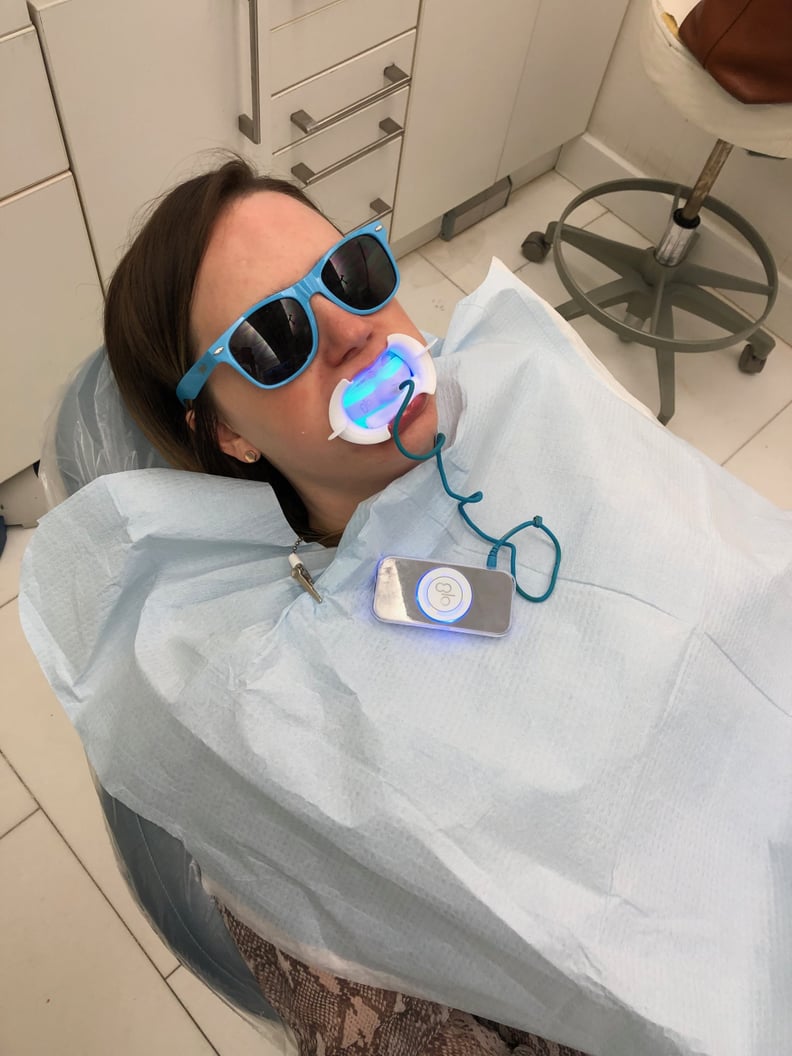 Teeth Whitening Pro: It's Quick
Although it takes a little bit of time to prep for the procedure, including rinsing with a mouthwash, getting your gums sealed, and having your lips packed with gauze so you don't drool, the actual whitening only takes minutes. I did two sessions with the light at eight minutes each. There was a TV equipped with Netflix, so if you asked for the office to play your favorite comedy, the procedure would breeze by.
Teeth Whitening Con: It's Uncomfortable
You know how I mentioned you need to get your gums sealed and your lips packed with gauze? Yeah, that's not exactly pleasant. You have a contraption placed in your mouth that keeps your lips away from your teeth so they are able to perform the whitening properly. With your mouth pried open and your lips packed with gauze, it's easy to feel a little mouth-claustrophobic. Plus, you have to bite down on the mouthpiece that administers the light, so your mouth feels pretty packed for about 20 minutes.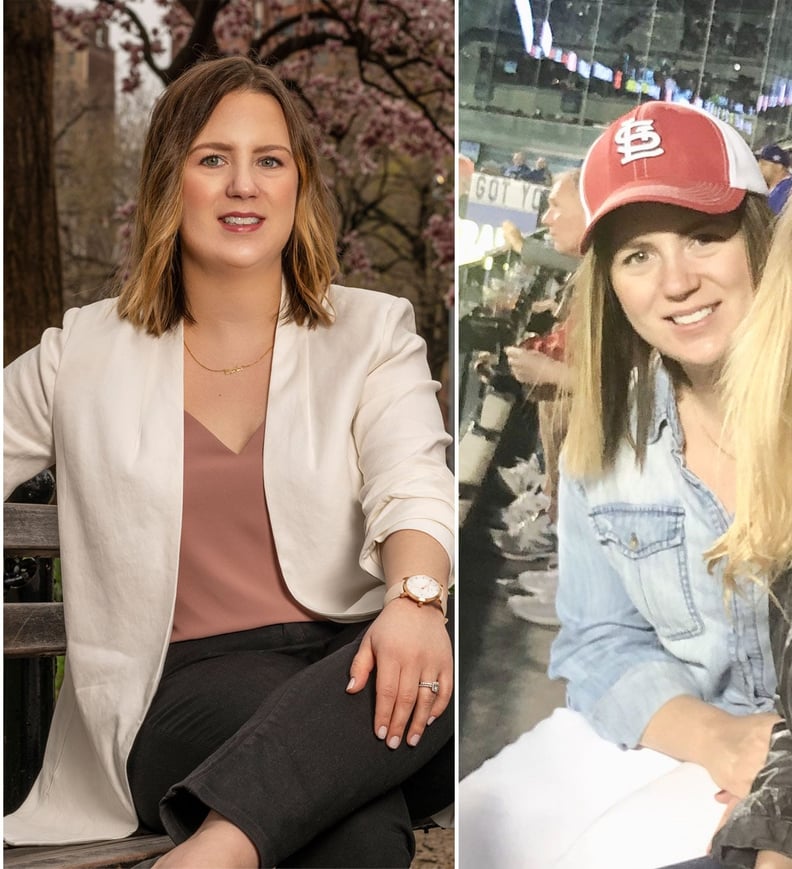 Teeth Whitening Pro: You Get Shades Whiter in Just 1 Session
Before we started, the dental hygienist who was administering the session, Jen (who was very nice!), compared my current tooth shade to the key she had to see how much whiter they should get. Although she said my original shade wasn't too stained — I credit my at-home whitening kit and good mechanical toothbrush — I still wanted my teeth a little whiter. Since I didn't need anything super drastic, I used the lower amount of hydrogen peroxide (24 percent as opposed to 30 percent) and only did two passes, and Jen said it still whitened my teeth about two shades. It kept my teeth more of a realistic white so I still look like a normal human, not the drastic, over-the-top, blindingly white teeth you see on TV or Instagram.
Con: It Doesn't Change Overall Discoloration
I noticed a little difference in the whitening, but I still had some spots where there was discoloration. Unfortunately, it didn't even out teeth discoloration, so if that's something you're self-conscious about, you'll have to work that out with your dentist.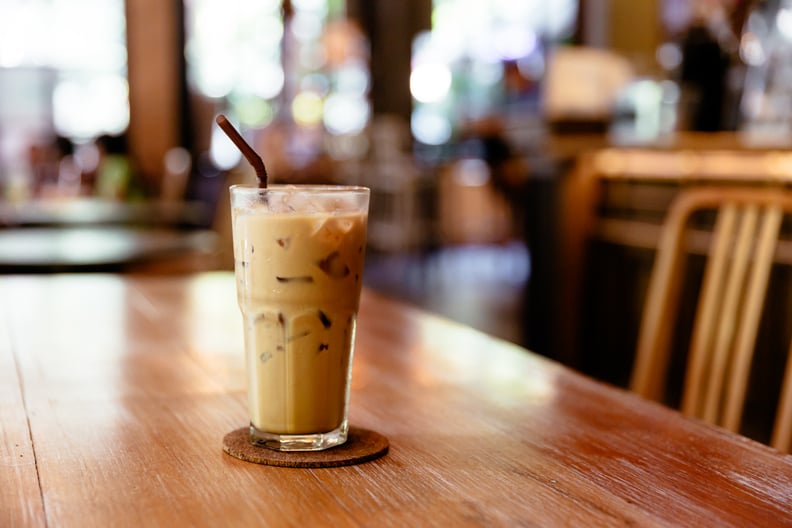 Teeth Whitening Con: You Can't Eat or Drink Your Favorite Foods
To keep your pearly whites, well, pearly white, you have to avoid certain stain-inducing foods and drinks for two days after the procedure, since your teeth are particularly susceptible to stains during this time. These include the usual suspects: coffee, red wine, dark berries, and others I wouldn't expect, like red meat and soy sauce. The advice Jen gave me is that if it would stain a white t-shirt, it would stain my teeth. And I have enough white clothing peppered with Oxyclean-immune stains to know that most of my faves were off-limits.
I grilled her about coffee: Did I have to give it up? Even if I only drink cold brew through a straw? She said it wasn't ideal, but if I diluted it with enough milk that it was more of a taupe shade, that wouldn't be the worst thing in the world. So I loaded my homemade cold brew with oat milk and sipped away, sticking to just one cup instead of my usual two. Although she wasn't pleased, Jen said I could drink my morning pre-workout drink, which is a bright Kool-Aid red, through a straw, which I did. Everything else was easy enough: I drank light beer and water, avoided red meat, and blended my smoothies with a banana instead of berries.
Teeth Whitening Pro: It Didn't Hurt My Sensitive Teeth
Another reason Jen chose the lower 24 percent hydrogen peroxide gel is because I told her my teeth were pretty sensitive. Sometimes when I use white strips or the at-home whitening kit, my teeth can feel incredibly sensitive and at times downright painful. I have a hard time eating or drinking anything that is too hot or too cold because it hurts my teeth. I figured the same thing would happen after getting my teeth professionally whitened, but I had no such symptoms. It didn't hurt during or after the procedure, and I didn't notice a difference when I drank something cold or bit into something hot.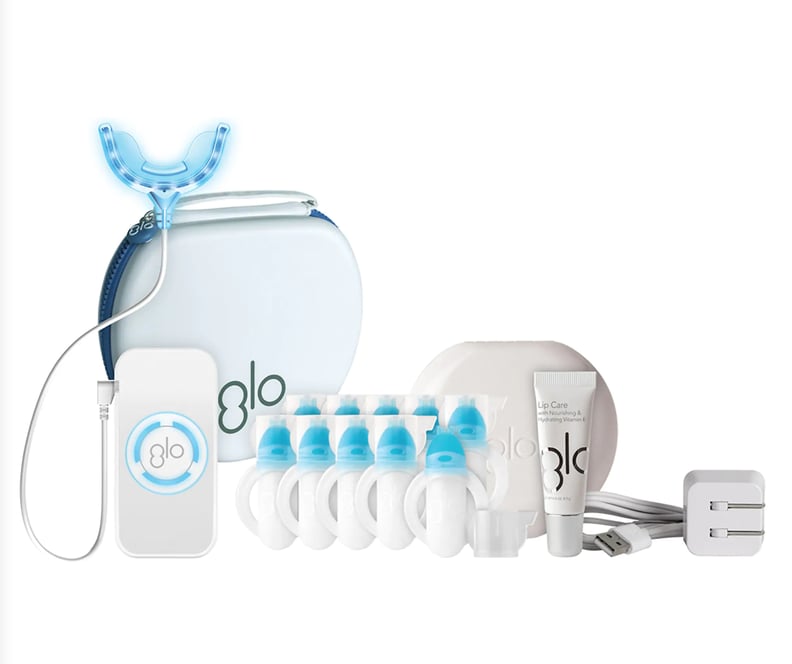 Teeth Whitening Con: It's Expensive
Since my teeth were already pretty white, I just had to do a touch-up, which would have cost me $300 out of pocket. (This session was comped for me — thanks, Dr. Levine!) However, if you wanted to whiten your teeth more than a couple shades or have never whitened your teeth before, the full cost of a procedure is $600. The at-home gel and whitening kit I got from my dentist is about $300, but to be honest, that one is kind of a pain in the ass; I have to do it for 30 minutes a day for about a week, and it hurts my sensitive teeth and gums.
Teeth Whitening Pro: You Can Do a Similar System at Home
If you don't want to go through the whitening process in a dentist's office, you can do it at home with the GLO Science Brilliant Teeth Whitening Device ($200, previously $220), now available at Sephora. It includes 10 vials of whitening gel, and you can do it for up to 10 days in a row to achieve maximum results. However, it may not be as effective as an in-office procedure; the hydrogen peroxide is only nine percent for the take-home kit compared to the 24 or 30 percent in the office.