If you're obsessed with all things beauty on Instagram, you likely have a handful of favorite influencers whose feeds you check religiously. Two of mine have always been Angel Merino, also known as @mac_daddyy, and Jade Marie, @jadeywadey180. Just in case you haven't followed them yet (which you should do right now!), Angel is known for his smoldering stare and Jade's luscious lips are positively mesmerizing, and they both rock a beautiful, blindingly bright highlight.
What I've found out over the years is that in addition to being incredibly talented and glamorous artists, they are also close friends. They often guest-star on each other's feeds and are spotted together at major events like Coachella and Beautycon. POPSUGAR is excited to exclusively reveal that now the pretty pair is joining forces for a new project: the Royalty Collection, a collaboration with cruelty-free beauty brand Pür Cosmetics.
The two drew from the Renaissance era for this line, which consists of Angel's five-piece eye shadow kit and Jade's quartet of lip colors. I got a first look at the products in both sets and not only am I impressed, but I'm in love. Pür's Eye Polish is an intensely pigmented liquid formula that dries down completely, resulting in a bold, crease-resistant eye look.
"When creating my shades, I wanted to make colors that would become staples in all of my most glam looks," Angel told POPSUGAR via email. Silk was one of the first Eye Polish shades the celebrity makeup artist had tried, and because he was such a fan of it, he included it in his assortment. The gold and bronze shades (Dynasty and Your Majesty) are his everyday go-tos.
"All of the shades have a beautiful sparkle which I felt was a direct reflection of me and my personality."
"The dark purple and glittery gunmetal color [King of Hearts and Knighted] are for the days you really want to slay!" He added, "All of the shades have a beautiful sparkle which I felt was a direct reflection of me and my personality."
If you're a little wary of using this unusual formula, Angel offered a tip: contour the crease of the eye with a matte shadow before applying an Eye Polish on top with its silicone applicator. "Let the eye polish take the throne while dazzling the lids," he declared.
As for Jade's lip colors, they are equally impressive. While I may not achieve her plush pout if I wear them, they'll still make me feel glam! The quartet includes two finishes — matte and glossy — and boast a delectable piña-colada-like scent.
"I have been wanting to create lip products for so long and I knew Pür was the perfect fit," Jade told POPSUGAR via email. "I wanted to do lip colors that are wearable for all types of skin tones and that looked good on everyone." I was particularly charmed by the matte formula, which features a rich dose of pigment and stays soft on the lips (so your pucker never feels parched).
The artist drew inspiration from royal glamour and deep jewel tones for Empress, my favorite in the collection. "It's the perfect shade for a night out," she shared. I plan on wearing this velvety berry matte throughout the holiday season. And those who have always been searching for their perfect neutral shade may find it in Cake. "It was inspired by the nude that I always wanted to own but could never find," she confessed.
The two sets launch on PurCosmetics.com on Nov. 28 and will cost $42 each. However, if you choose to buy them both (and you will want to, because they are that good), you can snag them for a total of $79. Read on to see more shots of the divine duo and their two collections.
Pür Cosmetics Royalty Collection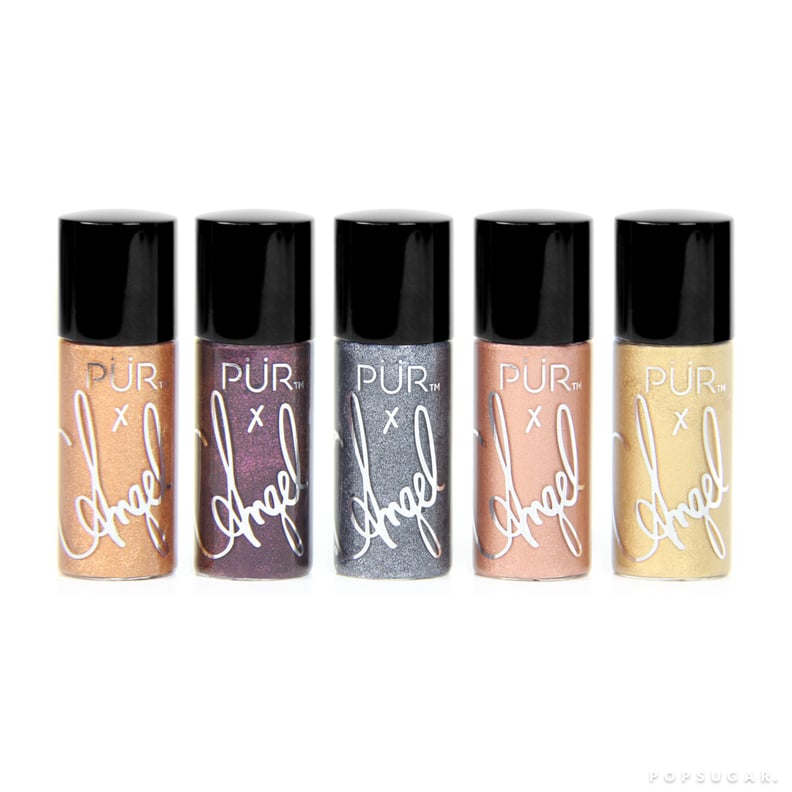 Pür Cosmetics x Angel Merino Royalty Eye Polish Collection
Pür Cosmetics x Angel Merino Royalty Eye Polish Collection ($42)
From left to right: Your Majesty, King of Hearts, Knighted, Silk, Dynasty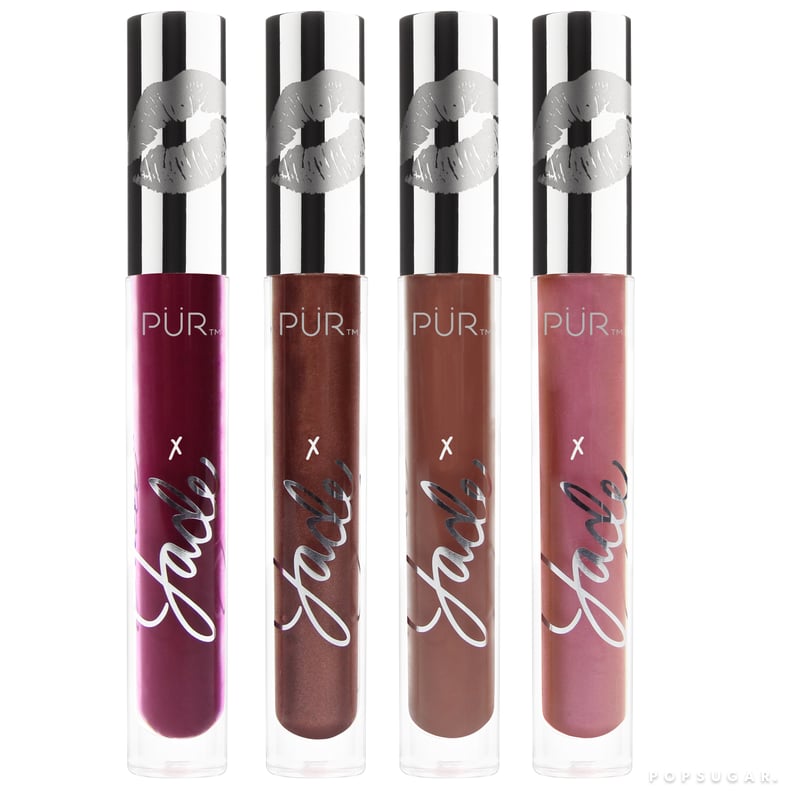 Pür Cosmetics x Jade Marie Luxe Lip Collection
Pür Cosmetics x Jade Marie Luxe Lip Collection ($42)
From left to right: Empress, Queen of Hearts, Cake, Mirror Mirror