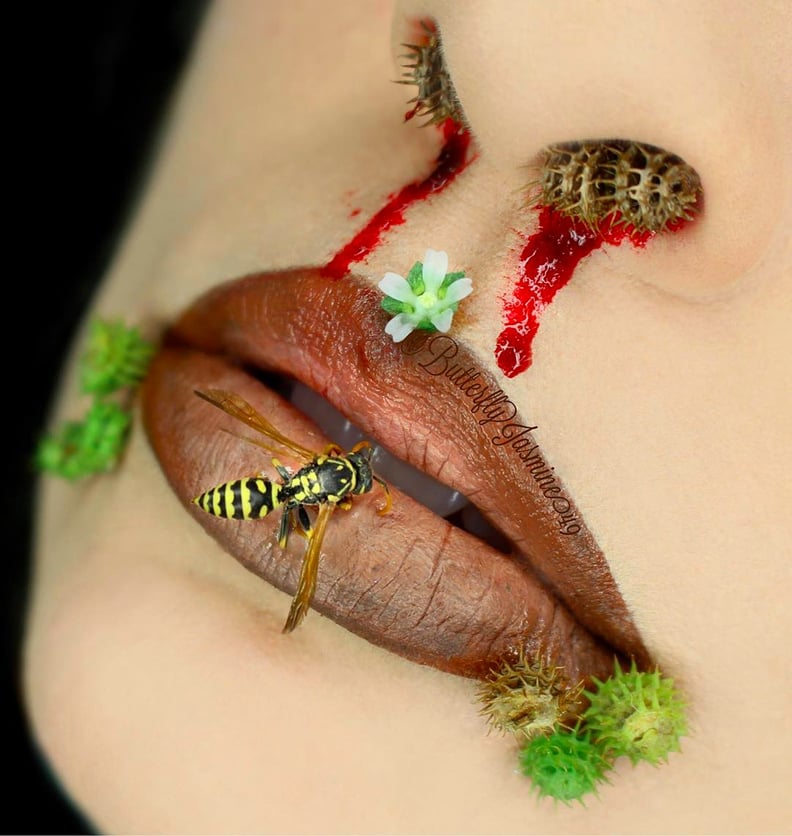 Beauty trends have taken a wild turn, apparently live animals are now being used to create the next best lip art, with none other than a real live wasp. Jasmine, a self taught makeup artist shares her latest botanical creations on Instagram and the most recent look has us doing a double take. She has taken inspiration from her garden, incorporating not only flowers and moss but has used a living wasp and snail in her designs.
We've now become accustomed to out of the norm brows and bold hair choices, but Jasmine's wasp lips top them all! This look clearly isn't a practical 15 minutes job before your daily commute but it does make a pretty creative, albeit dangerous photo shoot. However, we don't recommend sticking wasps on your lips, due to the obvious risks involved.
Jasmine is fully aware that her looks aren't "everyone's cup of tea" and that it is simply a "form of artistic expression". So, if using live animals and risk factor isn't your bag, there are plenty of ways to recreate Jasmine's botanical theme by using tiny flowers.
No animals were harmed in the making of these looks, reassuring viewers that the "snail was found in my yard and promptly put right back where I found him after our photo shoot." Keep reading to see how Jasmine incorporates every aspect of her garden imaginable. We can't wait (and are somewhat nervous) to see what she creates next.