How a Tongue Piercing Fueled Ruby Rose's Obsession With Tattoos
When I found out that I'd be interviewing Ruby Rose about her partnership with Urban Decay, I immediately felt butterflies. No matter what your gender identity or sexual preference is, it's hard to deny that the androgynous DJ and actress is supremely hot — with a sexy Australian accent to boot. Luckily for my nerves, the ultrachill vibe she gives off on screen is not an act. Ruby is just as friendly and funny in real life as her character Stella on Orange Is the New Black.
She and Stella differ in a key way, though: Ruby isn't remotely calculating and, in fact, seems pretty cautious. After her Hollywood breakout role in OITNB, she was approached by many brands for collaborations. But despite her past partnership with Maybelline New York in Australia, she resisted taking any calls. "I really just wanted to focus on acting and solidify myself as an actor in Hollywood before distracting me from that," she explained. However, a session with makeup artist Toby Fleischman changed her mind.
"I've used every kind of mascara in the world, on hundreds of shoots," Ruby told me. "But I was like, 'what is this? I'm obsessed with this mascara.'" Fellow Urban Decay junkies know that the formula was Urban Decay's Perversion.
Since UD isn't widely available in Australia, Ruby was unfamiliar with the edgy line; but after hearing about the company's cruelty-free message, she was hooked. Her meeting with cofounder Wende Zomnir sealed the deal. "We were supposed to have a 30-minute meeting and it ended up being a two-hour meeting — with an hour and a half talking about our dogs, rescue dogs, and what we can do for the planet," Ruby recalled.
In addition to being the face of the campaign for Urban Decay's new lineup of lipsticks, Ruby has way more in store with the brand. Read on! We chatted about makeup, her endless tattoo addiction, and her groundbreaking role on OITNB.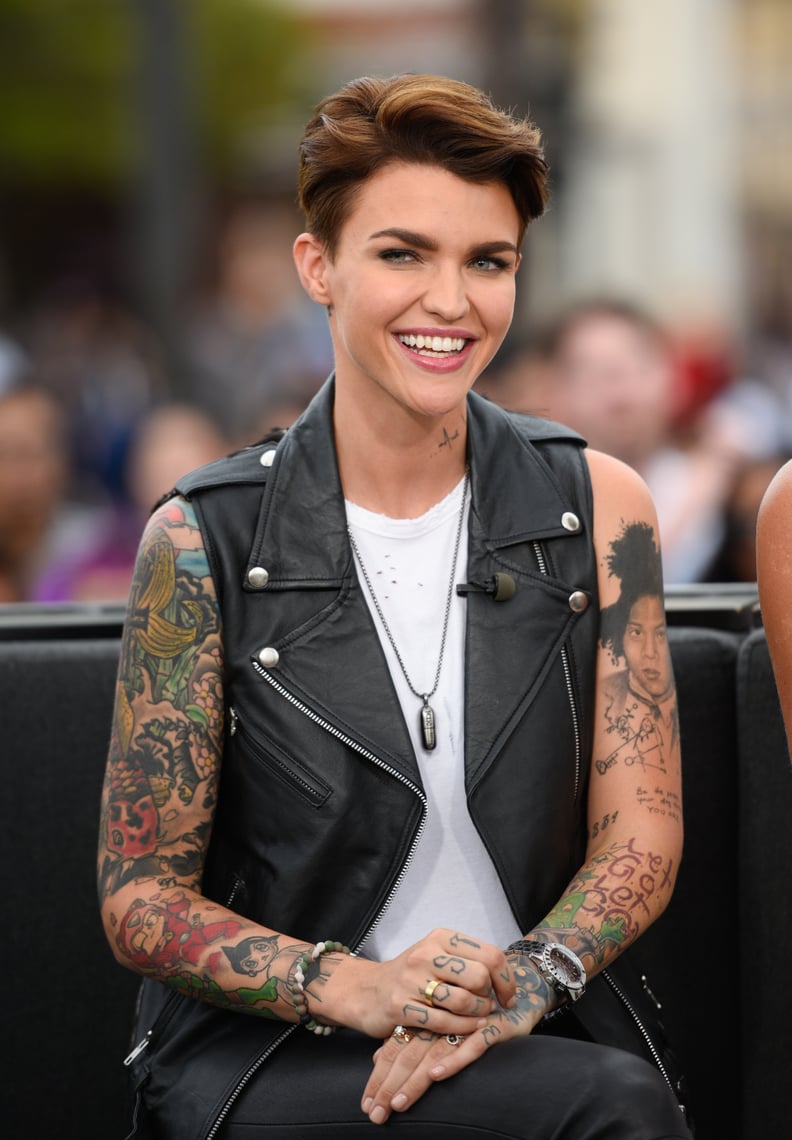 What is the extent of your partnership with Urban Decay?
"If you take my really crazy, creative brain that never stops, never sleeps, and never isn't thinking of fun things to do, and you put it together with Wende's brain — the sky's the limit. We're definitely going to work on something together. It's not like I know and I'm not telling you, I don't know because we have so many ideas. I love color — I mean, my name is Ruby Rose; it's like double color."
How did your obsession with tattoos start?
"I went to Germany on exchange when I was 16 and tongue rings [were trendy there] at that time. I got one and came home, and my mom was like, 'That's disgusting, get that out of your mouth.' So, we made this deal. Every woman in my family has a tattoo — even my grandma has a rose on her ankle. My mom has like four now. She said, 'I'll let you get a tattoo,' if I got rid of the tongue ring.
We went to the tattoo parlor, and I pointed to the one that I wanted: barbed wire around my bicep. My mom said no, so we kind of bargained with each other until she let me get a tramp stamp: a rose with a Celtic design around it. I don't know why she thought that would be a better idea. It grew from there — constantly making up for that back tattoo that I have."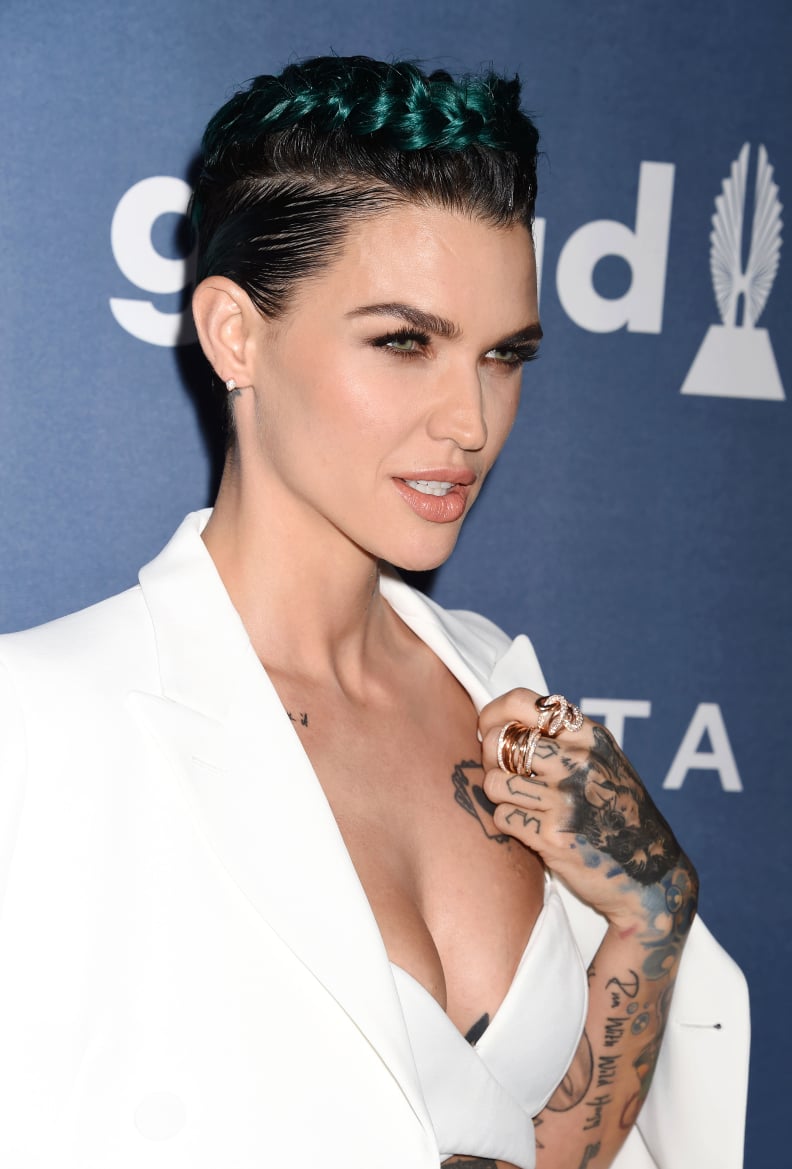 What advice do you have for people getting their first ink?
"I really don't think that you should get a statement tattoo that you can't hide — like neck, knuckles, hands — until you're over 25. Your choices change. I thought that I was going to be a rock star, so I went all out. Then I decided to be an actor.
It's a lot harder to walk into a room and be like, 'I'd like to do a period piece with Keira Knightley' when you look like you're from Trainspotting. I've been so lucky that makeup can cover it. You might think that you want to be in one industry, and then you might end up in more of an office situation — different places have different rules. I sound like a mum!
I love all of mine and they've told my entire life story. I love when I meet someone and I can see their stories through their ink. I think it's something that a lot of people use to express themselves. I obviously have. I have no regrets. I do think that if my mum had known that by getting rid of my tongue ring when I was 16, we're here 70 tattoos later, she might've been like, 'keep the tongue ring.' Make sure they have meaning and never get a partner's name; that's the kiss of death."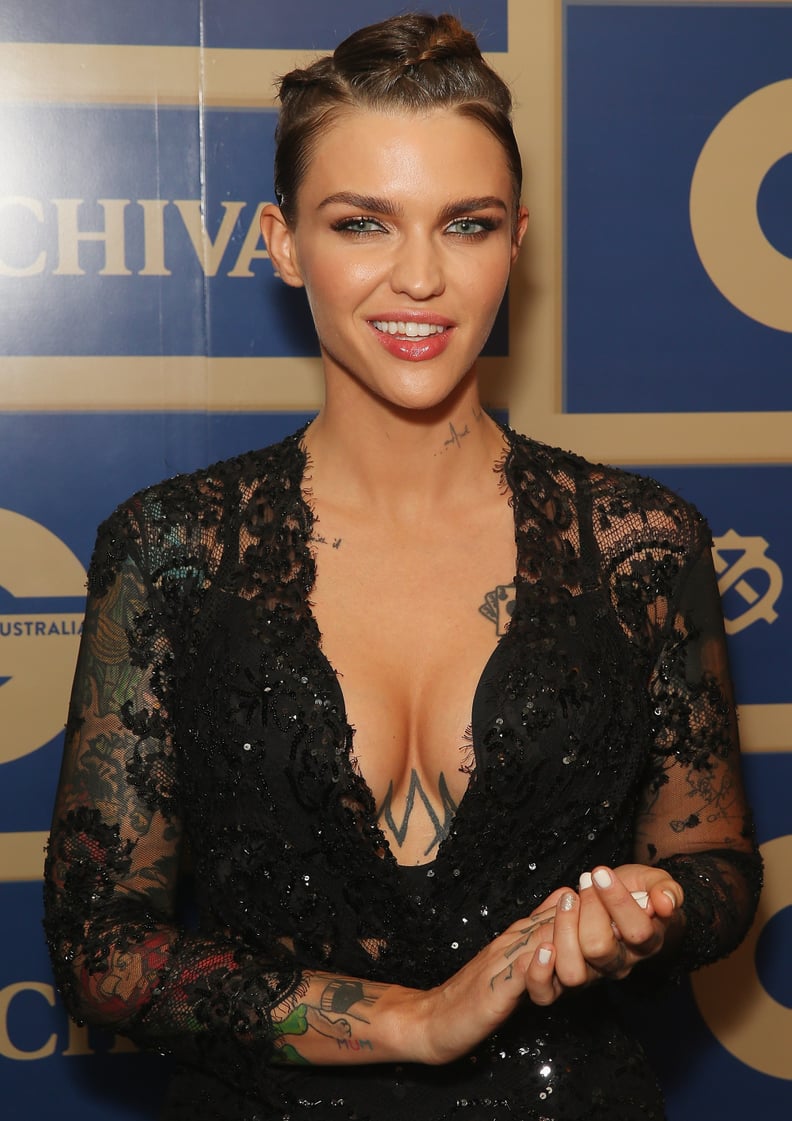 How do you think the face of beauty is evolving?
"I think that Urban Decay does kind of what Orange does in the Netflix world. Urban Decay incorporates every type of person — every different nationality, people from all over the world, men, women — all with amazing, different makeup looks.
It's really important that brands like Urban Decay spread that message — to feel comfortable with who you are and express who you are. A guy could walk into a shop and buy products from Urban, and if someone looked at him funny, he could be like, 'What? Are you kidding? It's Urban Decay!' You see that spreading through fashion through music, media, films. More people are being recognized and talked about and given a voice. It's really important for society."