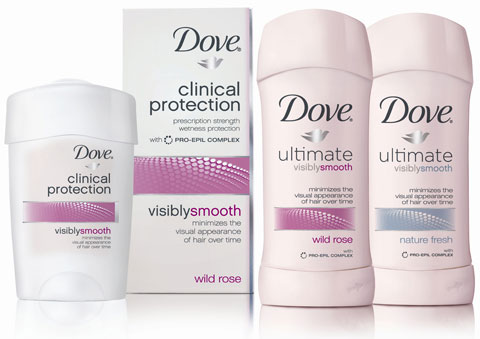 Not all skin is created equal! Most women focus their attention on creating a great skincare routine for their face by drinking water, wearing sunscreen, and moisturizing. But what about the other sensitive skin areas?
"So many of my patients forget the importance of caring for their underarms until there is a problem – like underarm irritation," said Beverly Hills dermatologist and co-author of The Beauty Prescription, Debra Luftman. "The underarms are a unique, complex, and delicate area that should be nurtured – just like the rest of your skin."
Luftman recommends Dove Visibly Smooth anti-perspirant/deodorant, which features Pro-Epil™ Complex with Dove 1/4 Translucent Moisturizers™. This unique combination minimizes the look and feel of underarm hair over time and cares for delicate underarm skin.
"In addition to caring for underarm skin, I also recommend Dove Visibly Smooth because it provides 24-hour odor and wetness protection," says Luftman. "It is a deodorant that does the caring for you."
Visit dove.com/visiblysmooth for more information.