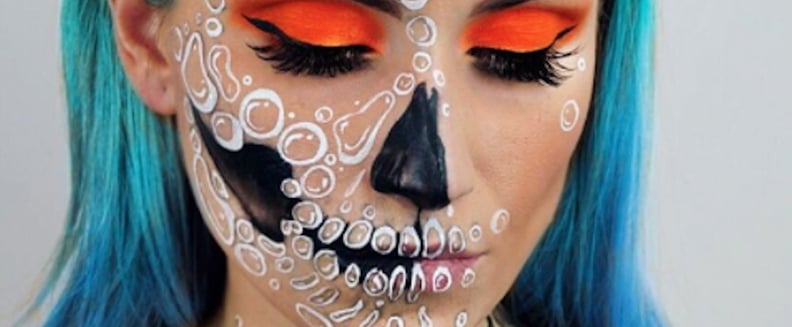 Makeup artist and wig maker, Vanessa Davis, posts amazing skeleton cosmetic creations to her Instagram account and uses glitter, sequins, and even Swarovski crystals to embellish her face. She's currently the Wigs and Makeup Manager at English National Opera, which explains her theatrical style. She never seems to lack creative ideas to combine a skull with a variety of different motifs, from koi fish to the Statue of Liberty.
With 219k followers, her imagination and skill have not gone unnoticed. Many of her looks have gone viral, and the Londoner has been featured on MAC's Instagram page. It's obvious Davis is extremely talented and we can't wait to see what other skull makeup she creates next.
Read on to see the stunning (and spooky) looks.
Disco Glam Forever Studio 54 Skull
Amaluna Clown Skull Makeup
Koi Carp Bubble Skull Makeup
Psychedelic Butterfly Rose Skull
Unicorn / Pegasus Wings Skull
Lady Liberty Skull Makeup
Nefertiti Scarab Beetle Skull
Black & White Lacy Skulls