POPSUGAR Photography | Kyle Hartman
POPSUGAR Photography | Kyle Hartman
Shoutout to Baz Luhrmann, because his hit song from 1999 not only took over airwaves as the graduation song of the year, but it dispensed helpful advice in the form of a catchy pop song: wear sunscreen!
We've all been instructed to wear SPF for a variety of reasons, but the most important would be to protect ourselves from skin cancer, especially melanoma. Melanoma is one of three forms of skin cancer, and while it isn't the most popular form, it's the deadliest of the bunch.
But what aren't you thinking about when it comes to skin cancer? Keep your bases covered with these tips from these cancer survivors, dermatologists, and top estheticians.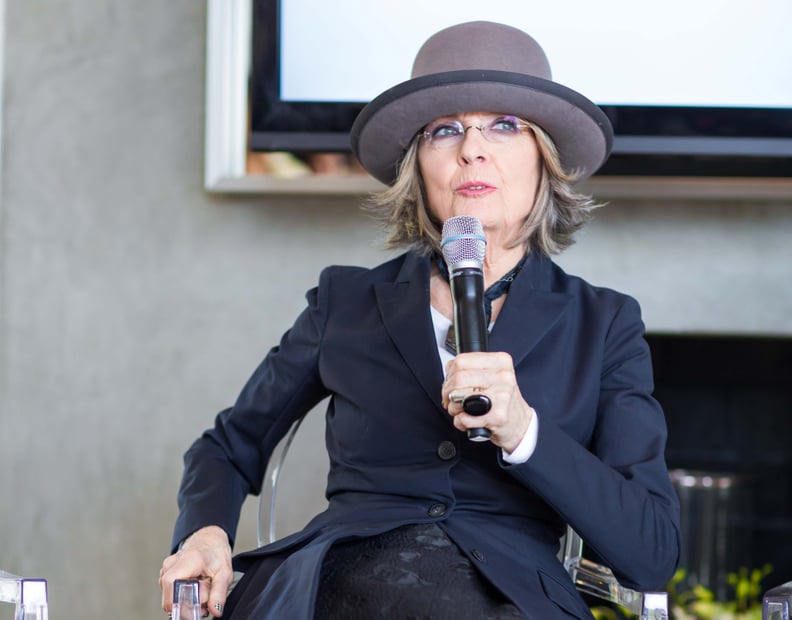 1. It Might Not Look Like a Mole
At an event held by L'Oréal Paris and the Melanoma Research Alliance, Diane Keaton explained her experience with skin cancer: she'd been diagnosed with squamous cell tumor carcinoma several years ago but was first diagnosed with basal cell carcinoma when she was 21.
Diane didn't realize the sore on her skin was skin cancer. "It's tricky. If you're aware of your moles, you're better off. But this wasn't a mole," she said. "It was almost like a pimple, kind of. It was weird, very strange. It wasn't ever black — I had none of those symptoms — and it wouldn't go away."
We contacted celebrity dermatologist Dr. Jessica Wu, who helped explain each type of skin cancer:
Basal Cell Carcinoma: The most common form of skin cancer, which affects parts of the skin that are most exposed to the sun. This is a treatable form of cancer, if caught in the early stages, and looks like a red bump or a blemish.
Squamous Cell Carcinoma: Another common form of skin cancer. It look like a scaly, crusty growth. It doesn't heal, is popular in older individuals, and can be treated if caught early.
Melanoma: It's not the most common form of skin cancer, but it is the most deadly. Resembles a mole that is irregular in shape, color, and elevation.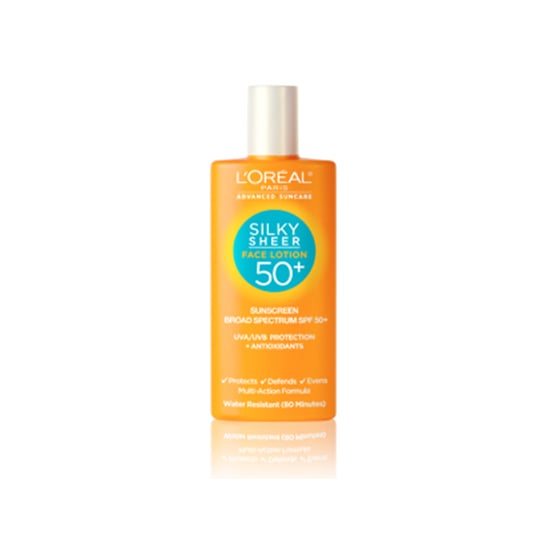 Get a Second Opinion
Diane went to different doctors before solidifying the squamous diagnosis. "I kept getting it biopsied, and it took the third biopsy for a diagnosis. It took over a year and a half period of time," she said. She also had two surgeries to remove it, because they didn't catch it the first way.
Diane is lending her voice to the "It's THAT Worth It" campaign with L'Oréal Paris. When users post photos and videos using #ItsTHATworthit, L'Oréal Paris will donate $1 to the Melanoma Research Alliance.
L'Oréal Paris Silky Sunscreen SPF 50+, $11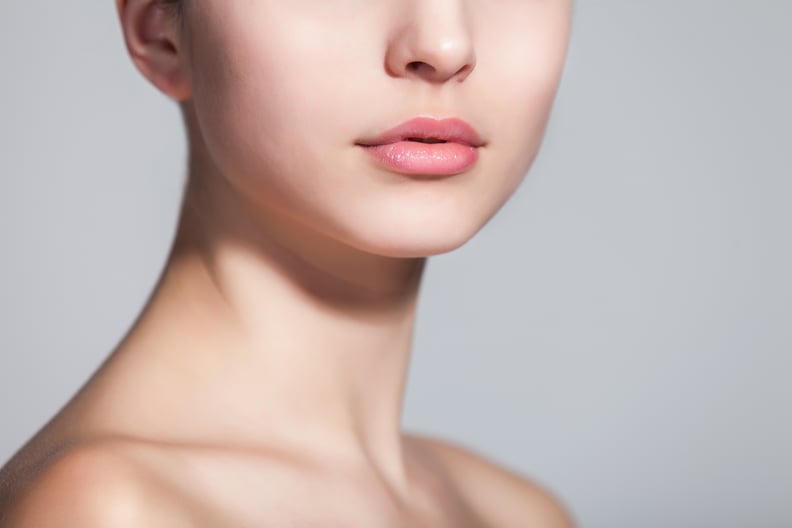 2. The Most Commonly Diagnosed Areas Are the Face and Legs
We're always told to reapply our sunscreen when we'll be outside for extended amounts of time, and wearing hats and long sleeves also helps. Many women wear sunscreen on their face on a daily basis, but where are doctors finding that women develop skin cancer on their mug?
Dr. Wu reveals that she finds basal cell carcinoma (remember, it's the most popular from of skin cancer) on places like the nose, forehead, and ears and lower lip, because women tend to forget to load up on those areas.
"I find my patients get it on their nose," says Vanessa Hernandez, celebrity esthetician. So slather than sunscreen all over your schnoz!
As for melanoma, Dr. Wu says they find it most on women's legs and men's backs. "For people who live in cooler climates, (their) legs are in tights or pants, and then it gets sunny and our legs are exposed and those are the areas, we get burned," says Dr. Wu. "Pay attention when you're shaving your legs. Get to know your moles. Get to a doctor once a year."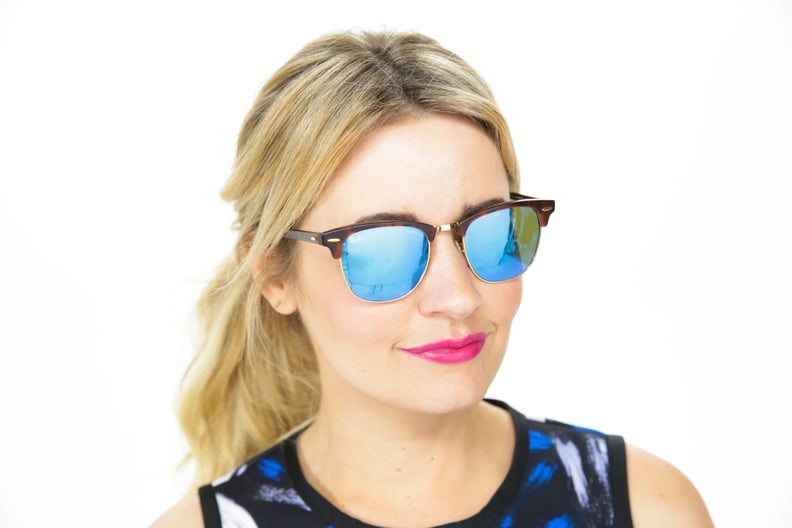 Sunglasses and Lipstick Go a Long Way
To protect yourself, treat yourself to a nice pair of sunglasses. (In addition to broad-spectrum sunscreen, of course.)
"Look for (sunglasses) that block 99 percent to 100 percent of UV rays. Invest in a good pair, check the labels. They won't only protect your eyes from the glare, but you won't squint as much and get crows feet."
And lipstick is also a great way to protect your lips, in addition to sunscreen.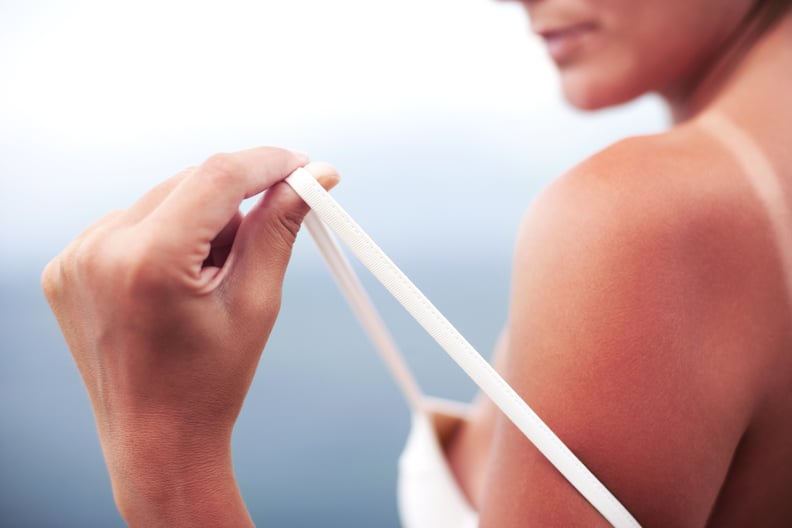 3. One Sunburn Is All It Takes
Let's say you wear so much sunscreen that you should invest stock in it, and you never forget a hat and stay out of the sun as much as possible. We're proud of you! But you should still get checked by a dermatologist at least once a year. "Melanoma is the most common cancer in adults 25 to 29 and the second most common cancer in women 20 to 29," says Dr. Wu.
And just because you've hid from the sun the past few years doesn't mean you're immune to getting skin cancer. "A lot of times people will say — here's the other misconception — they say, 'Well, I'm not going to go in the sun anymore, so I won't get skin cancer.' But in fact, one blistering sunburn in childhood doubles your risk for melanoma. Five or more sunburns, even if they aren't blistering, will double your risk for melanoma," says Wu.
If you fell victim to tanning beds as a teenager, checkups are essential for you, too. "My patients get naked in front of me. I have found melanoma in people's pubic areas!" says Dr. Wu. "If you use a tanning bed, you aren't getting vitamin D, and you're getting 10 times the dose of UV rays."