I Tried a "Skin Detox" — and My Skin Has Never Looked Better
POPSUGAR Photography | Renee Rodriguez
POPSUGAR Photography | Renee Rodriguez
Every editorial product is independently selected by our editors. If you buy something through our links, we may earn commission.
A skin detox promises to reset the skin and remove impurities or toxins.
The process involves paring back your skin-care routine and rigorously cleaning any products that regularly touch your skin.
One editor did a 30-day skin detox and loved the results.
Over the last few months, my skin has been on a journey — and not a great one. After getting a laser treatment on my face, I ended up having a second run-in with contact dermatitis, and due to the medicine I used to try to clear it up, I then had a serious case of steroid acne all over my face and neck. When I started introducing all of my typical skin-care products back into my routine, my skin had a total freakout. I knew I wanted to give my face a break and treat it with extra care, so I did some research and decided I would try out a skin detox.
I based my skin detox loosely on a POPSUGAR 30-Day Detox Challenge, but I switched out a few things and ultimately picked and chose based on what I thought would work best for me.
I started by going through all of my beauty products and tossing out everything that was expired. Experts suggest throwing away anything you've had open for more than a year, and although I'm ashamed to admit it, I've had the same bronzer for the last 10 years. (I don't wear makeup very often, so it takes a while for me to use something until it's finished, and I hate wasting products.) Still, I knew that if I wanted to get back in my skin's good graces, I was going to need to get rid of all of the products that could be irritating it.
I then gave all of my makeup brushes and beauty sponges a thorough clean and tossed anything that looked like it was on its last leg. I'm sure you can imagine that if I've held on to a bronzer for 10 years, most of my makeup brushes are even older. I also cleaned off my eyelash curler with a cotton swab and makeup remover, which is something I legitimately had never cleaned before, and the amount of gunk that came off of it was genuinely shocking. I also sanitized all the products that touch my face frequently, like my phone, my headphones, and my pillowcases. I also added a monthly reminder in my calendar to make sure I was cleaning my brushes and tools on a regular basis.
Next, I took a good, hard look at the products I was using and made decisions on what needed to be switched out and what could stay in the long haul. I've been using the same moisturizer, the Hada Labo Gokujyun Premium Hyaluronic Milky Lotion ($17), for years, and there's no way I could part with it. The ingredients are ultrahydrating, and they don't cause any issues with my sensitive skin. I also decided to stick with my tried-and-true cleanser, the CeraVe Hydrating Facial Cleanser ($14).
I'm a huge fan of using tretinoin (a prescription-strength Retin-A), but after not using it for over a month, I knew I needed to ease back into using products that could potentially cause dryness and skin flaking. I started instead using the Saint Jane Sleep Overnight Repair ($70), a lower-dose retinol that is gentle enough to use on sensitive skin. It hasn't dried out my skin, and it's been the perfect product to reintroduce my skin to the ingredient.
I also wanted to make sure I added more moisture and hydration into my routine to combat any potential drying effects of the retinol, so I added the Monastery Aloe Hyaluronic Moisture Boost ($84) and the Monastery Flora Botanical Cream Serum ($140). These two products specifically have been some of the best additions to my routine in years. Layered on top of one another, they leave my skin looking so glowing and supple. Because I have super-dry skin, I always layer my moisturizer on top, but this duo would be perfect for anyone who has oily skin and just needs a light moisturizer that isn't too heavy.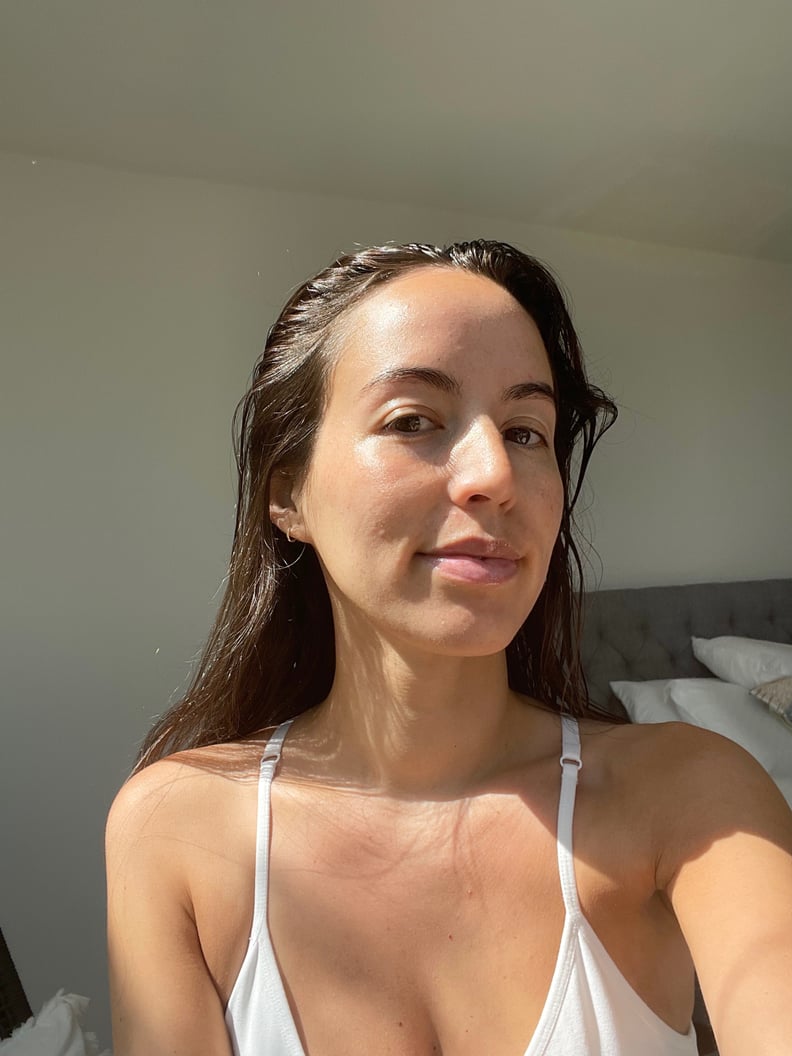 Although my skin detox was mostly centered on the things I put on my skin, I tried to pay attention to what I put inside my body as well. I tried to add as many different antioxidants into my routine as possible, whether with skin care or food. I am a pescatarian and already eat fairly clean, but I made sure to add a healthy serving of foods like berries, avocados, and green leafy vegetables into my daily diet. I also bought myself a water bottle with time markers on it so I could keep better track of my daily water intake.
Overall, I'm extremely happy that I decided to do a skin detox. I found some great products to add into my routine, and I've also made some great changes to my diet that have been helping my skin both look and feel better. I would recommend this experiment to anyone who is looking for a change in their skin-care regimen — or just needs a healthy reset from the inside out.