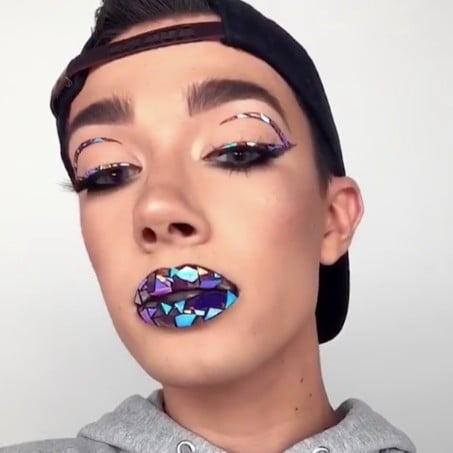 When we saw James Charles's positively radiant stained-glass makeup look on Instagram, we almost let out a "Hallelujah." The saintly trend, which has been quietly simmering among makeup junkies' pages over the Summer, has finally hit its peak with James's gorgeous interpretation.
When we see this style, we can't help but think of sky-high European cathedrals. Coincidentally, that architecture is the same exact thing that Kat Von D says inspired her upcoming Saint + Sinner Eye Shadow Palette. So we're calling it now: this Fall, makeup is going to look "holy" as f*ck.
We're obsessed with the mosaic-like pattern, because it looks like an elevated take on the metallic trend. It should come as no surprise that people are losing their minds over stained-glass makeup. As one commenter put it, the ethereal style leaves James "looking like a damn goddess shining through the windows of a cathedral." That description is pretty much every aesthetic we've ever wanted to embody, so needless to say, we're pretty frickin' excited to try this trend ourselves.
Scroll on for the best Instagram interpretations of this look, from lip art to full face.