The Only Thing Sydney Sweeney Loves More Than Drugstore Beauty? Couponing (Yes, Really)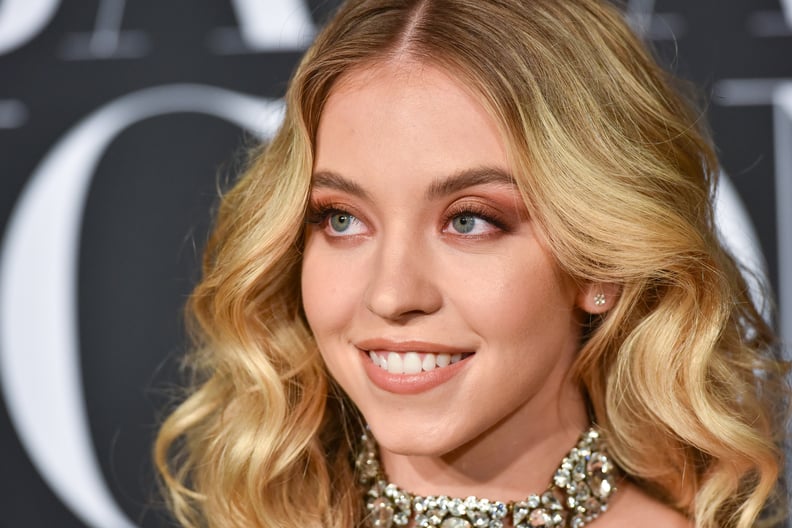 Many people's perception of celebrities is that money is no object. They can spend hundreds of dollars on a single moisturizer and order luxury lipsticks in pairs without giving it a second thought. They don't browse drugstore aisles like the rest of us, let alone clip coupons at CVS. For Sydney Sweeney, though, that couldn't be farther from the truth.
The actress, who's appeared in Hulu's The Handmaid's Tale, Netflix's Everything Sucks!, and, of course, HBO's Euphoria (to name a few), is actually quite proud of her money-savvy habits.
"I grew up in a very tight budget family, so I've always been instilled the importance of value and the importance of money," Sweeney told POPSUGAR. "I always try to find really good deals." That's why her recent partnership with BIC Razors for its "Value For Money" campaign is such a great fit: "They have such great, premium quality products and I'm a sucker for a deal."
Ahead, Sweeney is sharing more of those budget-friendly beauty hacks, the products in her daily beauty routine, and, of course, the answers to your most pressing questions about Euphoria.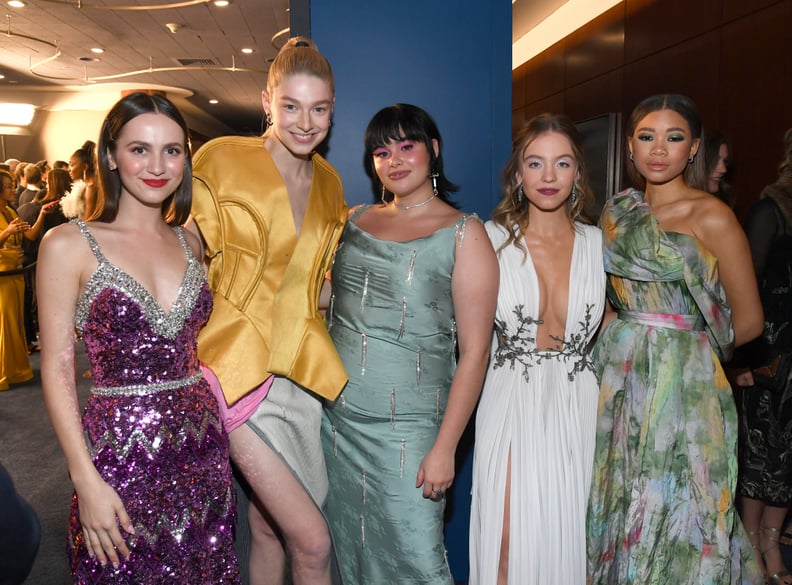 The Best Beauty Tip Sydney Sweeney Learned on Set
A lot of Sweeney's current beauty knowledge — from the best way to apply makeup to how to manage her combination skin — has been advice she's picked up from beauty professionals on set and red carpets. For example, she uses an ice roller every morning before heading to work because her "makeup goes on beautifully afterward" and has pulled back on her setting powder usage per a makeup artist's suggestion. "I love powder; I put way too much on then it gets caky," Sweeney said. "So, if you're oily and you don't like being oily, I completely understand, but I always try to avoid my cheeks with the powder."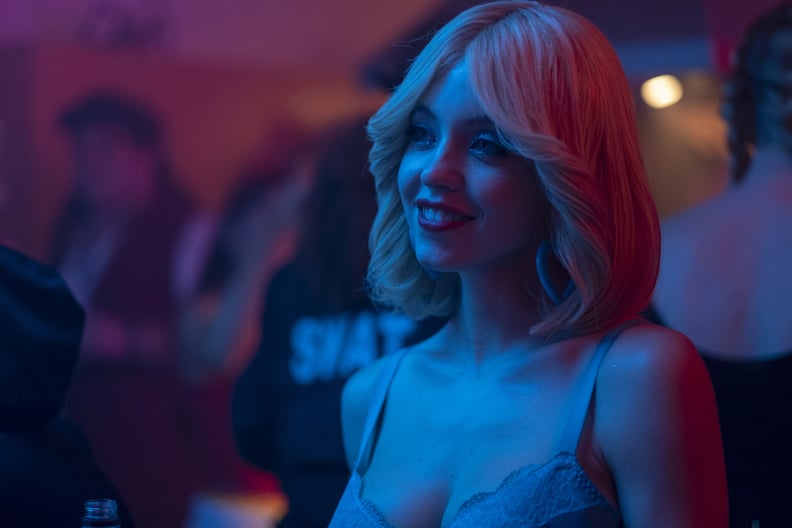 Sydney Sweeney's Thoughts on Euphoria Makeup
The only time Sweeney wears heavy makeup these days is on the set of Euphoria, which is currently filming season two. She called the project "a dream" and it largely has to do with the creative freedom given with beauty. "You're on a show where there are no ceilings, or no limits, or anything," Sweeney said. "I feel [that] kind of allows your creativity to expand."
Sweeney thinks her personal beauty vibe is "quite similar" to her character Cassie Howard's. "We have basically the same color palette," she said. "And she tends to try to have more of a girl-next-door, everyday look, which I like. She always thinks less is more, and I appreciate that." But then she added: "Well, season two's a little different. . ."
It goes without saying that Sweeney's lips are sealed when it comes to the details of season two but she did give us a little hint as to what we can expect from Cassie next. "She's really experimenting this year" — so take that how you'd like.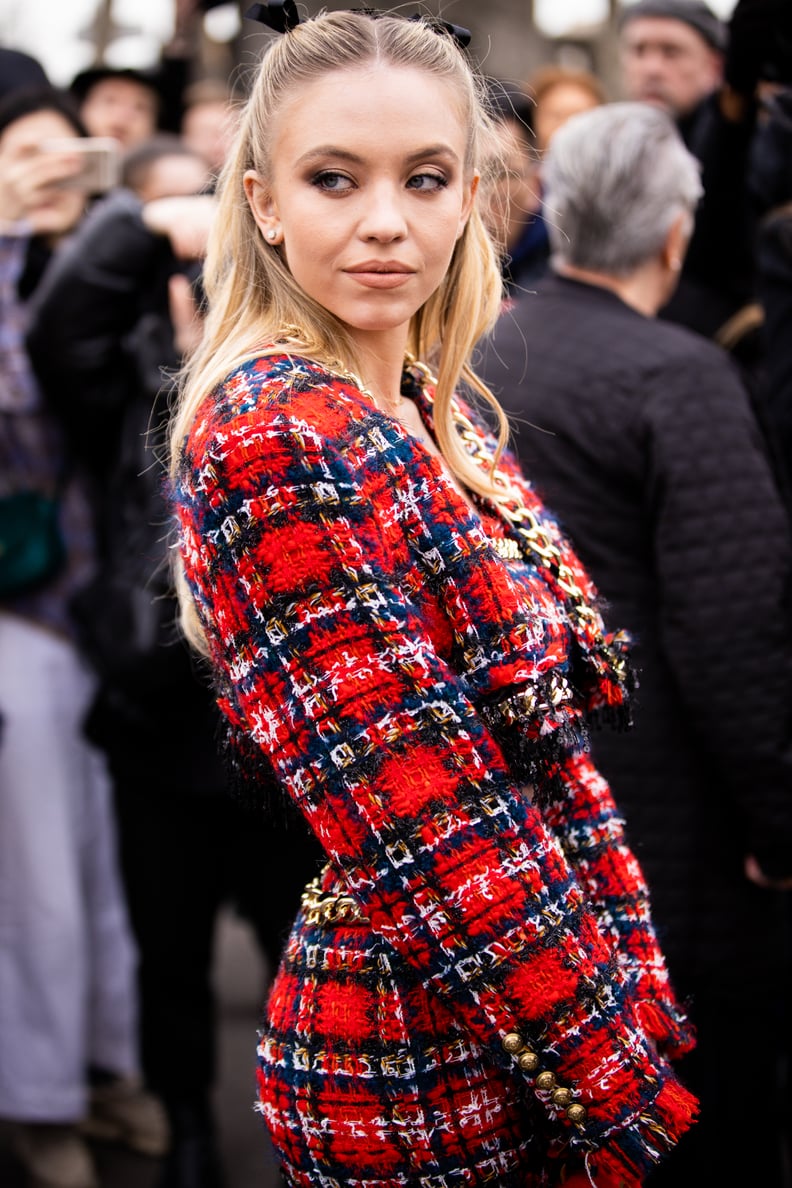 How Sydney Sweeney Learned to Manage Her Combination Skin
Sweeney's skin-care routine has changed significantly over the years. She explained she had a "really hard journey" with her skin growing up that made her extremely self-conscious. "I wouldn't want to go to school," Sweeney said. "I begged my mom not to send me. I would put band-aids on my face because I would have cystic acne and I would pick it horribly, and it would look worse than it did originally. I never really had anyone to turn to, to help me. [On] social media everyone was perfect already."
Through trial and error, she learned what worked for her combination skin type. The key is changing her routine with the seasons to keep her complexion from getting too dry or too oily. "Still to this day, something may work for me for a year and I'll have to change it because my skin all of a sudden changes."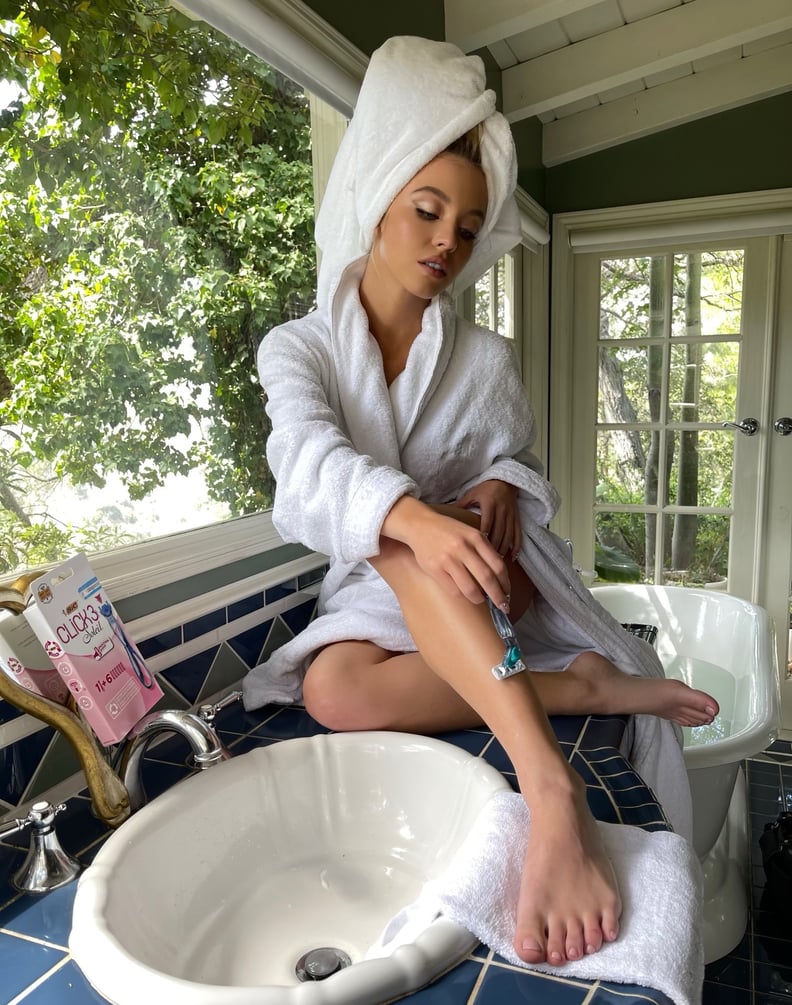 Sydney Sweeney's Favorite Drugstore Beauty Products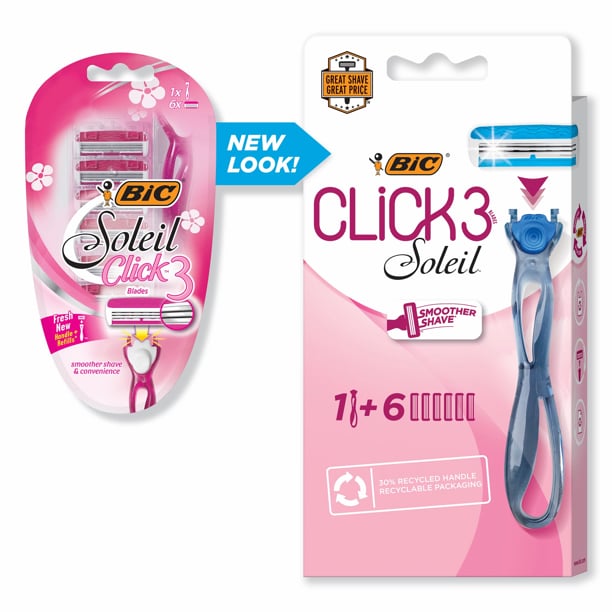 Sydney Sweeney's Money-Saving Hacks For Beauty Products
You know those extra-long receipts CVS gives you that are stacked with coupons? Sweeney loves them. "I save all of those CVS receipts — anything that has a good little coupon," she said. That's a key element of her BIC partnership, too. The brand is offering a $5 rebate when you spend $5 or more on its products, in-stores or online, and you also get entered to win a $500 sweepstakes. "That's something that my family and I would definitely be doing," she said.
Couponing isn't the only way she saves a few dollars here and there. Sweeney got noticeably excited when she explained her process for getting every last little bit of product out of a tube: "If I have creams or anything like that, I try and cut the packaging in half and scrape out as much as I can."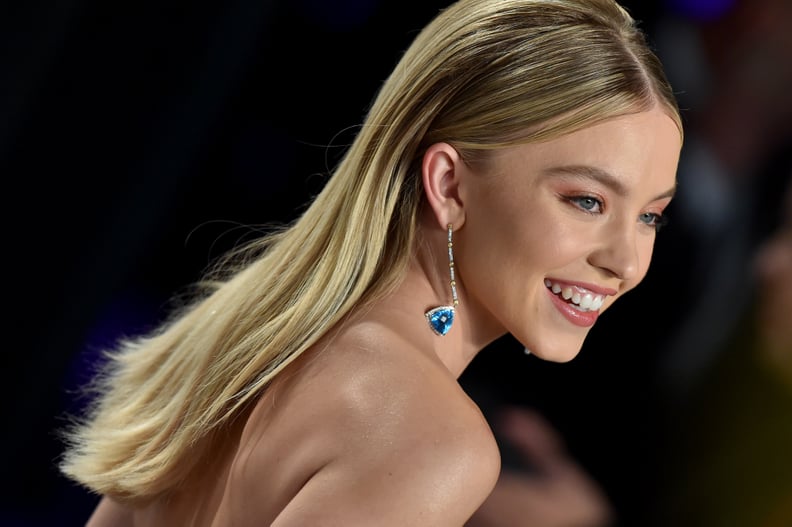 The Funny Story Behind Why Sydney Sweeney Started Shaving
Everybody remembers their first shaving experience. "My mom didn't allow me to shave for a really long time," Sweeney said. "She would tell me that once you shave the hair grows back faster and thicker, so I was always terrified of doing it. I think I was 12 years old and I was at a sleepover with my best friend and she was shaving her legs and I wanted to do it too, so I did it. Then I told my mom, 'You have to give me a shaver. I'm going to have my hair grow back so much faster.'"
That's changed a lot since then. Now, shaving is something she does every couple of days — except "in quarantine, not as much."