As POPSUGAR editors, we independently select and write about stuff we love and think you'll like too. If you buy a product we have recommended, we may receive affiliate commission, which in turn supports our work.
If you've ever seen Peter Pan, you know that Tinker Bell needs a serious attitude adjustment. Sure, Wendy gets way more screen time, but the truth is Peter was just way too self-absorbed for a love triangle anyway (sorry, Tink). For Halloween, we've decided to re-create our favorite Disney fairy with a slight twist. This Tinker Bell costume has some serious sass.
We made this punky fairy come to life with the help of head makeup artist Joshua Quick at the Make Up For Ever Boutique in NYC. We amped up Tink's attitude 100 percent with a moody smoky eye, green hair, vampy lipstick, Miley-Cyrus-style buns, and piercings. Of course, this Halloween makeup look wouldn't be complete without her signature fairy dust, too. Keep reading for a step-by-step guide to creating this delinquent version of Disney's sauciest pixie.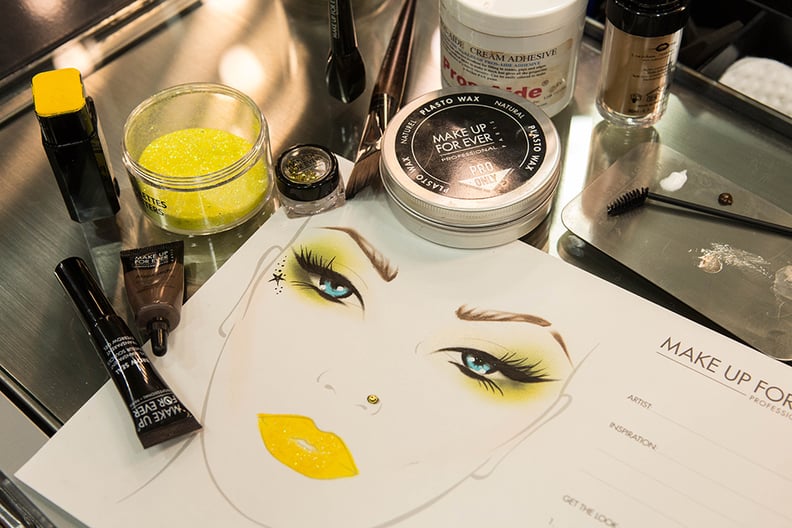 The Inspiration
Here's a look at the face chart Make Up For Ever created just for POPSUGAR Beauty!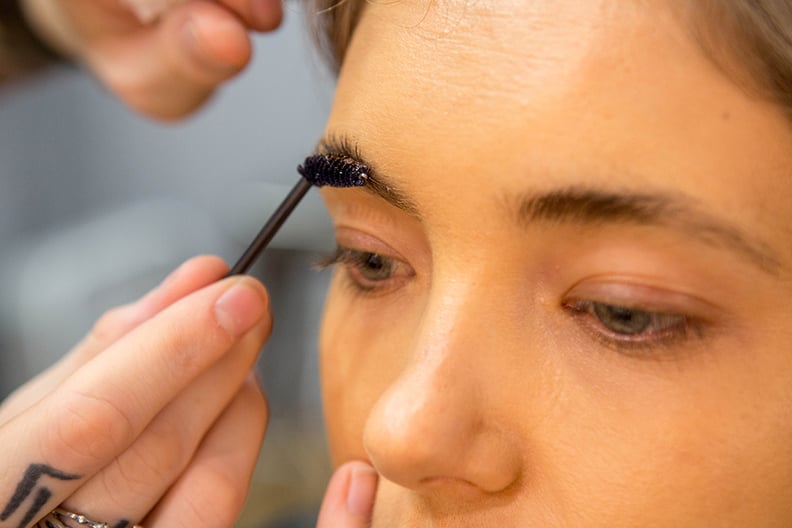 Bad-Girl Brows
To create the unkempt brow, first brush up the hair using a clear gel, and then fill in arches with an angled brush and Make Up For Ever Aqua Brow ($38). The original Tinker Bell has blond hair, but use a dark brown brow gel to give this punk fairy a goth edge.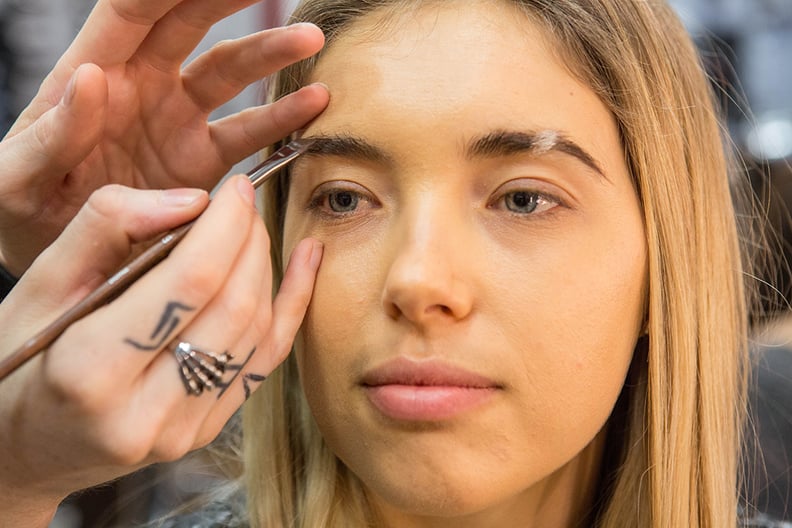 Create a Faux Brow Scar
Tough girls rock scars like badges of honor, so one essential part of this punk look is a faux cut through the brow. To make this effect, you need to part the hair of your arch, leaving a "fleshy" space in the center. That will give it that scarred look. Pros-Aide Cream ($38) was used to glue brows in place on each side of the "scar." This product is what makeup professionals use to adhere 3D special effects, and it's very powerful! Apply a dab to one side of the brow, and use your fingernails to lock the hair in position. Hold until dry. Repeat on the other side of the arch, leaving a gap in the hair. Next apply concealer over the space to make it stand out even more.
A Yellow Glow
To make the eyes look illuminated with Tink's signature yellow tint, apply highly pigmented eye shadow or face paint just above the brows and on top of the cheekbones with a large straight-edged brush. Diffuse the color with a fluffy blush brush, swirling it in circular motions and blending it out.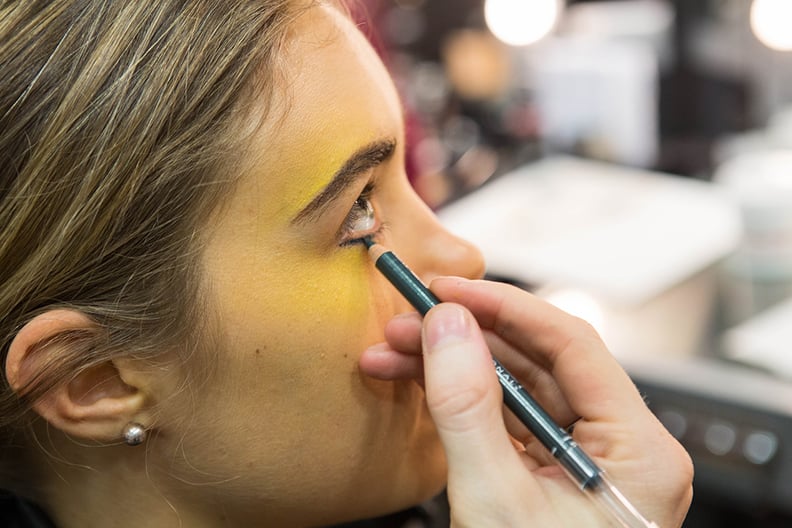 Line Eyes With Dark Green
The green smoky eye was all about a gradient effect with the darkest shade on the outer corners and the lightest hue near the tear ducts. First, apply Make Up For Ever Kohl Pencil ($17) to the lower lash line, and then smudge it with a brush.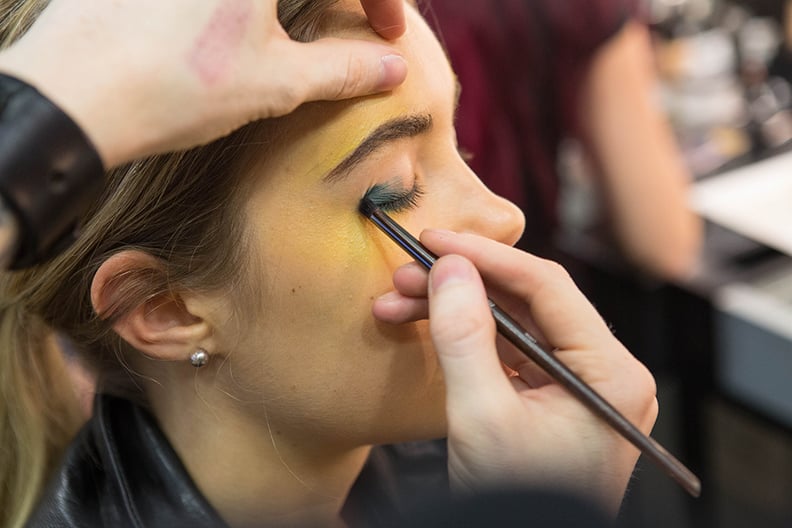 Apply Shadow in the Crease
Extend the dark green color to upper lids, applying the shade in the crease and along the outer edge of your eye.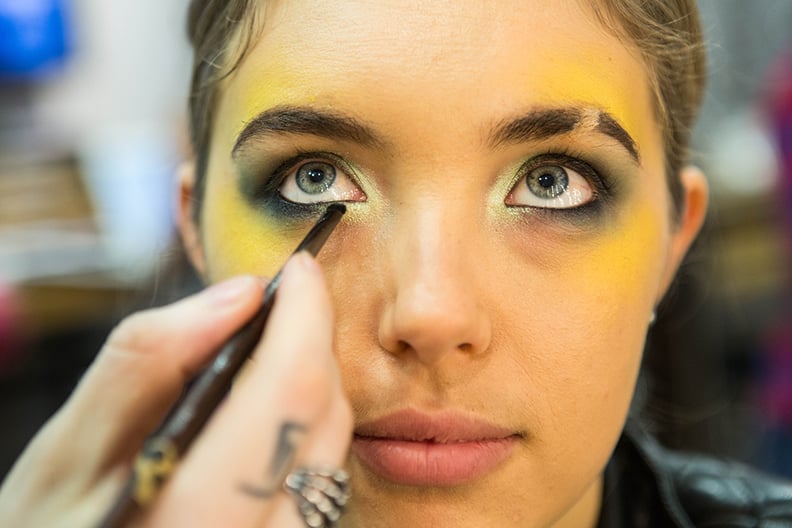 Highlight Eyes With Gold
Use a bigger shadow brush to apply an iridescent seafoam shade on the center of lids and inner corners. Continue the brighter shade around the tear duct and along the inner third of the lower lash line. Then apply black eyeliner inside the waterline for more definition.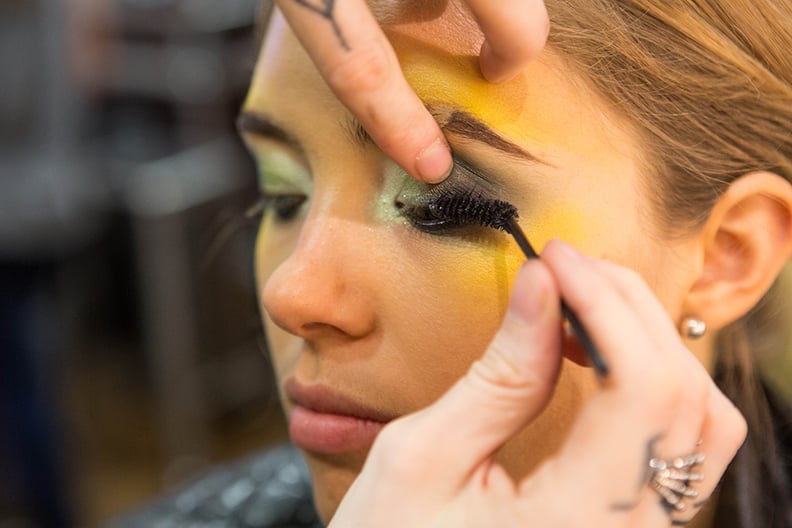 Swipe on Mascara
Apply mascara to your natural lashes to give them an inky black color. Try a bent mascara wand to make the application supereasy.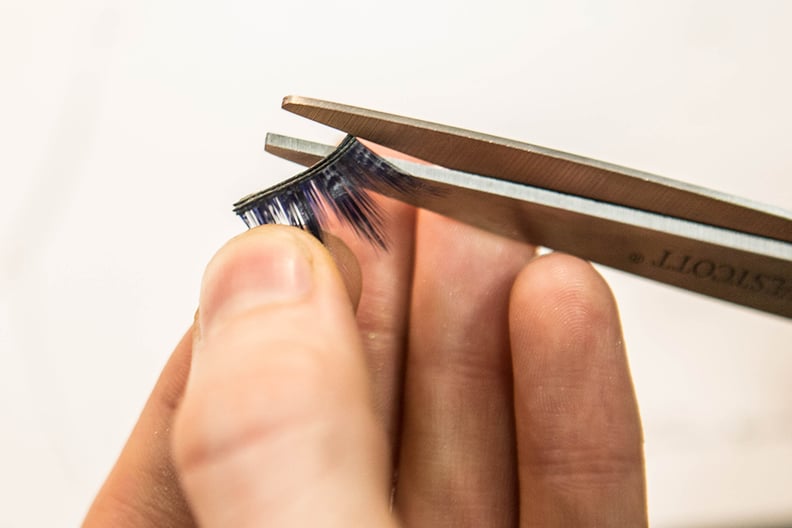 Trim Your Lashes
It's good falsie practice to fit the strip to your eye before applying the glue. For example, these were cut to just go on the outside corner of the eyes. This creates a winged look, in which the outer lashes flare out.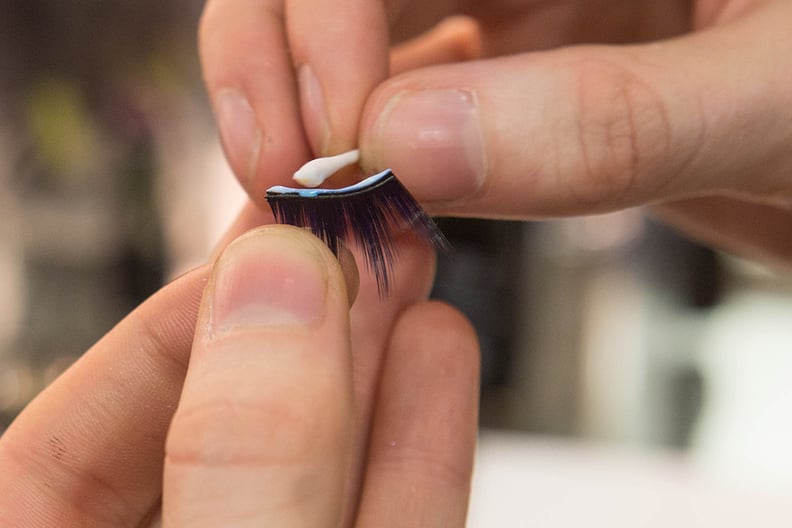 Apply Lash Glue
Apply a thin layer of lash glue to the band of the lashes using a cotton swab, and let sit for 30 to 45 seconds.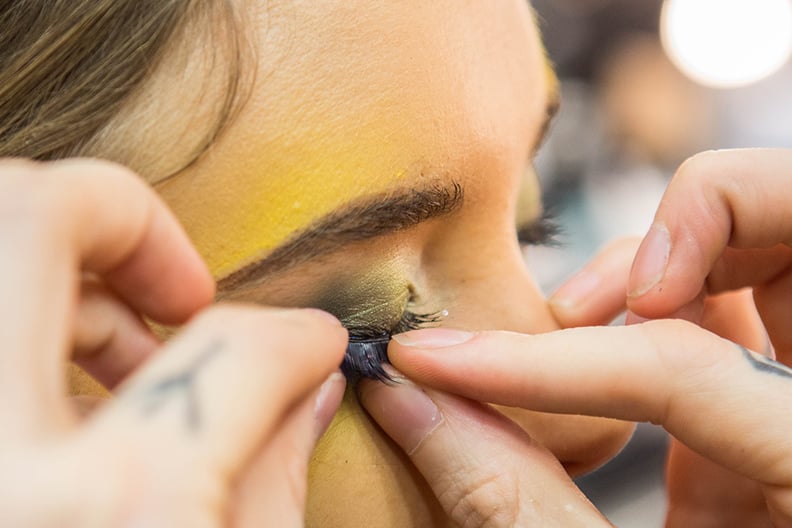 Apply Lashes to Eyelid
Once the glue is tacky, apply the band to the lid as close to the lash line as possible, but don't attach them to your natural lash hair. That is a sure way to lose lashes when you remove the falsies later!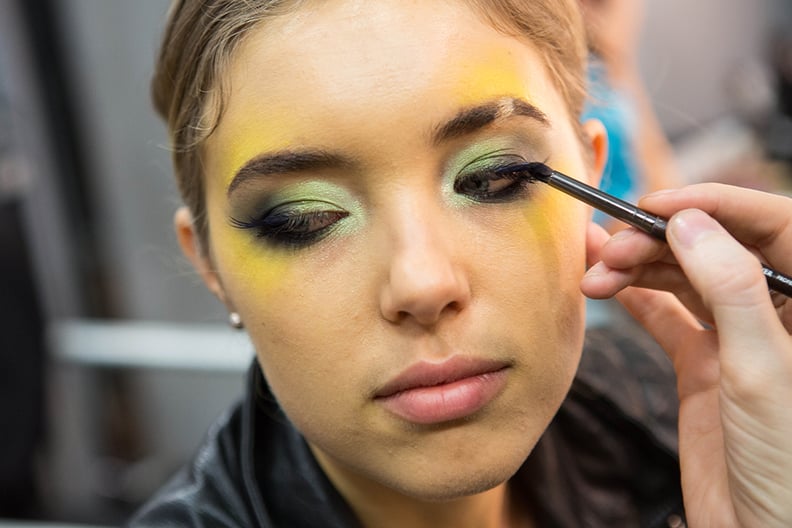 Faux Lash Illusion
If there is a gap between your natural lashes and the falsies, you can use a small brush to apply black shadow in the space. That will create the illusion of thicker lashes. This is a good trick to use if your natural lashes are superstraight or tend to point downward instead of curling up.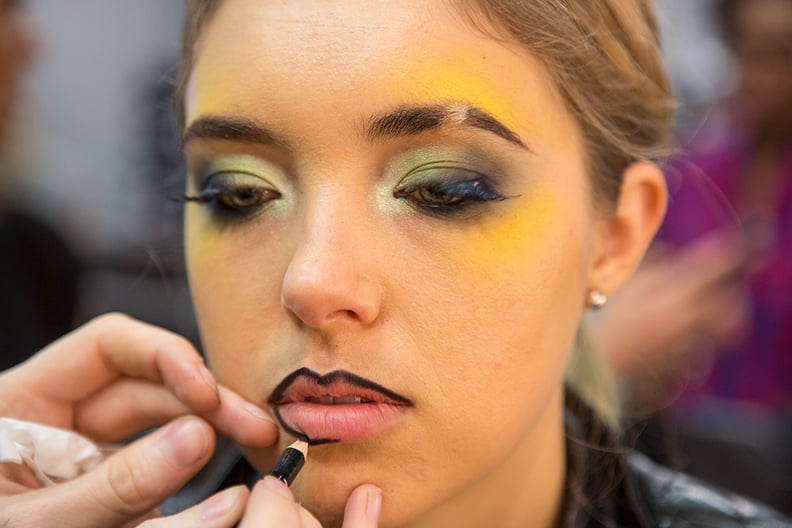 Line the Lips
Black lip liner may seem too drastic, but you can soften it out by using a lip brush to blend the color toward the center of the lip.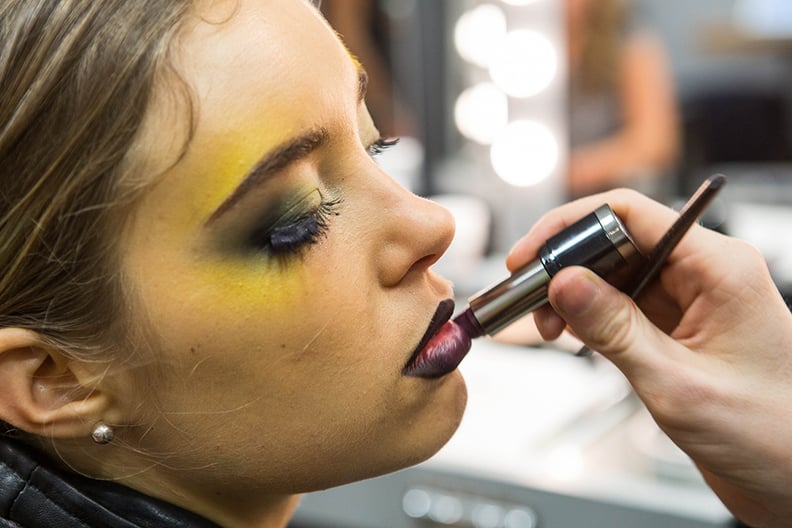 Apply Plum Lipstick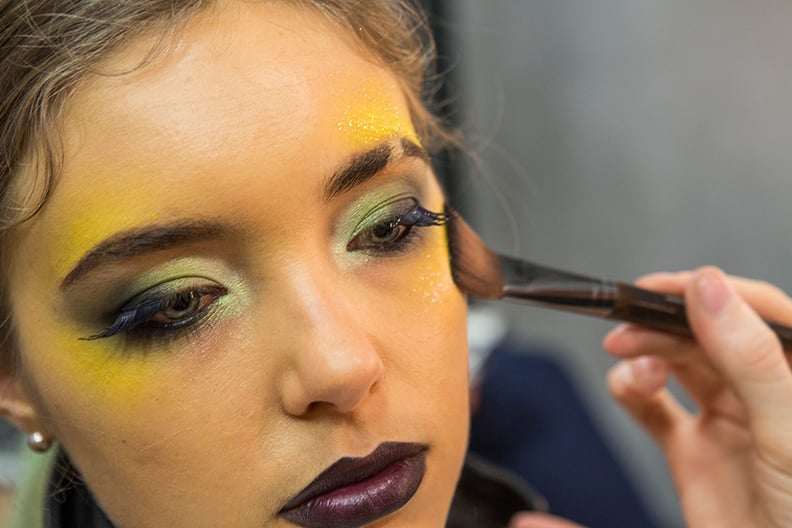 Add "Fairy Dust"
Tinker Bell would be nothing without her fairy dust! With an angled fluffy brush, apply glitter over the yellow eye accents. You can place a tissue under the cheek when you apply face glitter to catch any stray particles.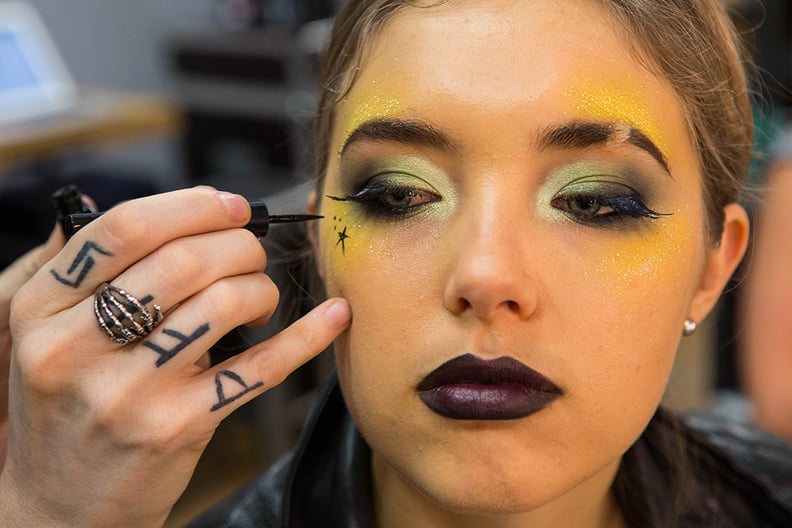 Sketch Tattoos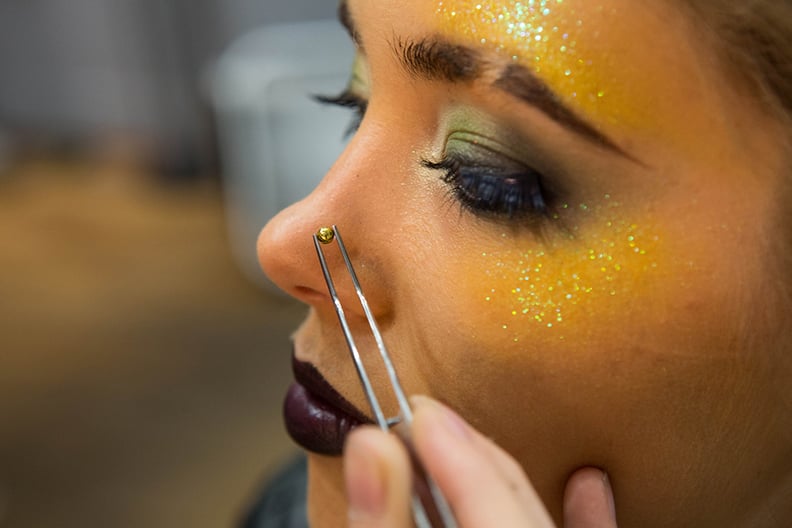 Add a Stud
The final step was to add a fake piercing to the nose to complete the punk Tinker Bell look. Here, a stud sticker was used.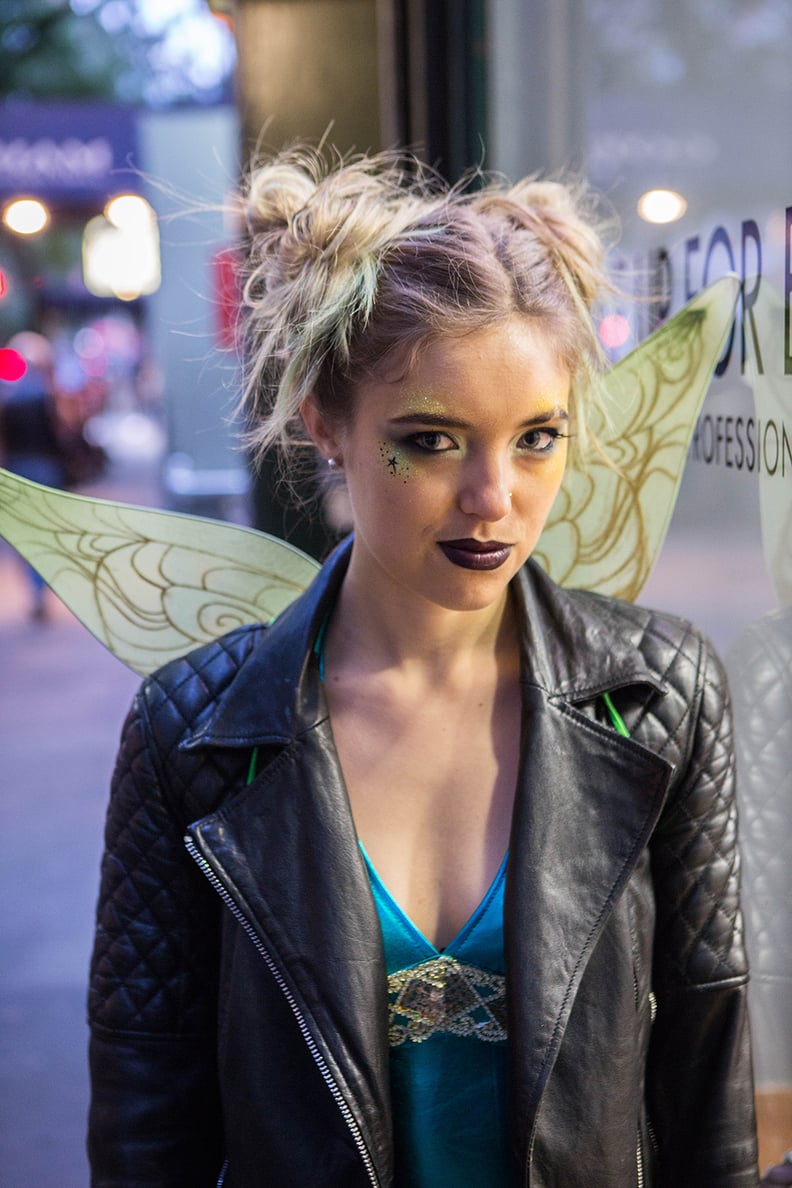 The Finished Look
The original Tinker Bell sported a chic topknot, but this goth girl goes for two buns à la Miley Cyrus. Color the ends with green hair chalk like Scünci Hair Chalk ($5). Then, apply your fairy wings. The wings and the dress were provided by Ricky's NYC. The leather jacket is the model's own.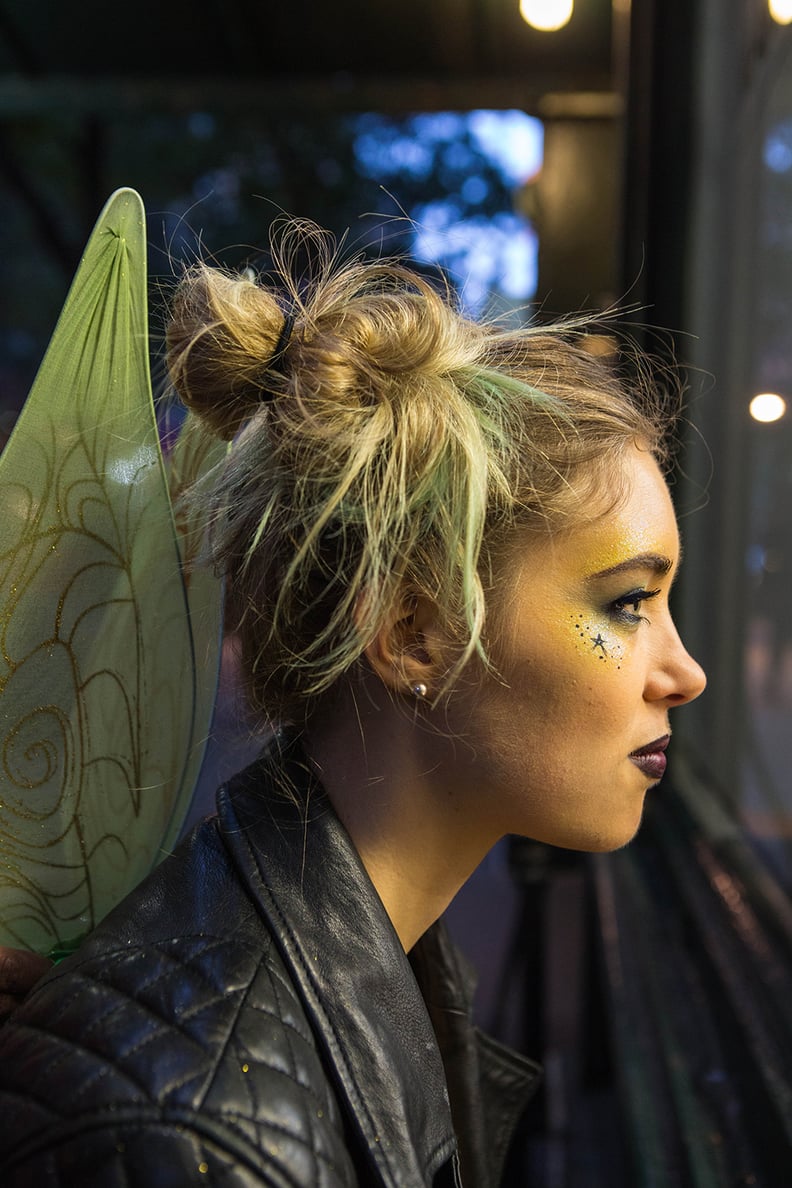 The Finished Look