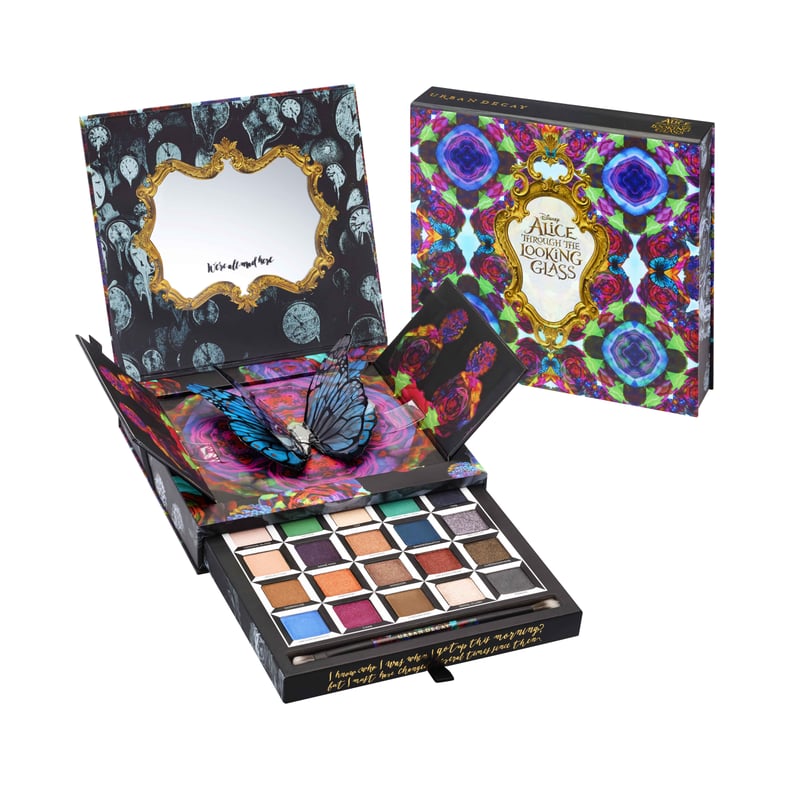 Urban Decay
Urban Decay
Urban Decay is one of those brands that can #BreakTheInternet with mere rumors of a new launch. That's exactly what happened in early April when Trendmood leaked shots of the upcoming Alice in Wonderland collection. We're now all familiar with (and have ogled) the small, colorful lineup. There's a gorgeous, ultravibrant 20-pan shadow palette and five lipsticks, including a glimmering navy blue.
But as a fellow Urban Decay fan, I know that there is one question that remains on your mind: are the products worth the hype (and the money)? That's why I dutifully swatched each shade for you! Read on to see my swatches and discover my thoughts on the products before they hit shelves May 1.

Urban Decay x Alice Through the Looking Glass Shadow Lipsticks
These lipsticks retail for $18 each and are wrapped in a trippy floral print.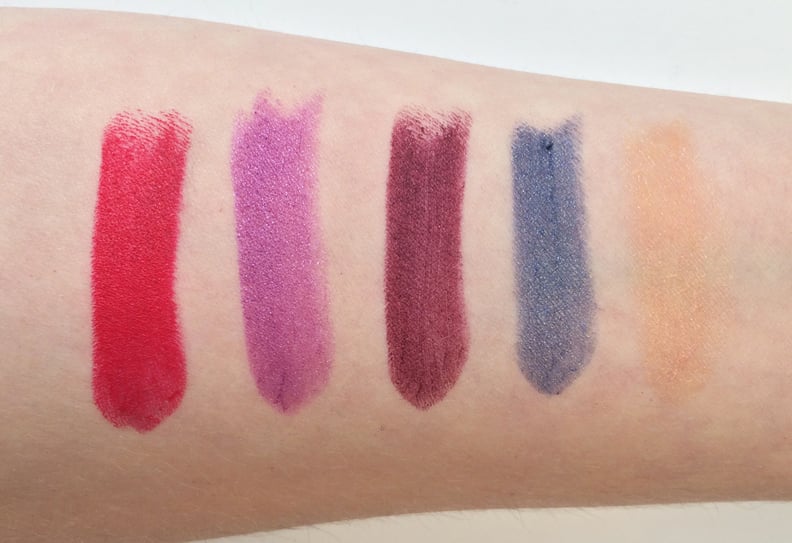 Urban Decay x Alice Through the Looking Glass Shadow Lipstick Swatches
From left to right: Iracebeth (bright red matte), Mad Hatter (bright purple shimmer), Mirana (matte berry with tonal shimmer), Time (gunmetal-navy with silver shimmer), Alice (sheer nude with pink shift)
I love rainbow lipstick hues, so I was enthralled by Time, even though it's not opaque. Applying it twice will make it pigmented enough that it will turn heads! While you can slightly feel the glitter of Time and Mad Hatter on the lips, it's worth it because the colors are just so cool.
The formula of Iracebeth is beautiful — just one swipe is enough to pack a punch, and though it is matte, it is extremely comfortable to wear. Because Alice is a sheer, pink-flashing peach shade, it will look best on women with olive undertones, whose natural skin tones come closest to this color.
Final verdict: The packaging alone is reason enough to buy these. If you don't own an incredible red lipstick yet, you need Iracebeth!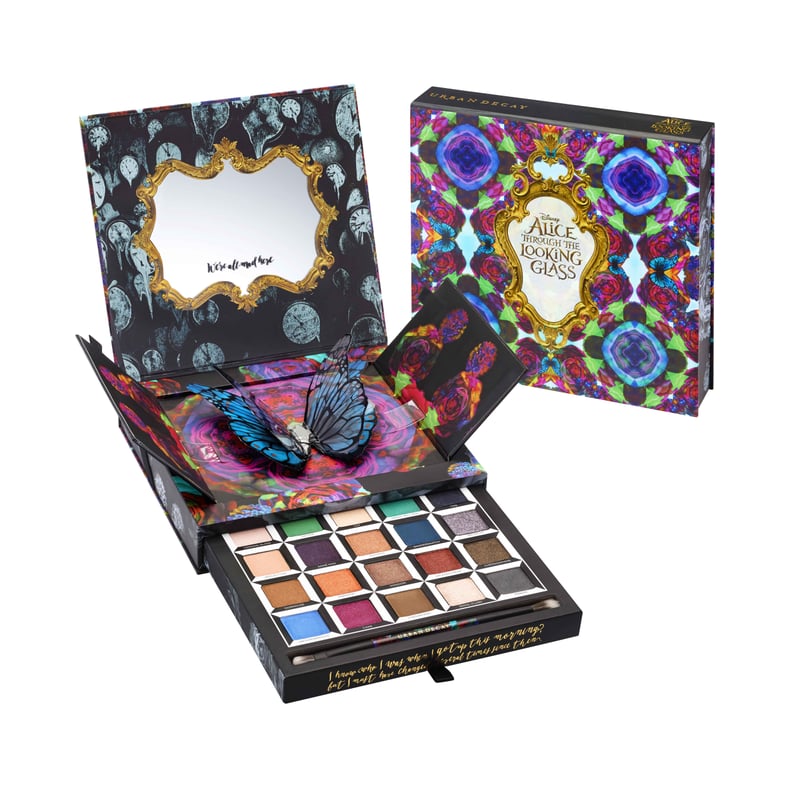 Urban Decay x Alice Through the Looking Glass Shadow Palette
This $60 palette is beautifully crafted. It features a pull-out drawer of shadows with a floral-print, double-sided brush. The top of the product includes a mirror and a stunning three-dimensional butterfly. Famous quotes from the novel decorate the box's panels, including "We're all mad here" and "I'm not strange, weird, off, nor crazy, my reality is just different from yours."
According to Urban Decay, each column of shadow is inspired by characters from the film. So if you want a look that closely mirrors your favorite persona, use those four hues! Alice, the Mad Hatter, Mirana (The White Queen), Iracebeth (The Red Queen), and Time (a part-human, part-clock creature) are all immortalized in makeup.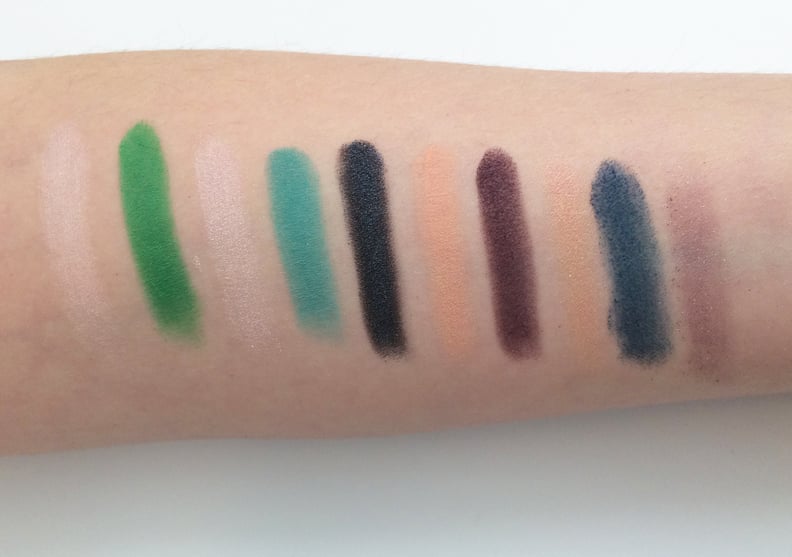 Urban Decay x Alice Through the Looking Glass Shadow Palette Swatches
From left to right: Looking Glass (pale pink demi-matte), Hatter (vibrant green with tonal micro-sparkle), Lily (opal pink pearl), Heads Will Roll (vibrant turquoise with gold micro-sparkle), Time (black-navy satin with soft iridescent micro-sparkle), Reflection (soft peach matte), Gone Mad (aubergine with pink iridescent pearl), Duchess (peach with pink shift and micro-sparkle), Bandersnatch (deep teal matte), Dream On (metallic purple-silver)
The bright colors in this assortment are well-pigmented but benefit from a double application to make the color opaque. The standout shade by far is Time, which applied so creamily that I audibly gasped. Dream On was sparkly but on the sheer side.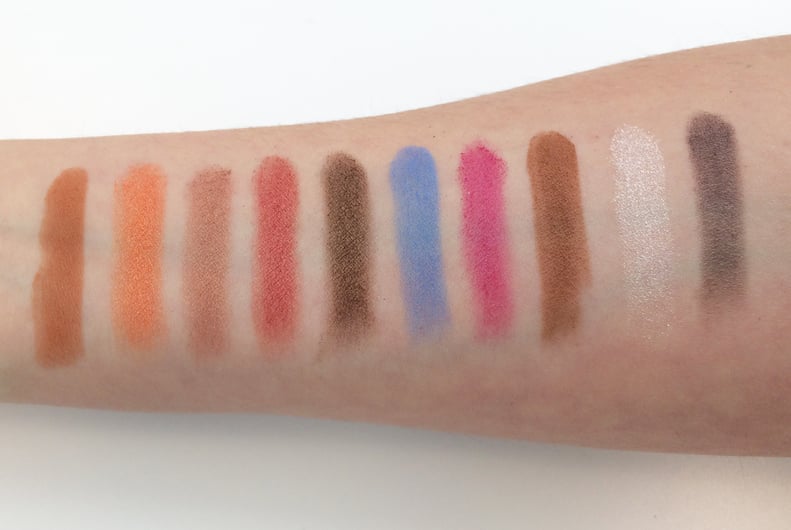 Urban Decay x Alice Through the Looking Glass Shadow Palette Swatches, Continued
From left to right: Dormouse (warm brown matte with floating gold micro-sparkle), Paradox (vibrant orange with gold pearl), Kingdom (copper-bronze pearl), Salazan Grum (metallic crimson), Chronosphere (metallic deep bronze), Metamorphosis (vibrant periwinkle blue with micro-sparkle), Cake (saturated blue-pink with silver micro-shimmer), Chessboard (medium brown matte), Royal Flush (pale beige shimmer), Mirror (gray-taupe satin)
Urban Decay is killin' it with the blue shades, because Metamorphosis was another impressively pigmented formula. I'm sure it'd be even more punchy when used with a wet brush. I was surprised by how much I enjoyed citrusy Paradox. Royal Flush was ultrapigmented and would make a gorgeous browbone highlight.
Final verdict: If you are an Urban Decay collector, have warm undertones, or love Disney, you should absolutely own this palette — it was made for you. Because there are so many orange, peach, and bronze shades in the set, a golden-skinned gal will have a lot to play with. However, that doesn't mean that cool-complected ladies should sit this one out. I'm not kidding when I say that I would buy this palette just for the incredible Time shadow. (Here's hoping Urban Decay makes it in a single!)