I Found the Secret to Looking Flawless on Instagram With (Almost) No Makeup
Advertiser Content From
MakeupPlus
I am so not a selfie person. Scroll through my Instagram feed and you'll be hard pressed to find a photo of me looking at the camera, let alone one I took myself. The simple reason being that I'm lazy when it comes to my makeup, and not-so-perfect makeup means no selfie.
Still, when I heard about the makeup editing apps gaining popularity among social media mavens and beauty enthusiasts alike, it never crossed my mind as something to consider. While they sounded intriguing, I remained skeptical. Would they make me look totally different? Would it be super obvious my makeup wasn't real? How do they even work exactly?
So when I was given the opportunity to try out the MakeupPlus app and share a selfie to prove it, my initial reaction was mixed. Even though I was curious to play around with the app, it was the actual selfie-posting part I was unsure about.
But after exploring the features, I was pleasantly surprised to discover that I not only liked what I was seeing, it actually made me excited to share the result. Keep reading for three reasons I'm now officially hooked on the makeup editing app.
1. The makeup actually looks super natural
The one thing that impressed me the most about the editing function is how much control you have over the makeup application process. You can choose from a variety of precreated beauty looks — filters, essentially — that layer makeup onto your whole face, and then control how strong or weak you want the effect to be on a scale from one to 100. Feeling sultry? The Bronze effect gives you a smoky eye and luscious lashes. Want a fresh Summer palette? The Rose filter is a fun choice, complete with a bright pink lip. Since I never wear pink lipstick, I decided to give Rose a shot.
The main thing I noticed was that the app made my complexion look flawless — it evened out my skin tone and gave it an airbrushed effect without going overboard. With the slider set at 40 percent, all my natural shadows and wrinkles were still present, which made the "after" photo much more believable.
You can also choose to customize everything separately if you're not feeling the filters, from your foundation, lipstick, and eye shadow shades to your brow shape and even what areas of your face you want contoured.
2. No one has to know I suck at doing my makeup IRL
The whole point of selfies is to either show off your glowing, #nomakeup face or put your handiwork on display. But what if you're not confident with either? With the app, I can finally join the selfie revolution — minus the hard work of actually applying makeup. Plus, I can easily experiment with different makeup shades and beauty trends with zero commitment.
3. I never have to plan a selfie ever again
Hands down, my favorite thing about the app is that I can snap a selfie in the moment and the results will be amazing every single time. No more reapplying makeup right before a photo opp. In fact, I don't even need to be wearing any makeup at all for the app to do its magic. It's the perfect solution for lazy girls like me.
To prove it, I decided to take a photo at the end of a long day, disheveled makeup and all. This time, I went with the Natural filter at 40 percent, along with a custom foundation shade that was a better match for my skin tone and a barely there lip shade. The result? A totally 'grammable selfie I was actually excited to share.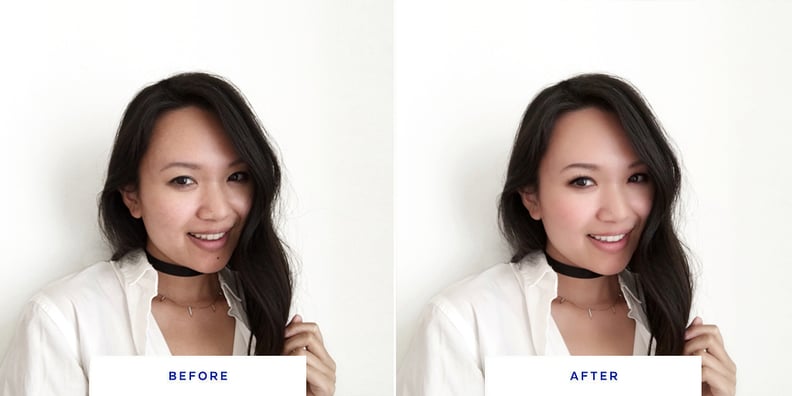 Download the MakeupPlus app today and explore its suite of features including multifinish lipsticks, eye shadow palettes, eyebrow shaping, contouring, and makeup tutorials from your favorite beauty gurus to re-create your looks in real life.