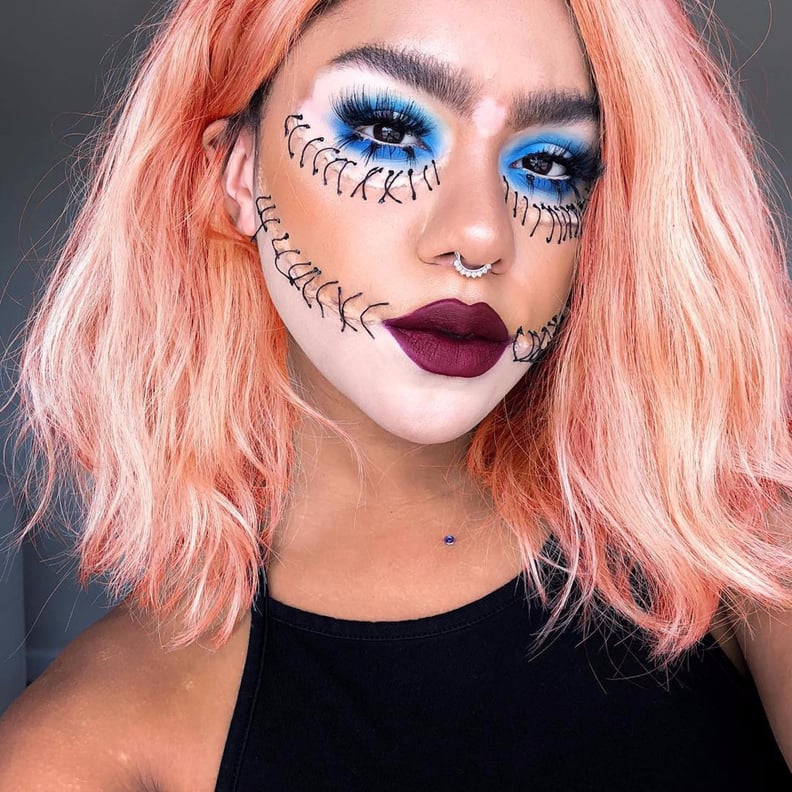 After years of using makeup to cover up her vitiligo, Lauren Elyse has thrown society's beauty standards out the window by embracing the marks on her face. A makeup artist with more than 300,000 social media followers, Lauren regularly Instagrams wow-worthy looks that enhance rather than hide the white patches on her face, and now she's giving things a spooky spin by showing off some of her coolest Halloween-ready makeup masterpieces.
Since Oct. 1, Lauren has shared a handful of creepy yet awe-inspiring looks, all of which proudly display her multitoned face in all its natural glory. Whether you have vitiligo or not, Lauren's next-level Halloween makeup skills will encourage you to embrace the skin you're in. Read on to see some of her raddest creations, then be sure to check out the rest of our favorite Halloween makeup ideas if you're looking for an additional dose of inspiration.
An Up-Close Video Showing Off This Creepy Look
Inspired by Sally From The Nightmare Before Christmas
A Closer Look at the Eye Detailing
Here's Lauren Emulating a Punk Rock Fan
She Even Added Liquid Lipstick on Her Teeth!
Lauren Dressed as Lorenzo Elizio, aka Her Male Alter Ego
An Up-Close Look at the Detailing Around Her Eyes
Inspired by an Eye Infection
And Here's a Zoomed-in Look at This Creepy Yet Cool Idea
A Look Inspired by Audrey II From Little Shop of Horrors
A Closer Look at Lauren's Eye Shadow