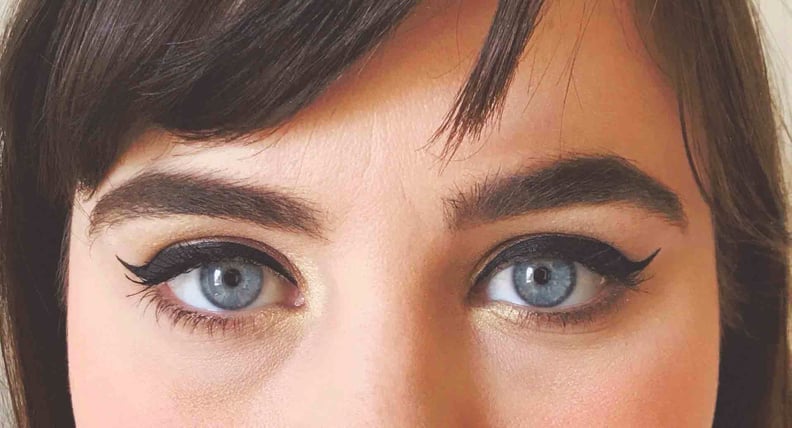 POPSUGAR Photography | Victor Verdugo
POPSUGAR Photography | Victor Verdugo
Every editorial product is independently selected by our editors. If you buy something through our links, we may earn commission.
I'm a girl who likes to wear a sharp, inky-black cat eye on the regular. There's something about it that makes me feel both powerful and glamorous, so I have made it my go-to look since my teenage years. Time after time, friends, coworkers, and strangers have asked me the same question: "What eyeliner do you use?" There's nothing that brings me more joy than smugly telling them it's a $6 pick from the drugstore. Yes, I have been religiously swiping Wet n Wild MegaLiner Liquid Eyeliner ($9) on my lids for 10 years now, and I don't plan on stopping any time soon.
Before you become skeptical, know that I have tried my fair share of liquid liners. I am always curious to see if any high-end or drugstore brands can match the quality of my Wet n Wild pick, but they never do. MegaLiner Liquid Eyeliner comes in a small tube with a screw-top handle. The applicator, a flexible spongy brush, is easy to maneuver as I glide it across my skin. The harder you press, the thicker the line becomes, so you have a lot of control over the intensity of your look. The formula itself is smooth and matte. Its raven-black shade makes my blue eyes pop. All it takes is one coat to get a pleasing obsidian-dark effect.
For me, pen-tip applicators and pots with angle brushes don't give me the razor-sharp line I'm looking for. Only MegaLiner provides me with that smooth edge — I won't accept anything less. What can I say, a good cat eye has become a passion. It's time to set down your pricey choice and give my favorite a try. I can confidently promise you that it won't disappoint.
Let's be real, a $9 purchase is not a big risk to take. I keep one in every purse I own. Read on to see close-ups of the liner itself and how it looks once it's applied.
★★★★★
Wet n Wild MegaLiner Liquid Eyeliner
The long handle on the Wet n Wild MegaLiner Liquid Eyeliner ($6) makes the applicator easy to control. The formula is the perfect consistency — fluid but not drippy. For a less intense look, I sometimes use the brand's dark brown shade as well.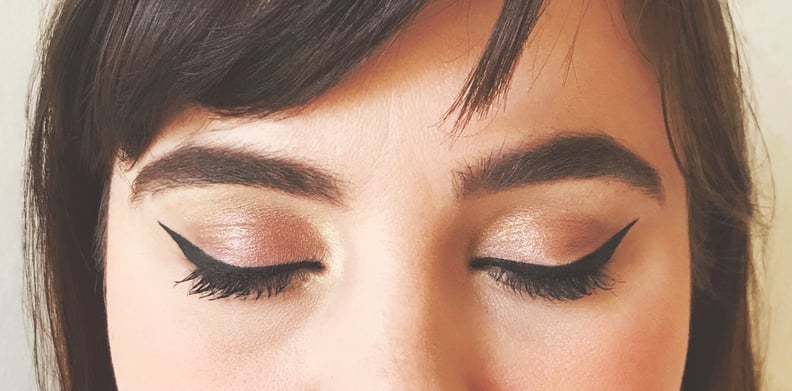 The liner is not waterproof, but it's definitely smudge proof. I almost never have to reapply it throughout the day. One application in the morning and I'm set through the evening. If you prefer a thinner line, it's easy to create with a lighter touch.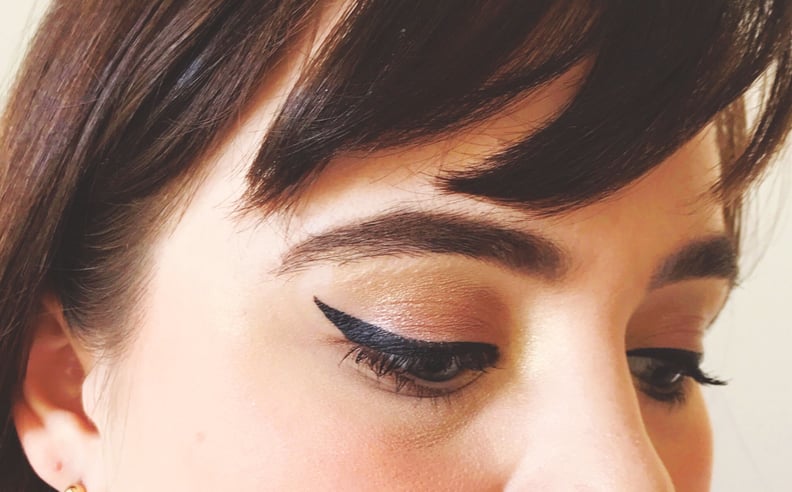 Here's another angle so you can see the controlled cat eye you can achieve. I'm no professional makeup artist, but this is the only liner that will give me a wing this straight. Because this option is so affordable, I get to splurge on other beauty products guilt-free. Next time you're at the drugstore, do yourself a favor and pick up one of these little gems.